101+ DIY Projects For The Home You Want
I'm all about DIY projects for the home! Over the years we have tackled many DIY (aka do it yourself) projects around the house and let me tell you we have learned a lot over the years and also saved a ton of money!
There have also been a few projects that we have decided not to tackle ourselves – this almost always involves more complex plumbing and electrical projects. Oh, and big tile work- not interested!
This article is a great resource for DIY projects that you should not tackle yourself.
However, there are plenty of DIY projects for the home that you absolutely could tackle yourself. Here are some of our favorite projects you can get started with this weekend!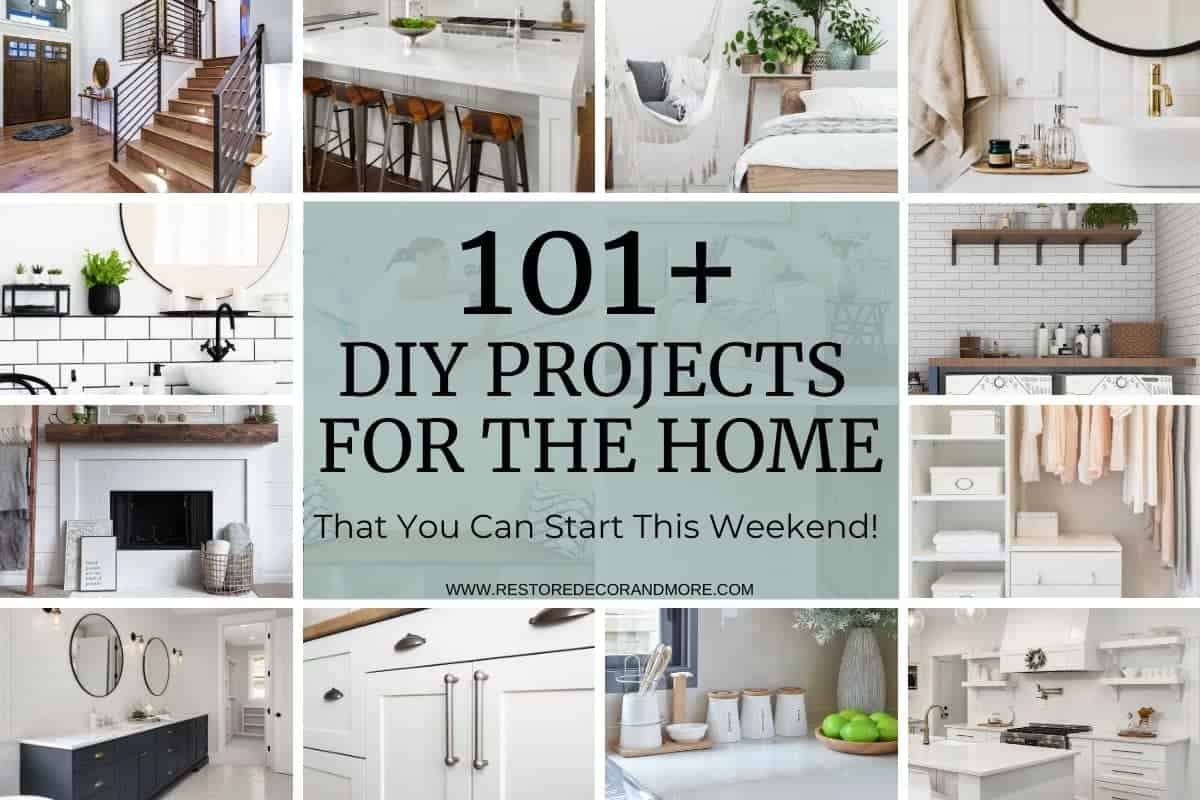 This post may contain affiliate links, which means I'll receive a commission if you purchase through my links, at no extra cost to you. Please read full disclosure for more information.
DIY Projects For The Home By Room
A ton of these ideas can be applied to more than one room in your home. If you see an idea here, feel free to use it in any room that works for you.
DIY Projects – Living Room Or Family Room
1. Add A Shiplap Wall
Skip the expensive shiplap and create your own beautiful shiplap wall with plywood and a nailer gun.
Or use peel & stick wallpaper, wood planks, or even a sharpie for an inexpensive faux shiplap wall.
2. Create A Beautiful Accent Wall
Nothing changes the look and feel of a room like an accent wall. There are so many different types of accent walls you can add, and most of them are very DIY-friendly.
3. Replace Outdated Light Fixtures
Changing out old outdated light fixtures is a very easy way to freshen up a room. Spray paint old fixtures to bring them back to life, or invest in new fixtures that you love.
There are so many budget-friendly options out there to choose from.
4. Hang New Curtains
Nothing brightens up a room like a new set of curtains. The trick to beautiful window dressings? Find the perfect curtain length! Rehang your curtain rod close to the ceiling and use curtains that hang all the way down to the floor.
5. Touch Up Your Walls
Freshen up a room by touching up the walls. This could mean touching up peeling paint, filling holes in the wall, or removing scuffs.
6. Paint The Walls
Painting any room in your house is a popular DIY project for a reason. It's pretty painless, inexpensive, and easy to fix if anything were to go wrong. Adding a fresh coat of paint can breathe new life into your room.
If you are struggling with paint colors, consider getting some peel & stick samples to help make your choice easier.
7. Give Your Fireplace A Facelift
Is your fireplace dirty? Bring it back to life with this super easy DIY project- paint the inside with high heat paint.
8. DIY Fireplace Makeover
Turn your fireplace into a modern farmhouse fireplace with tiles that look like brick and a custom wood mantle.
9. Change Outlet Covers
Upgrading your outlet and light switch covers is an extremely easy DIY project that can make a big difference in any room. DIY your own covers to add personality or invest in some decorative covers like these ones.
10. Build A Blanket Ladder
Add style and function to your living room with a DIY blanket ladder. This is one of the easiest DIY projects for the home and all you need is a few pieces of wood and some screws. A ladder is a great way to add blanket storage to your room while still making it easy to access.
11. Bring Home Decor Back To Life With Spray Paint
If you are decorating on a budget, consider transforming old outdated home decor accents with a fresh coat of spray paint.
12. Restore Old Furniture
Do you have old furniture that is still in good condition but doesn't look beautiful? Restore your furniture with a fresh coat of paint and some new hardware.
13. Change up Your Ceiling
If you want to update a room, give your ceiling a makeover! Some great DIY Projects include painting your ceiling an accent color, adding some faux beams, or installing ceiling tile.
14. Restore Your Front Door
Want to improve your home's curb appeal? Paint your front door a new color or install a brand new door.
15. Change Out Door Knobs
Great design is all in the details. Replacing your doorknobs can be an easy DIY project that makes a bold statement.
16. Give Baseboards & Trim A Fresh Coat Of Paint
Painting your baseboards and trim is one of the best improvements you can make in a room and is one of the simplest DIY projects for the home. Your room will look cleaner and fresher in no time.
17. DIY An End Table
If you are in need of a new end table, why not try to DIY one yourself? Whether that means building from scratch or giving a set you have a makeover you will be happy you did it.
18. Install Lamp Dimmers
Turn up the cozy factor in your living room by being able to dim the lights on your lamps. You can easily turn any lamp in your home into mood lighting by installing a dimmer cord.
Simply plug the cord into the wall and the lamp into the plug. Use the switch to ensure the perfect lighting at any time.
19. Beef Up Door Trim
Adding thicker trim around door casings is a fairly easy DIY Project that can elevate the look of your home.
DIY Projects – Bathroom
20. Frame Bathroom Mirror
Take an old, outdated mirror and give it a modern look for a low cost with some wood trim.
21. Replace Shower Head
Switching out your shower head is a simple yet rewarding DIY project that you can do fairly quickly.
22. Paint Tub & Tile
Can't replace your tub or tile? Paint it instead! Using a tub & tile refinishing kit, you can give your tub and tile a serious facelift this weekend.
23. Replace Flooring With Luxury Vinyl Planks
If you still have that ugly old laminate flooring then it's time to replace it! Luxury vinyl flooring is affordable and fairly easy to install yourself.
24. DIY Rustic Wooden Shelves
Head to the hardware store and grab some wood and simple pipes to make your own rustic industrial farmhouse shelves in the bathroom.
Don't want to make them yourself? There are plenty of rustic wooden shelves online that you can get to update your bathroom.
25. Make Your Tile Look New Again
Bring your tile back to life with a good grout pen, or an all-in-one grout colorant and sealer. Add grout to any areas that need it as well.
26. Paint Bathroom Vanity
Have you thought about painting your bathroom vanity? It's easier than you think! This DIY Project is budget-friendly and makes a huge difference in any bathroom.
27. Modernize Cabinet Handles
If you're aiming for a stylish bathroom, cabinet handles can make a big difference.
Switching up your handles is an easy upgrade that will elevate your vanity and there are so many options out there.
28. Add Beaded Board Around Tub
Using beadboard and some trim, you can give your boring tub a designer-worthy look.
29. Add A Towel Warmer
Even if your bathroom isn't super luxurious, a towel warmer can make you feel like it is!
Wall-mounted towel warmers are very easy to install and can be plugged into a standard outlet. It also makes a great gift for the person who seems to have everything.
30. Change Out Your Toilet Seat
Changing out your toilet seat is an easy cheap DIY project that beginners can easily do themselves. If you are looking for a quick bathroom update – this is it!
31. Upgrade To Dual Flush
Improve your toilet and save money with every flush by upgrading to a dual flush toilet.
32. Make Your Own Bathtub Tray
Transform your bathroom into a spa-like oasis with a beautiful DIY Bathtub tray to hold candles, wine glasses, and more!
33. Put Down A Fresh Bead Of Caulk
Bathrooms have caulk in many areas. Do you have cracked or missing caulk around the bathroom?
Or worse, is mold and mildew forming? A fresh bead of caulk can make your bathroom look new again.
34. Stencil Tile Floor
Replacing your tile can be expensive and a pretty big undertaking. Instead, paint stencils onto your existing tile to give the bathroom a whole new look for less.
35. Wine Rack Turned Towel Holder
Looking for some affordable bathroom storage? Take an inexpensive wine rack, attach it to the wall and use it to store rolled-up towels.
DIY Projects – Bedroom
36. Put Lights On A Dimmer
Instantly change the vibe of your room by adding a dimmer switch.
37. Make A Statement With Black Walls
Take your bedroom to the next level by adding a black wall. You can use paint, wood, wallpaper, or even shiplap – the possibilities are endless!
38. Update Ceiling Fan
Update an old ceiling fan by painting it, or replace an old outdated ceiling fan with a new modern look.
39. Makeover Your Headboard
Give your headboard a little love by repainting it, or even upholstering it.
40. Create A Reading Nook
Grab an accent chair, lamp, end table, and of course style with a cozy blanket to create a cute reading nook in your bedroom.
41. Install A Hanging Chair
Looking for a way to make your bedroom unique? Installing a hanging chair is an eye-catching way to make a statement, bring in texture, and incorporate seating in your bedroom.
42. Fill Blank Wall With DIY Decor
Try your hand at some DIY Wall Art to fill up a large blank wall in the bedroom. You can also make a yarn wall hanging to add some flair and personality.
43. Refresh A Lamp
Refresh a lamp with a new lamp shade, or spray paint the base of a lamp to bring it back to life.
Or turn an old lamp into a vase like this one here.
44. Pack A Punch With Pillows
Adding throw pillows is a great way to add color, texture, and style to your home. Try your hand at making your own pillow covers to replace existing ones, or find some online.
45. Floor Mirror
Nothing adds to the bedroom aesthetic like a large floor mirror. Upgrade a cheap floor mirror by adding some super thick trim to make it look more expensive and lux. Or purchase an oversized floor mirror to really make a statement.
DIY Projects – Kitchen
46. Paint / Stain Kitchen Cabinets
Old outdated cabinets can make the entire kitchen look dreary. If you aren't able to replace them, consider painting or staining them instead! Consider using Floetrol to help eliminate any brush strokes and turn this DIY into a professional-looking project.
Either choice is more cost-effective than replacing it and will give your kitchen an entirely different look and feel.
Be prepared to live in chaos for a bit- this is one of the longer DIY Projects for the home.
47. Kitchen Cabinet Hardware
Spray paint your kitchen cabinet hardware, or update the ones you have with some more modern ones. You can get a bulk set of modern handles online like these ones which are very affordable.
48. Backsplash
Instantly change up the look of your kitchen by adding some backsplash. From easy stick and tile to more complex tiling there are many options for every DIY level.
49. Under Cabinet Lighting
Under the cabinet lighting can be an easy, affordable option if you install them yourself.
There are so many different varieties to choose from and if you go with a battery-powered option you won't even need to worry about hard-wiring anything!
50. Update Island
Don't settle for a boring builder-grade kitchen island. With some beadboard, trim, shiplap, or other supplies you can easily update your kitchen island into a beautiful statement piece.
51. Replace the Faucet
Faucets have a big impact on the look and feel of your kitchen. Swapping one out by yourself for a new one is easier than you might think.
52. Add Pot Filler
Elevate the look of your kitchen by adding a pot filler! Not only do they fill your pots faster, but there's no more carrying heavy pots from sink to stove.

53. Floating Shelf
I love the look of floating shelves in the kitchen. They can open up the space, making it look clean, bright, and airy.
54. Kitchen Sink
Changing your kitchen sink can be a quick and cost-effective upgrade when you aren't ready to remodel the entire room. Consider an apron sink for a modern update.
55. Make Your Own Noodle Board (Oven Cover)
Create more counter space when you are not cooking (or just cover a dirty stove) with a noodle board. You can easily make your own or find them online. Practical and stylish!
56. Create Your Dream Pantry
Do you dream of a pretty, organized pantry? Give your messy, unorganized pantry new life by placing items in bins. Woven baskets will help keep your pantry organized and have you one step closer to the pantry you have always dreamed of.
57. Modernize The Lighting
Looking to create a beautiful kitchen without breaking the budget? Replace outdated light fixtures with more modern styles like pendant lighting or track lighting. Hang a few large pendants over your kitchen island for a dramatic look, and fill them with quality energy-efficient light bulbs!
58. Create Your Own DIY Coffee Station
Take your kitchen up a notch with a DIY coffee bar station. It can be as elaborate as having a dedicated table to store all your coffee needs, or as simple as a corner area of your counter.
59. Update Table To Farmhouse Table
Do you have a kitchen table that is still in good shape but maybe a little outdated? Give it new life by painting it with chalk paint. This look fits right in with the farmhouse design.
60. Chair Covers
Adding slipcovers for your kitchen chairs is a great way to hide outdated chairs, or simply elevate the design. Make your own chair covers or buy some universal ones that fit your existing chairs.
61. Spruce Up Pantry Door
The simplest way to update your pantry door is by giving it a fresh new coat of paint. Another option would be to give it some personality with a specialty pantry door or another door alternative. Either way, you go this DIY project will be done in no time!
62. Goodbye Wire Shelves
Get rid of cheap wire shelves in the pantry and replace them with custom wood shelving. Not only will it look better, but you no longer have to worry about anything falling through the cracks!
63. Add Pull Out Shelves
Increase the amount of storage in your kitchen by adding some pullout shelves. If you are looking for something that requires no tools, a lazy Susan can help out quite a bit.
64. Bring New Life To Countertops
Fake the look of new countertops with a countertops transformation kit. This is a fairly easy weekend DIY project that you can do.
DIY Projects For The Home – Basement
65. Install A Barn Door
Another great home improvement option is a sliding barn door! This stylish addition to your home can be used in any room you see fit! Take it up a notch and add double sliding barn doors for a grand statement.
66. Hide Your Electrical Box
There are so many amazing DIY ways to hide this eyesore that involve minimal time and effort. Or if you prefer you can purchase a cute decorative cover for it!
67. DIY A Bar For Your Basement
A bar can be a perfect addition to any basement. You don't need to spend a fortune to add one to your basement. We built this Dry Bar in our basement for under $300!
68. Add A Fake Brick Wall
If you are looking for a simple DIY project that has a big impact, add a fake brick accent wall to any room. You can create this look in a weekend for less than $100.
69. Mount Your TV To The Wall
Achieve the ultimate viewing angle and save space by mounting your TV to the wall.
70. Replace Furnace Filters
Check your furnace filter every three months to improve air quality and efficiency. Replacing them is easy – just swap out the old one for a new one.
71. Upgrade To A Double Sump Pump
If you have a finished basement, you may want to consider installing a double sump pump. If one pump were to fail during a storm, the other one will kick in. Want extra peace of mind? Add a battery backup in case the power goes out.
DIY Projects For The Home Office
72. Add French Door
A simple french door can add some elegance and class to your home office entrance. This is a simple DIY project that involves removing the old door and simply hanging up the French door.
73. Spruce Up The Walls With Wall Decor
Buying new artwork for your home can get expensive really quickly. Try your hand at some DIY Wall Art or transform your boring home office walls with any of these 53 Home Office Wall Decor Ideas.
74. DIY A Desk
Let's face it, the home office is all about the desk! With so many great DIY desk options out there, you are sure to find one that fits your needs and budget.
75. Makeover Old File Cabinets
Make your home office feel more cohesive with a filing cabinet that adds personality to the space. You can use paint, wallpaper, contact paper, or even ceiling tiles to give it more punch.
76. Replace Regular Outlets With USB outlets
Keep up with all your charging needs by replacing your regular outlets with functional USB outlets.
77. Add Extra Storage
Whether it's floating shelves or built-in bookshelves, adding some much-needed storage to your home office is a DIY project you can complete this weekend.
Common Areas

DIY Projects For The Home ( Hall, Closets, etc)
78. Spice Up Your Stairs
If you want to update your old oak stairs to make them more modern, consider using white paint to give the stairs and the railings a fresh makeover. Or if you prefer, you can change out the railings altogether.
79. Turn Your Coat Closet Into A Shoe Closet
Do you have a large family with a ton of shoes lying all over? Turn a small coat closet into a shoe closet by adding shelving all the up.
80. Install Closet Organizers
Remodeling and organizing closets can add value to your home. Instead of having a company custom install your closet, you can find many options that you can install yourself.
81. Air Registers
Replace or spray paint your air registers after giving them a good cleaning.
82. Make a Gallery Wall
Take all the old picture frames you have laying around, spray paint them all one color for a cohesive look, and make a beautiful gallery wall for your hallway.
83. Wainscotting
Wainscoting is a very easy DIY project that you can do. Once you decide on the look you want, it just takes some wood and patience to create this beautiful look in your home.
Outside DIY Projects For The Home
84. Build Your Own Fire Pit
Skip the store-bought fire pit and build your own using pavers. This DIY Project only takes a few hours to complete and will be enjoyed for years to come.
85. Hang String Lights
Cozy up the backyard by adding some string lights. If you have an existing structure you can simply hang it with some hooks. A few other ways to hang include between trees, on the fence, or even on your deck railing.
86. Powerwash Your Sidewalks
Increase the overall curb appeal of your house by taking advantage of power washing. This is an easy, quick and effective way to clean the exterior of your house. You can use it on sidewalks, driveways, siding, porches, and more.
87. Fix Broken Screens
Replacing broken window screens is an easy DIY project that almost anyone can do. It's amazing how much of a difference this can make.
88. Install New House Numbers
Add some large eye-catching house numbers to make sure your address isn't missed and give your house some personality.
89. Make Your Own Front Door Wreath
Put your creativity to work and make your own wreath for the front door.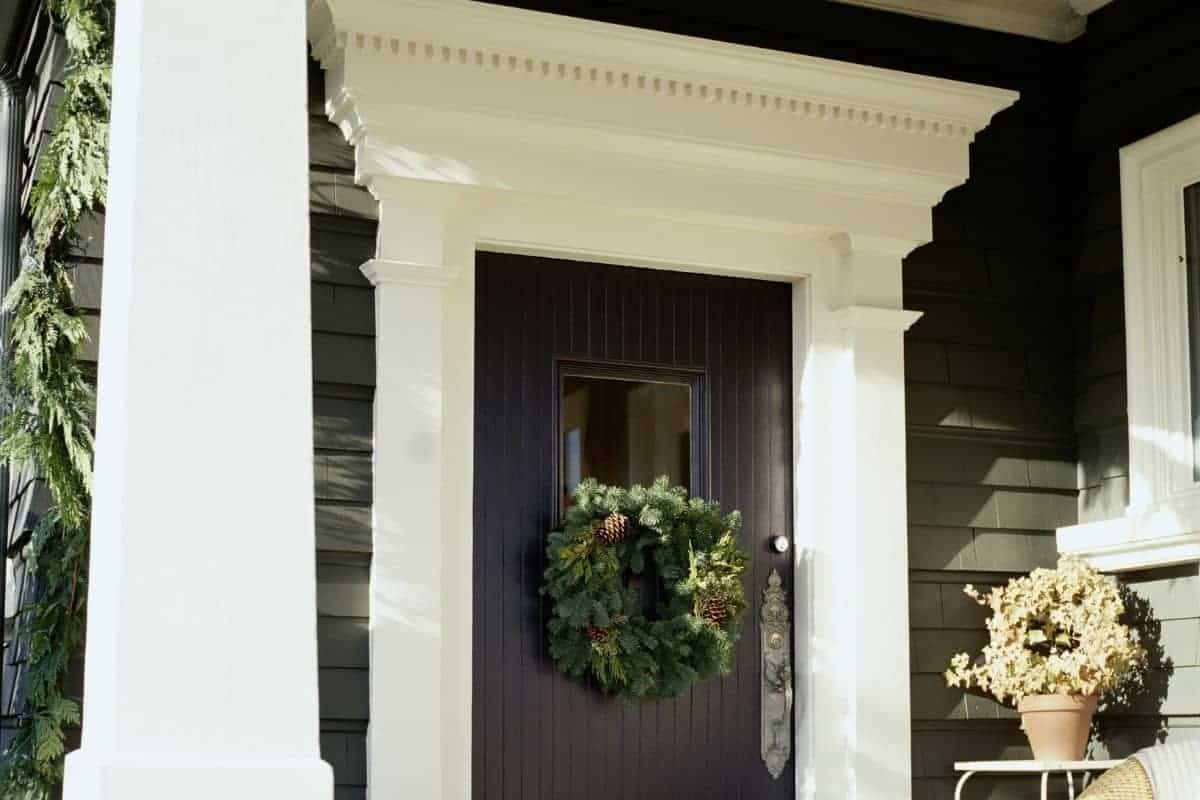 90. Upgrade Exterior Light Fixtures
Giving your home exterior a facelift doesn't have to cost a fortune. Updating smaller details, like the outside light fixtures can make a huge difference. Buy some new fixtures that stand out or go the DIY route and spray paint the current ones you have.
Or, simply change out your porch light colors for a fun update.
91. Garage Doors
Custom garage doors can get really expensive, really quickly. Luckily there is a more budget-friendly option. These decorative magnetic carriage door accent handles and hinges can add charm without any tools or drilling required!
92. Paint Or Stain The Fence
Help your fence last longer just by painting or staining it. Just make sure you check the weather before you start!
93. Add Hanging Storage
Free up valuable space in your garage or basement by adding hanging storage. By adding hooks like these, you can free up space by hanging bikes, sleds, etc.
94. Organize Workbench Chaos
Organize your workbench area with a hanging pegboard.
95. Add Some DIY Shelving In the Garage
All it takes is some 2x4s and plywood to create shelving in the garage. They are great for organizing storage bins, seasonal items, and everything else that seems to end up in the garage.
96. Paint Garage Floor
Over the years, the garage floor can get pretty nasty looking. Painting the garage floor is a great weekend DIY project you can do to make it look good for years to come. Just make sure you use epoxy paint like this one.
97. Paint Some Old Flower Pots
One of my favorite cheap DIY projects is to paint old flower pots. Not only does this make your porch look amazing, but there are endless designs out there to choose from.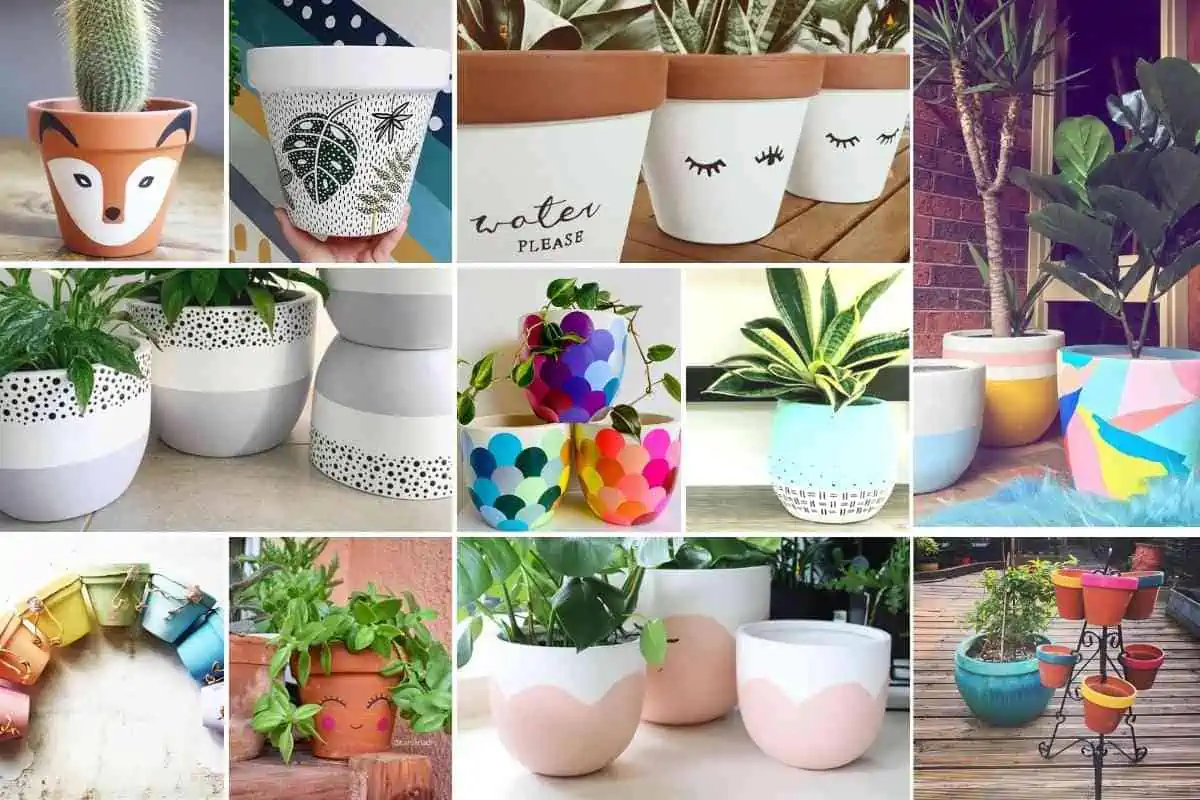 More DIY Projects For The Home
98. Up, Up & Away
Use double coat hooks to hang an iron board on. This will help keep it out of the way, simply hang it wherever you have room.
99. Make Laundry Room Station
Lost socks, loose change, lint? DIY A station to have all these things at hand when doing laundry.
100. DIY A Chalkboard From Old Picture
Do you have a large old picture frame lying around? Grab some chalkboard paint and turn it into a menu board in the kitchen.
101. Panel a Plain Door
If you have flat interior doors, sprucing them up with some plywood panels and a fresh coat of paint can have a serious designer-worthy impact on your home.
102. Tighten Up Loose Screws
Grab a screwdriver and tighten any loose screws in the home. Think chairs, bed frames, tables, door handles, etc.
103. Wallpaper A Bookshelf
A little bit of peel-and-stick wallpaper can go a long way to upgrade a simple bookshelf and add some personality.
Score some unique finds at a local thrift store and turn them into one-of-a-kind pieces for your home.
Conclusion
We hope you've found a project in this article that will inspire and motivate you to get started on your DIY home projects. Remember, the key is small steps! Take it one step at a time and remember to celebrate when you're done with each step of an easy-to-achieve project. And if we missed any of your favorite DIY projects from our list, let us know what they are in the comments section below so other readers can try them too!