Basement Barn Doors – What You Need To Know
When we decided to finish our basement, I knew for sure that I wanted barn doors! We were going for an industrial-farmhouse look and these were a must. However, one set of double barn doors just isn't enough!
I knew I wanted a sliding barn door for the bedroom but then I decided to also add a set to the storage room closet.
Besides our faux brick wall, the barn doors are my favorite part of our basement. See what we used and how we installed them.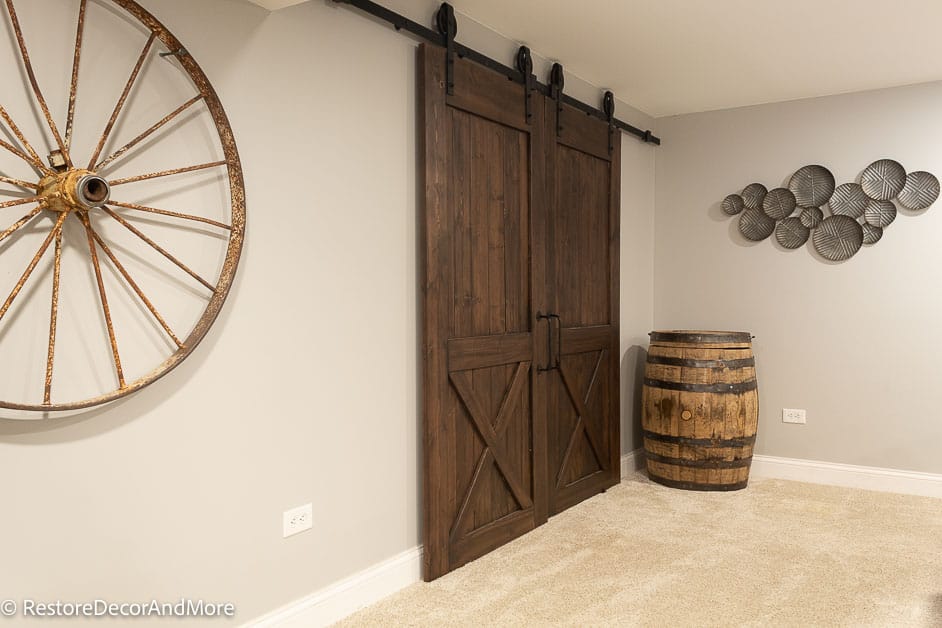 This post may contain affiliate links, which means I'll receive a commission if you purchase through my links, at no extra cost to you. Please read full disclosure for more information.
Choose The Barn Door
The first thing I had to do was decide which wood barn doors I wanted. Since I decided to go with two sets of double barn doors, I wanted to find something that wasn't crazy expensive! We decided it would be way more cost-effective to purchase unfinished barn doors that could be stained or painted.
After looking around, we landed on a Knotty Pine Barn Door from Menards. We managed to find them on special buy for only $99 a piece. They fit in with our rustic industrial farmhouse look we were going for. Amazon also has this very similar one now if you don't have a Menards near you.
Barn Door Stain
You can choose to either paint or stain your barn doors. I wanted more of a rustic look which I could achieve better with stain. This process was time-consuming but fairly easy. The barn doors we choose were pretty much ready to be stained. I wiped them down and had to quickly sand a few areas but other than that they were ready to go.
We went with Kona Stain which is a darker brown.
Barn Door Hardware
If you intend to hang double barn doors like we did you will need two sets of hardware. We got these ones from Menards, but I don't see them there anymore. This kit from Amazon is almost identical. One small issue we ran into was that the rail was a bit too long because of the soffit. All we had to do was cut the metal down slightly to make it fit.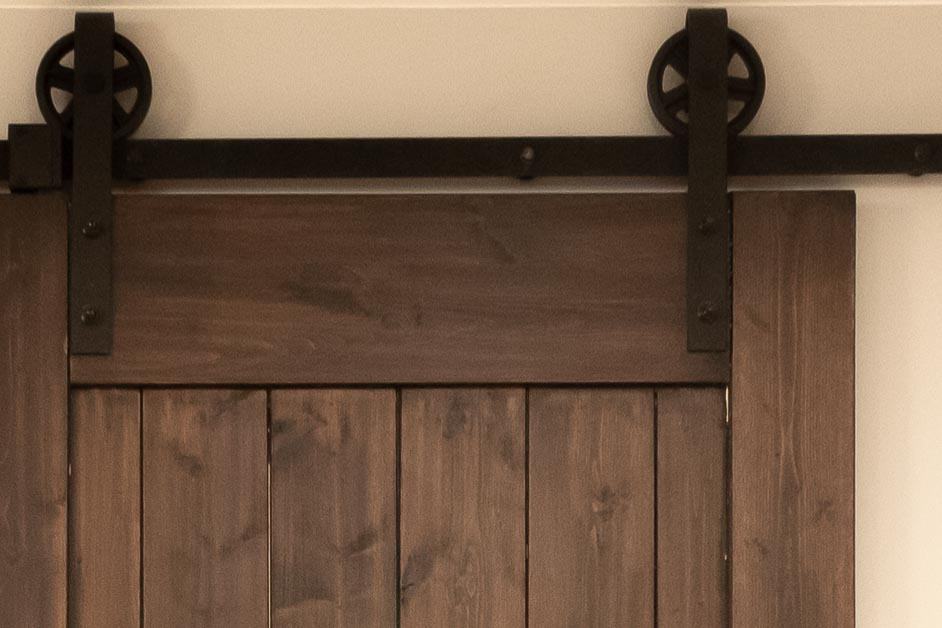 How to Hang Double Barn Doors
Make Sure Everything Fits
Take the time to measure what size doors you will need for the opening you have. Because we were installing these barn doors in the basement, we had the challenge of dealing with lower ceilings. We did need to trim the bottom of the door slightly in order for us to get the correct fit.
Next, you want to make sure that you have plenty of empty space so that the door fits when you slide it open. This means paying attention to light switches, thermostats, etc that might get in the way when you want to open and close the door. (Or in our case that darn soffit!).
When you measure, remember that you want the barn door to cover about 2-3 inches beyond the opening on each side. You will also want about an inch above the opening.
Have Someone Help You Install Barn Doors
Due to the weight of the doors, this isn't the easiest DIY project to do by yourself. I would highly recommend that you don't try it alone. It definitely takes more than one person.
I consider myself a pretty novice DIYer but I let my husband and our buddy handle this one on their own. (Hey- I did my part by staining them, right?!)
Decide If You Need A Backer Board
Sometimes it is necessary to install a backer board for the track to attach to so you may need one. (You need space between the wall and track). The metal track kit that we purchased for our basement barn doors included wall spacers so it wasn't necessary for us to install a backer board.
Follow Install Instructions
Most likely, the barn door hardware kit you purchase will come with directions to install. Take the time to look it over and if you follow the instructions.
Tools Required – Double Barn Door Installation
Basement Barn Door Handles
There are so many options for barn door handles out there it really is a personal preference. For us, we wanted to tie in our industrial elements. I wanted our basement barn doors to have larger handles and was not having much luck online. I even went as far as looking for shed handles!
Finally, I found these ones at Hobby Lobby! I always forget that they have a pretty decent selection of hardware. They also have similar ones on Amazon too.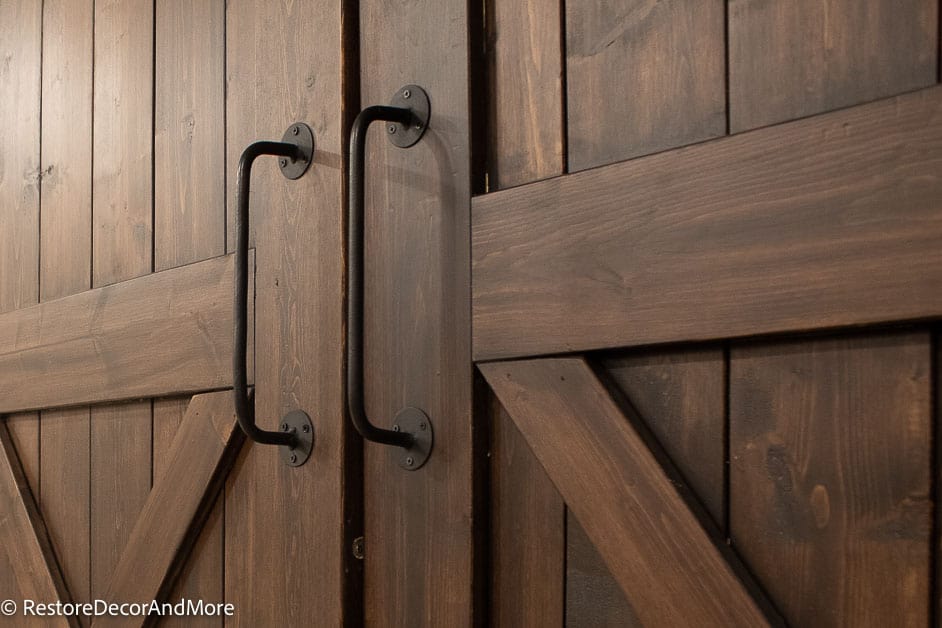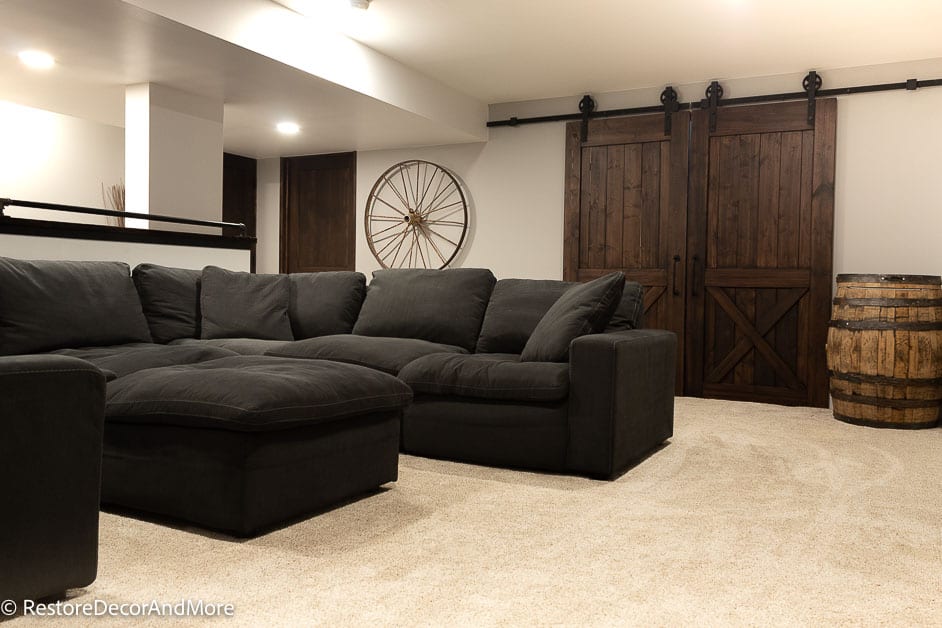 Basement Storage Closet
When looking for closet door alternatives, we decided to add barn doors to our storage closet as well. So yes, that's two sets of double barn doors in our basement! We made sure to install the doors after our vinyl flooring which made the process easier.
Basement Barn Doors Complete
Thanks for stopping by! I hope you consider sliding barn doors for your basement we love ours!

Barn Door FAQ's
Since we get a ton of questions about our basement barn doors, I figured I would answer some of the most common.
Can You Put Two Barn Doors Together?
Absolutely! If you are going for a French door look you can put two barn doors together. Just keep in mind you need enough space for both doors to open. If you don't have enough room you can try a bypass door.
Do I Need To Buy A Double Door Kit, Or Can I Put Two Single Doors Together?
Yes! You can definitely put two single doors together that's what we did in our basement. Most of the time this will be more cost-effective. Keep in mind that you will also need to purchase two sets of barn door hardware tracks if you are going for French barn doors.
How Do You Close The Gap Between The Double Barn Doors?
The rail system that you buy will come with door stoppers. They are used to determine the stopping position of the door. These door stoppers are adjustable, so you can place in anywhere along the track. You should easily be able to figure out where to put them to ensure that there is no gap between your double barn doors.
Do The Barn Doors Slide Easily?
Yes. We have two sets of double barn doors in our basement. One set is on the carpet and one set is on vinyl plank flooring. I will say that it slides very easily on the carpet and almost too easy on the hard surface.
Do You Need A Backer Board For A Barn Door?
Some kits do require that you have a backer board to ensure there is space between the track and the wall. Our kit came with wall spacers so we had no need for it.
How To Keep Barn Door From Swinging?
In order to make sure your doors don't swing back and forth you want to make sure your hardware kit comes with floor guides. You would mount it to the floor, and then it acts as a guide to keep the door from swinging.
What Keeps The Doors From Jumping The Tracks?
Your hardware kit should come with door stoppers. These are adjustable so you put them exactly where you want on the track which keeps the doors from jumping the tracks.
How Much Bigger Should A Barn Door Be Than The Opening?
Generally, you want your door to be about 2 to 3 inches wider than the opening for the door. You will also want it about 1 inch higher than your opening. Most of this depends on how much you want your door to overlap the opening.
Do Barn Doors Keep Out Noise?
If you are going from a hollow door to a solid barn door you will probably notice the difference.
Where To Put Handle On Barn Door?
The standard mounting height is usually between 34 to 48 inches from the floor. (Middle of handle) Test it out and see what feels most comfortable for you.
Can You Put Handles On The Inside?
The problem with putting handles on the inside of your barn door is that it will hit the door frame and wall when you open it. Luckily, they are fairly easy to open from the inside so putting a handle on is not necessary.