Farmhouse Industrial Decor – Get The Look
One of my favorite things about the farmhouse style is that you can combine it with a lot of other styles and it still looks amazing. When we decided to finish our basement, I wanted to add some farmhouse industrial decor to give it more of an industrial feel.
What is Industrial Farmhouse Decor?
Industrial design is all about metal accents, concrete, exposed brick, wood, and exposed lighting. Think of an old factory or warehouse vibe. If you combine those elements with the softer side of the farmhouse style (like farmhouse pillows), you create a look that is not too harsh and more welcoming. This style is all about city meets country. Depending on how heavily you lean into one style or the other will determine the overall vibe of the space.
In order to incorporate the industrial style, here's what I did to our basement:
Added Industrial Decor
Put Black Pipes on the Counter behind the couch
Installed Shiplap Wall
If you want to makeover a room to reflect this style, think of the items that will have a big impact. Here are some great ways to add farmhouse industrial decor to your home.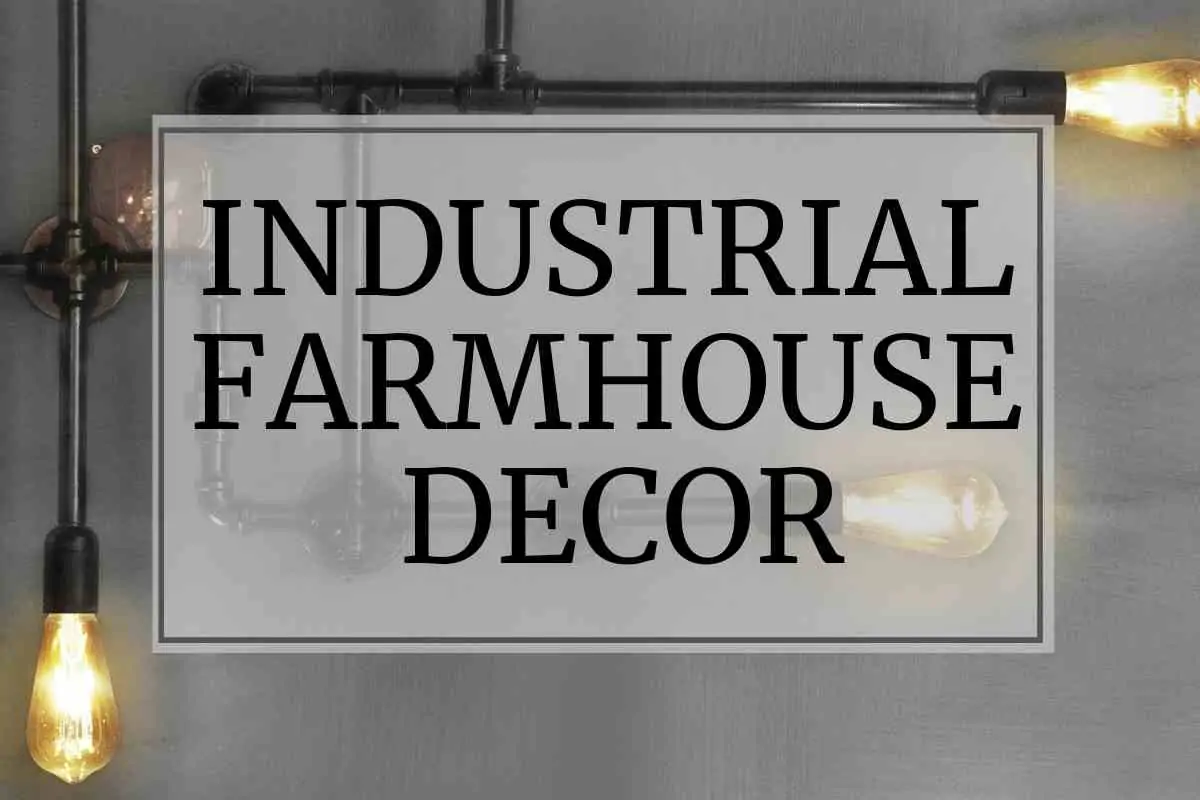 This post may contain affiliate links, which means I'll receive a commission if you purchase through my links, at no extra cost to you. Please read full disclosure for more information.
Lighting
One great way to incorporate farmhouse industrial decor is to change out your lighting. Industrial style lighting is all about black metals as well as exposed bulbs and cages.
Consider changing out your pendants, adding some sconces, or even a ceiling fan like this one to incorporate the industrial feel into any room.
Bar Stools
Another great way to add farmhouse industrial decor is with bar stools. Not only do bar stools give you extra seating, but they can become a statement piece in your design as well. Most industrial-style barstools have a combination of metal and wood.
If you want to soften the design a bit, these metal bar stools come in a variety of different colors.
Farmhouse Industrial Shelving
One way I added industrial to my farmhouse decor was to add some shelving. There are so many great industrial shelving units out there to choose from. Mostly you will find them with wood shelves and some sort of black pipe. You can also make your own by purchasing the pipes and shelving separately.
Industrial Furniture
Consider adding an industrial end table or desk. Again, most of these will be wood tops with metal legs. To soften the look, add accents like greenery, books, candles, etc to give it more of the farmhouse look.
You can also add this cool industrial shoe rack, or galvanized metal end tables. As you can see, there are a lot of different options. Just make sure you use softer accents to create a cozier, less harsh look. Remember, it's all about mixing the city and country vibes together.
Incorporate Concrete
Remember, an industrial farmhouse is not just wood and metal. Once material I like to add is concrete. This can be in the form of a vase, a lamp, or even a picture frame. Anything to add an extra texture to the room to help pull the look together.
If you are trying to decorate on a budget, you can get cement spray paint and simply update items you already have in your home.
Industrial Farmhouse Wall Decor
Don't forget about wall decor when you are looking to incorporate some industrial elements. It can be artwork, clocks, sconces etc.
Industrial Farmhouse Sink
If you are working on the kitchen, an industrial farmhouse sink is a way to make a huge impact! Stick with stainless steel in silver, black or copper to really top of the design look!
Other Industrial Farmhouse Decor Ideas
Whether it is the kitchen, bedroom, or bathroom – adding small industrial accents will help you to achieve the look you are going for. Here are some ideas of home decor accents you can add.
Thanks for stopping by, I hope this inspired you to add some farmhouse industrial decor to your home! As you can see, there are many ways to incorporate this look. There are plenty of places to find cheap farmhouse decor so it doesn't have to cost a fortune to achieve this style.