Shiplap Guide: Everything You Need To Know
Shiplap is a type of accent wall that is popular, especially in farmhouse-style homes. It is commonly used as an accent wall for many reasons, but mainly for its aesthetic appeal.
Since shiplap has that rustic or vintage look, it adds charm to any room in your home with ease. Shiplap walls are gorgeous, but they also work great on ceilings, kitchen islands, bathrooms, bedrooms, etc.
One of the reasons this look is also popular is that it is a fairly easy DIY project to do. So if you are looking for an inexpensive way to update your home, shiplap is a great option. In this article, we will cover everything you need to know about shiplap, especially if you are considering doing it yourself.
This post may contain affiliate links, which means I'll receive a commission if you purchase through my links, at no extra cost to you. Please read full disclosure for more information.
What Is Shiplap?
Shiplap refers to horizontal planks or boards with vertical grooves in between. Shiplap originated from naval ships and was used as a way to seal out water and cold air.
A shiplap wall is commonly made up of long plank pieces, usually at least 4 feet in length, that are placed horizontally along the wall. The grooves in between the planks or boards are called rabbets.
These grooves allow each board to fit into them and then interlock with neighboring boards, creating a tight seal.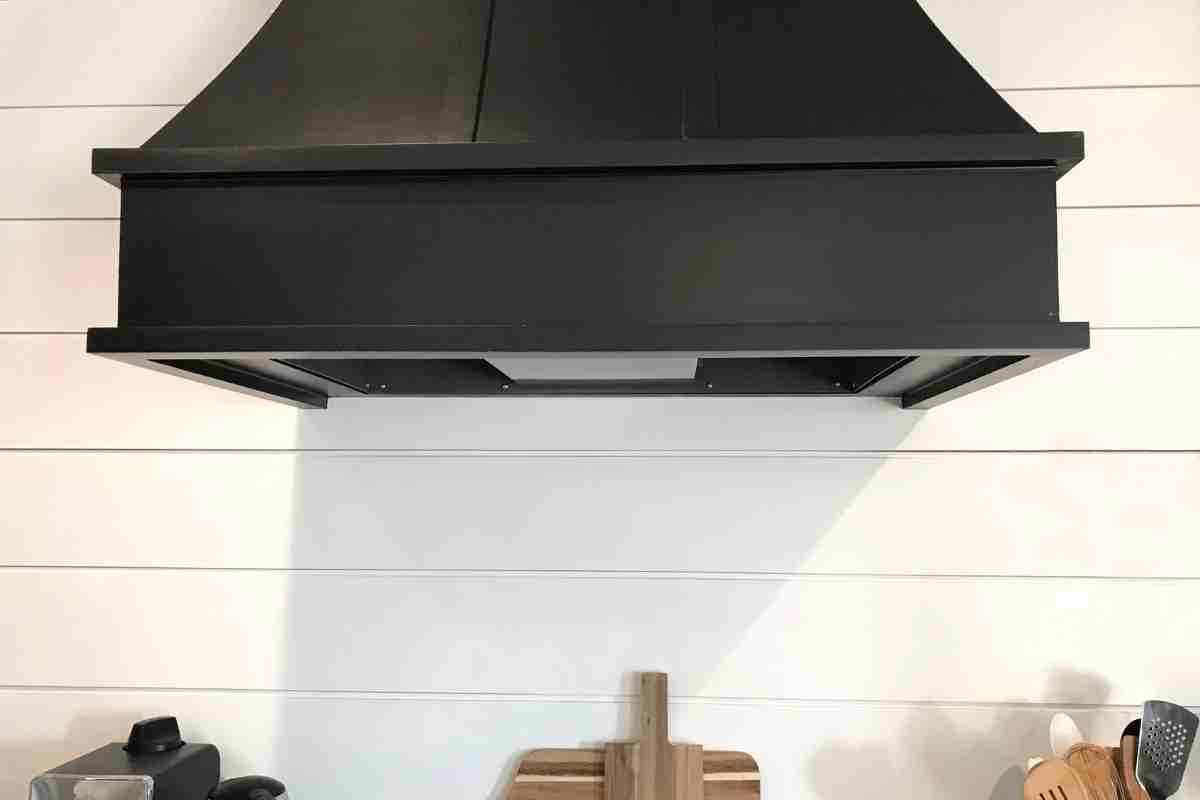 Why You Should Use Shiplap In Your Home
There are many advantages to using shiplap in your home. Not only does it add character, but it's also a very practical accent wall solution. Some of the reasons shiplap is used in home construction are:
It is an easy DIY project for beginners
Shiplap can be painted or stained any color
The gap between each board gives it a unique appearance
It's durable, so it's suitable for high traffic areas of your home
You can use shiplap in almost any room of your home
It can be hung horizontal or vertically
Cover imperfections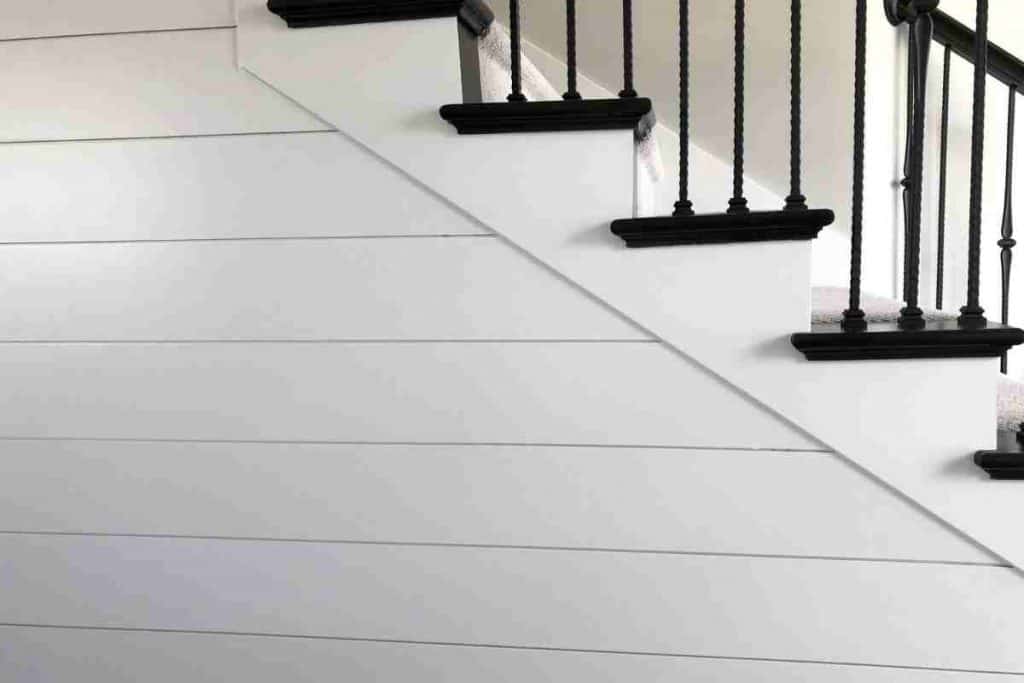 How Much Does Shiplap Cost?
The cost of shiplap will depend on the size and type of material that's used. You can easily spend $4.00 – $10.00 per board for real shiplap. You can buy tongue and groove boards (which are typically used for exterior applications) at your local hardware store.
If you're looking to update the interior of your home, look into wood-paneled or MDF boards instead. The price will be much lower than the alternatives.
Where To Buy Shiplap
Shiplap can be found at your local hardware stores such as Home Depot, Menards, or Lowes. You can find shiplap in a number of different sizes and materials to suit your needs.
You can also find it online at retailers like Amazon and Wayfair.
Faux Shiplap
If you want the look of shiplap without the price tag, there are many faux shiplap options out there that are more cost-effective.
You can use plywood for shiplap, wallpaper, or even a sharpie to create the look for less. If you want to go with plywood, you can have Home Depot cut the wood for you ahead of time!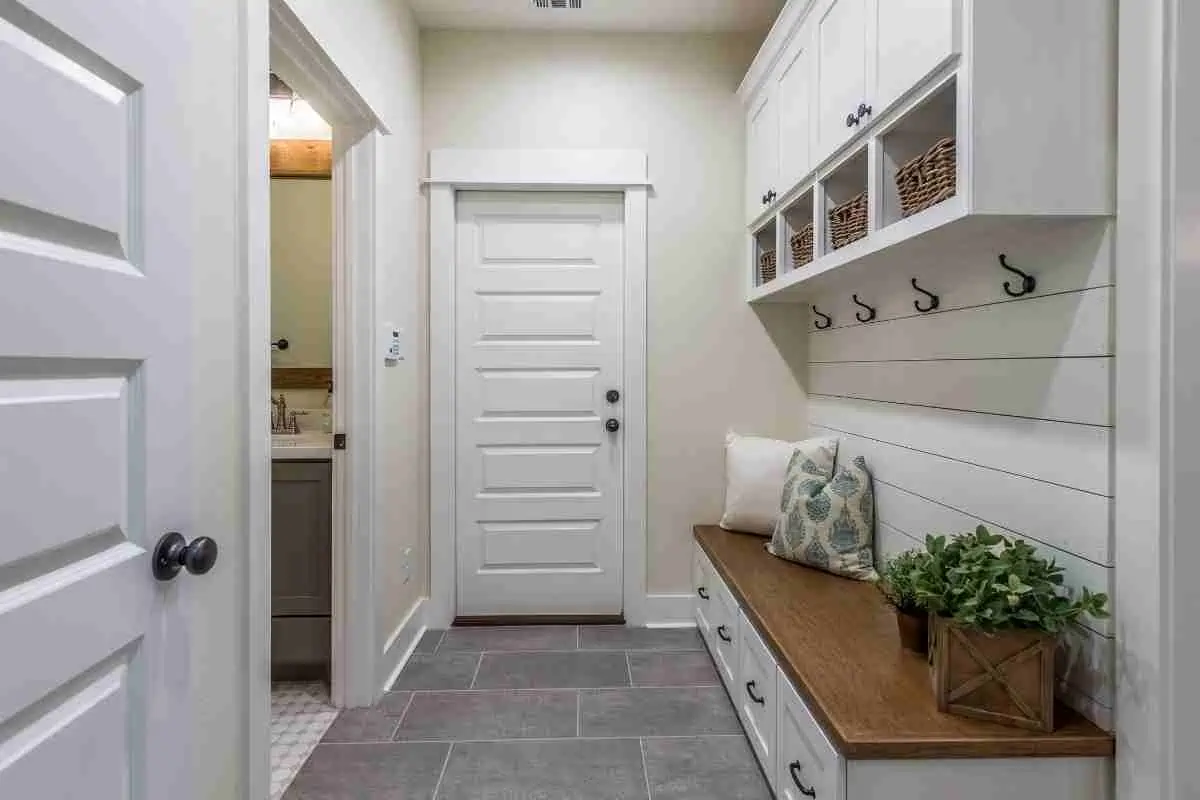 How To Install Shiplap
Install shiplap varies slightly depending on if you are using tongue and groove or straight plywood panels. You can hang shiplap directly to the studs if you haven't drywalled yet, or over the drywall if you have.
Most Shiplap Installation Follows The Same Basic Steps;
Measure Wall To Determine How Much Shiplap Is Needed
Paint Shiplap
Remove Baseboard & Outlet Covers
Find & Mark Studs
Nail First Board To The Wall
Cut & Install The Next Board
Stagger The Boards On Next Row
Continue Hanging Shiplap Until Wall Is Complete
Reinstall Baseboards
Fill Nail Holes
Seal Wall (Optional)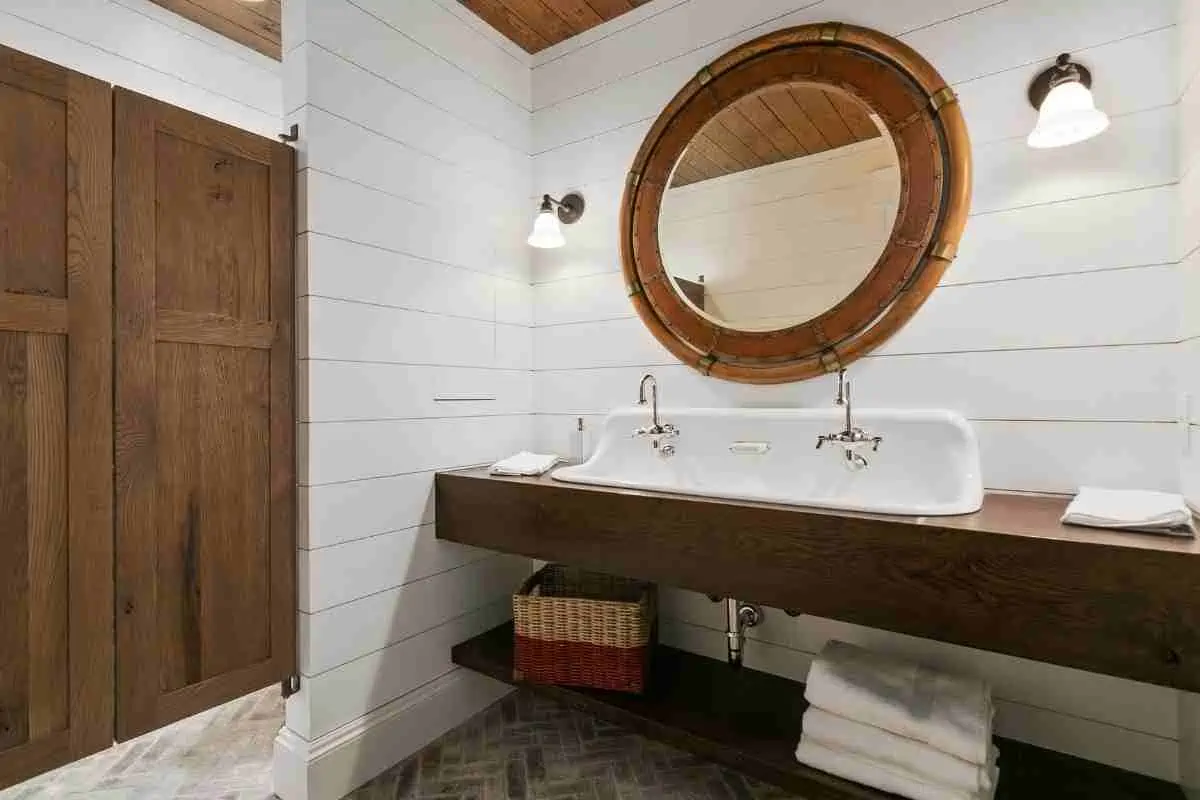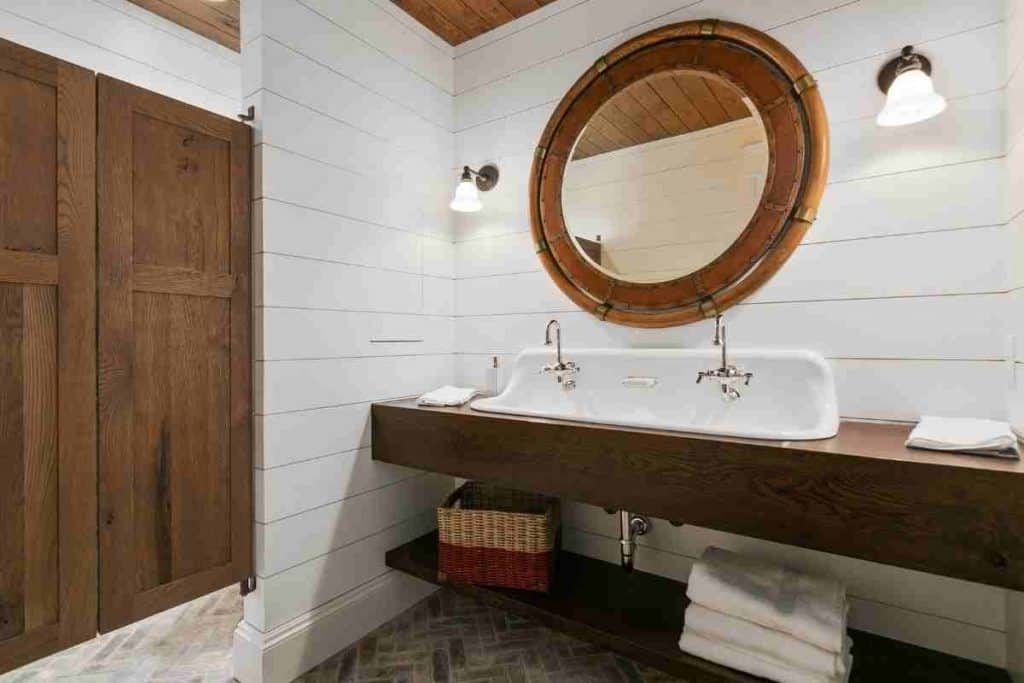 How To Stagger Shiplap
When installing, stagger the boards randomly and not on top of each other. Since you will have to butt the end joints up to each other, you want to make sure you stagger it so that it looks aesthetically pleasing.
Avoid stacking the seams on top of each other as this will create an eyesore that looks sloppy.
Horizontal VS Vertical Shiplap
You have the option of hanging your shiplap either horizontally or vertically. The more common way to hang shiplap is horizontal. This look is more commonly used in homes where there is more wall space and can help a room appear wider.
Vertical shiplap is a bit more modern. It also helps the room appear taller and more open. Vertical shiplap can be used in any room and is especially popular in hallways and bathrooms. Both options are gorgeous and it just depends on what you want for your home.
Shiplap Walls, Ceilings, & More
One great thing about shiplap is you can use it almost anywhere! Not only does shiplap look great on walls but also on fireplaces, ceilings, doors, basement bars, and even furniture such as cabinets or headboards.
Shiplap Dimensions
There are many different lengths and thicknesses you can buy. The most common length is 8′ and the most common dimensions are 1×6 or 1×8.
The length of shiplap you choose will be determined by your wall space. If you have a large wall, you'll want to go for a larger piece so that it doesn't look too small or crowded.
The 1×6 boards are the most common and work well in almost all spaces. However, if you have a large wall you might want to consider the 1×8 which makes it easier to cover a large space.
How To Paint Shiplap
Painting shiplap is very easy and prefabricated boards come primed so you don't have to worry about one extra step. If your shiplap is raw wood, however, you'll want to apply a coat of primer before painting it.
When it comes to painting shiplap, it's easier to get the edges if you paint the boards before installing. If that is not possible, then simply paint the wall with a roller and then use a brush to get in the edges.
Shiplap Paint Colors
You will typically see shiplap walls painted white. White is the most popular choice and always looks gorgeous. You can also use shiplap as an accent wall to bring in a pop of color or even paint it your main wall color such as gray, blue, green, etc.
If you are struggling to find the right color, using peel and stick paint samples are a great way to test out colors before committing.
Mix it up and go with a black shiplap wall to add a whole new level of sophistication. There is no right or wrong color to paint your shiplap walls!
How To Decorate Shiplap Walls
Decorating shiplap walls is very easy and versatile. You can use a gallery wall, frames, or even large pieces of art to decorate your walls.
If you have a big wall and want to go for an open look you can simply hang up a TV and add some bookshelves around it for a fun modern look.
You can also create a statement by painting shiplap the same color as your wall and adding large pieces of art to create an eye-catching look.
Conclusion
Shiplap is a beautiful accent that will update any room, including bedrooms! They are simple to install and can be painted in any color to fit your decor needs. If you're looking for a way to makeover your home, shiplap might just be the answer!
Shiplap is a type of accent wall that has become increasingly popular in recent years. It can be used almost anywhere in your home, comes in different sizes and colors, and is easy to install yourself.
In this article, we have covered everything you need to know about shiplap, from the different ways it can be hung to how to paint it and decorate it. Let us know if you have any questions!