Does Home Depot Cut Wood For You?
You may be asking yourself, "Does Home Depot Cut Wood For You?"
The truth is, most people don't have the time or tools to cut their own wood. Also, some people don't have large enough vehicles to transport large sheets of wood home.
Home Depot offers a convenient wood-cutting service that will save you time and hassle on your next DIY Project. They can cut your wood to the size and specifications you need so that you can start your project as soon as possible.
However, there are some limitations to the free service Home Depot offers.
This post may contain affiliate links, which means I'll receive a commission if you purchase through my links, at no extra cost to you. Please read full disclosure for more information.
This article will cover everything you need to know about the service, including the hours and limitations, and restrictions to the service so that you know all of your options before you get started.
Does Home Depot Cut Wood For Free?
Home Depot will cut your wood for free. However, there are some limitations to the service depending on where you have your project cut. This includes a twelve-inch minimum length and sometimes a limit of two cuts per customer. After that they may charge $0.25-$0.50 per cut; each location is different.
That being said, I have never paid for more than two cuts.
Home Depot Wood Cutting Policy
Home Depot has a wood-cutting area where they will cut your wood to size for you for transportation. However, you must purchase the wood in-store and there is a limit on how many cuts they will make for free. They will not make cuts under 12" and do not provide precision or project cuts.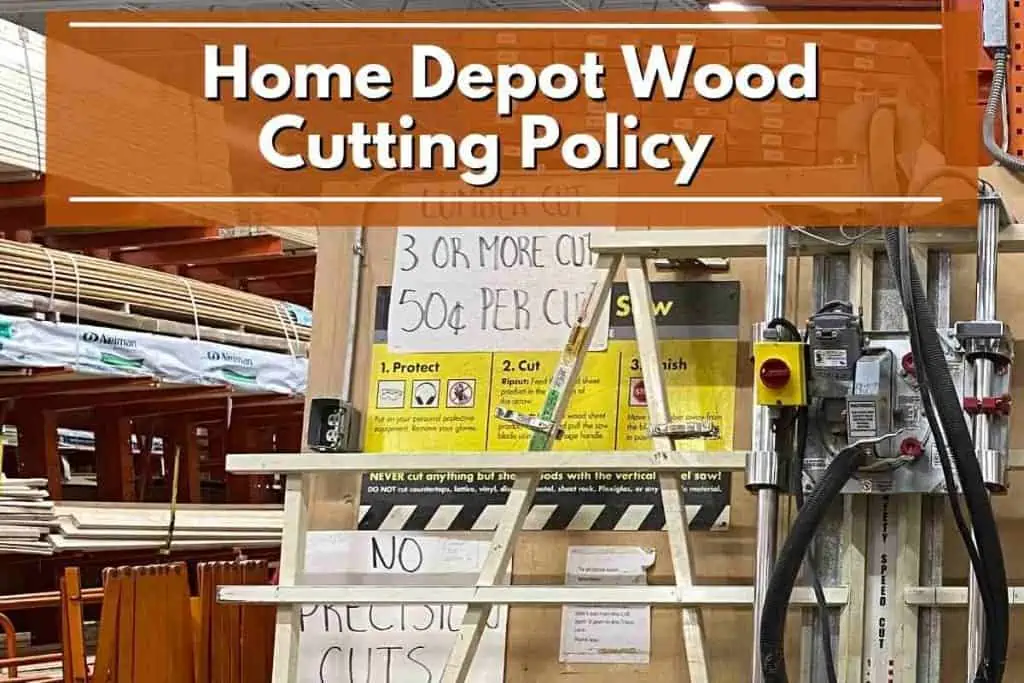 Why Does Home Depot Cut Wood For You?
The purpose of Home Depot wood cutting service is to prepare the wood for customers to transport in their vehicles. This way, they can easily transport the wood to their homes and begin working on their DIY project.
Home Depot employees will cut the wood according to the specifications customers provide them with, as well as size it so that it can fit in most vehicles.
Vertical Panel Saw
If you are looking to have large sheets of wood cut, Home Depot will use their vertical panel saw. This is great for things like plywood & large sheets of lumber.
However, they will not cut the following:
Countertops
Lattice
Vinyl
Displays
Metal
Fiberglass
Any Flexible Material
No Precision Cuts
Home Depot is very clear that they do not cut to the precision of customer's measurements. While this may turn some people away, it is for safety reasons.
The employees are trained to cut wood at a large scale so that most vehicles can fit the pieces without having to dismantle them.
Having said that, the equipment they use is designed to create very precise cuts that are within 1/8 of an inch. Make sure to account for that when you give them your measurements.
No Project Cuts
I have seen plenty of signs that say "no project cuts." Project cuts are meant for those who want all the pieces cut exactly how they need them so they can head home and start immediately putting their project together.
They do this to discourage customers from spending too much time at the cutting station just to get small pieces cut. Also, this way, they can prevent customers from requiring too much attention and disrupting the flow of work.
Unfortunately, some customers can be rude & difficult when it comes to project cuts so they do this to prevent that.
That being said, I have had plenty of times where the associate has accommodated our project cuts!
After speaking to several employees here are some tips to improve your chances of them going above & beyond:
Be Nice! – This is so simple yet so overlooked. Being kind, courteous, and friendly to the Home Depot employees will get you a lot more help.
Don't Rush Them – If there are a lot of people in line, don't rush them. Just wait your turn. They have many things they need to do at once so just be patient & understanding that it may take longer for them to cut your wood.
Be Prepared – Make sure you have the measurements & sizes of what you need cut. (Bring a pencil & measuring tape to mark beforehand).
Go During Slow Times – You have a much better chance of getting the cuts you want if you go to Home Depot when it's not a busy time. If you have a specific project you need to be done, going in from 1 pm-5 pm on a weekday is your best bet.
Lend A Hand– Offer to help load the wood onto the saw or grab pieces from them after they make the cuts.
How Much Does It Cost To Have Home Depot Cut Wood For You?
This varies a bit by location. Usually, the first two to five cuts are free. Then they will usually charge $0.25-$0.50 per cut afterward. Check the sign on the panel saw at your local Home Depot to see what they charge.
Although they have this policy in place, I have never been charged for more cuts! They did it all for free when we had 6 sheets of plywood cut for our shiplap wall. After asking an employee about this policy, he said it was mainly to discourage rude customers that are being difficult.
If you are nice, have all measurements ready, go when it's not super busy and help the employees out, they will almost never charge you! This is another reason I enjoy going to Home Depot.
Are there Restrictions on Home Depot's Cutting Service?
The short answer is yes, there are restrictions to the cutting service at Home Depot. There are some limitations depending on where you go and how busy they are, but generally speaking, you must purchase the wood in-store and the minimum length of cut is 12 inches.
Minimum 12″
No Precision Cuts
No Project Cuts
Does Home Depot Cut Wood For You Purchased Elsewhere?
No, Home Depot will not cut the wood for you if you purchased it elsewhere. In order to take advantage of this free service, the wood must be purchased at Home Depot.
When Can I Get My Wood Cut By Home Depot?
You can get your wood cut by Home Depot during their regular business hours. They are open 7 days a week and usually have extended hours on the weekends.
Home Depot Wood Cutting Expectations
If you plan on having Home Depot cut wood for you, it's essential to set your expectations accordingly. They do not guarantee the cuts you request will be accurate so if you have a critical need for specific measurements, this might not be your best option.
The blades they use to cut the wood are multi-purpose so don't expect fine cuts.
You also may be dealing with an employee that doesn't have a ton of experience on the saw. They will do their best to accommodate your needs but you have to be realistic. It's best to have them cut it 1/8 inch over what you need.
Simple Cuts
Keep in mind that the purpose of Home Depots' cutting service is to help customers transport the lumber. Therefore, they will limit you to straight cuts. If you are looking to make cuts on an angle or custom shapes, it's best to have them cut the lumber at the store and bring it home yourself to finish it off.
You can also rent other tools you may need to get the job done.
Does Home Depot Cut Molding & Trim?
If you are looking to purchase molding or trim, Home Depot offers a self-serve "cut-it-yourself" molding cutting center. This is a great way to buy only what you need.
Since you can cut it using a handsaw, most people will be comfortable cutting it themselves to the desired length.
What Other Stores Cut Wood For You?
If you find yourself not near a Home Depot, try asking your local Lowes to cut wood for you. They may be able to accommodate it so long as the length isn't too long. Some other stores like Home Depot such as Ace as well as lumber yards will also provide this service.
Make sure to call ahead to see if they charge or not.
Can I Get Other Things Cut By Home Depot?
Yes, depending on the type of project you are working on, they also have other cutting services they provide.
One of these is blinds! Their associates can cut any blinds you buy in-store exactly to the size you need for free.
They will also cut the following:
Keys
Drywall
Shades
Wire Shelving
Closet Poles
Rain Gutters
Ropes & Chains
Most locations will even cut metal pipes for you! This came in handy when we designed our industrial basement bar.
Conclusion
If you are new to DIY Projects or simply don't want to buy the tools, you can always cut wood for yourself when you go to Home Depot! This is a great service to take advantage of especially if you are worried about how to transport it home.
They offer free cutting services on all their sheet goods. If you go during slow times, offer to help out, and are nice about everything it shouldn't cost you anything extra. If you have any questions or concerns let us know in the comment section below!