Basement Dry Bar – Industrial Design
As part of our quest to finish our basement I knew I wanted to add a bar area. Since we were conscious of our budget, it wasn't worth it to us to go the wet bar route and spend a fortune on moving the plumbing. I wanted something that looked good without costing a fortune. The solution was simple- we decided to build a basement bar ourselves. Here I will share with you how we added our basement dry bar for under $300!
This turned out to be a very inexpensive DIY Project.
This post may contain affiliate links, which means I'll receive a commission if you purchase through my links, at no extra cost to you. Please read full disclosure for more information.
Industrial Bar Design
I started off by designing the industrial bar I wanted. We didn't use a fancy program – just an excel sheet. I figured out the shape I wanted along with the design elements of black shiplap, a corrugated metal bar front, and wood countertops.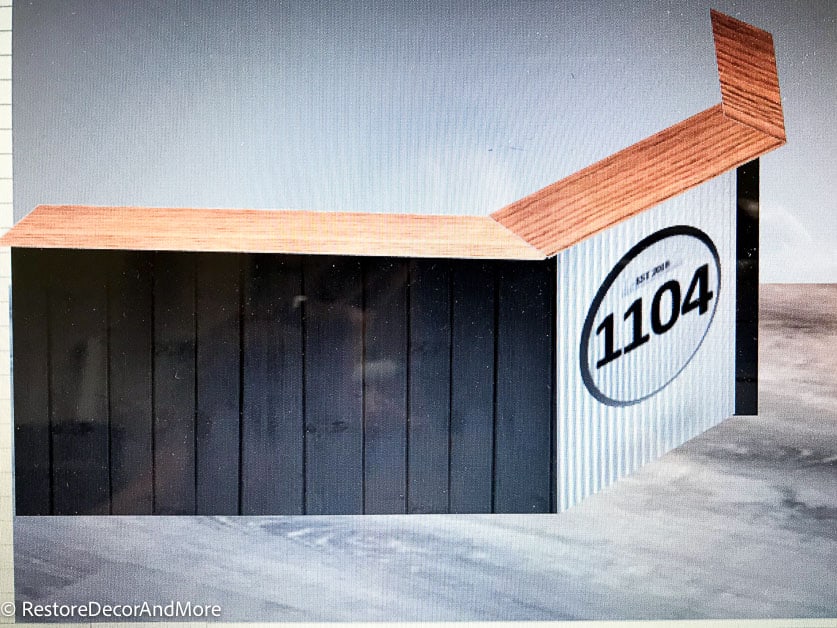 Framing Basement Dry Bar
We started out by framing the bar with the angled shape. Don't mind the post-it notes everywhere lol that was just marking touch-ups needed for the paint.
Plywood
We added some plywood around the frame to cover it up and give it a base for the shiplap and corrugated metal to attach.
One of the changes we made mid remodel was to add that little half-wall next to the refrigerator which I am glad we did. I think it would have looked odd without it.
Corrugated Metal Bar Front
In order to give the bar an industrial feel, one thing we added was a corrugated metal front. We bought a piece at Home Depot and then just cut it down to size.
One thing I wasn't thrilled with was how shiny it looked. In order to age it a bit, I covered it with toilet bowl cleaner, and then let it sit for about an hour. When I wiped it all off it gave it more of an aged look.
Keeping with the industrial feel, we used black screws to attach it to the bar. I found the G decor on clearance and it fit well so that's what we went with.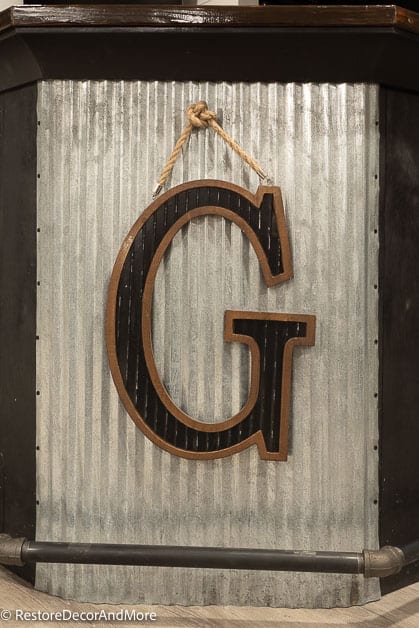 Black Vertical Shiplap On Bar
To continue with the industrial look, we decided on a vertical black shiplap for the larger sides of the bar. I didn't take many pictures of this (sorry!) but to keep the cost down we had Home Depot cut up some cheap plywood into strips.
Then instead of painting them, I actually used a black stain on the plywood.
Once all the boards were stained and dried we simply attached them using a nail gun.
DIY Bar Foot Rail
Since our basement dry bar design was all about the industrial farmhouse feel, we needed some pipe elements with it. We headed over to Home Depot and checked out their line of black metal pipes, elbows, etc.
I will say, this project took a little bit of patience. It was a puzzle that needed to be figured out. Through a bit of trial and error, we were able to fit all the pieces together to get the look we wanted.
We also carried the same metal pipes on the counter behind our couch. Check out our full basement remodel here.
DIY Wood Countertops
When it came to the counters, we researched a bunch of options. Counters can get very expensive so I researched some DIY bar top ideas. We ultimately decided to make our own bar countertops using wood.
I found some 2x12x8 pieces of pine from Home Depot that would work perfectly.
I stained them the same color as our barn doors (Kona Stain) and of course, made sure to give it a few coats of polyurethane. The trickiest part was making sure we got the angle cut right but it was smooth sailing after that. I did find some angled trim to put underneath.
We only spent $40 total on the countertops. Building a basement bar doesn't have to cost a fortune!
We loved how easy and cheap these diy wood countertops were, that we did the same thing behind the couch.
Basement Bar Wall Decor
For the wall decor, I was able to find this amazing whiskey barrel American flag at a local vintage fair. I made the scroll and Bears sign myself and the bar letters I found at Hobby Lobby.
Related: Check our our flooring and how it's held up over the years!
Supplies Used For Basement Dry Bar
Frame
Shiplap
Countertop
Corrugated Metal Bar Front
1 Sheet of Corrugated Metal Panel
Basement Bar On A Budget Complete!
What do you think of our finished basement dry bar? Hopefully, this will inspire you to get creative and add your own dry bar to your home. Don't forget to check out how the entire finished basement turned out. Thanks for checking it out!