Is Lifeproof Flooring Worth It? 2023 Review
When we finished our basement a few years ago, one of the biggest things I struggled with was basement flooring options. A friend had suggested luxury vinyl flooring and after a lot of research, I decided to go with Lifeproof flooring from Home Depot.
Our flooring is one of the main things we get asked about with our basement so I thought I'd share a review of why we chose it, why we love it and how it has held up over the years.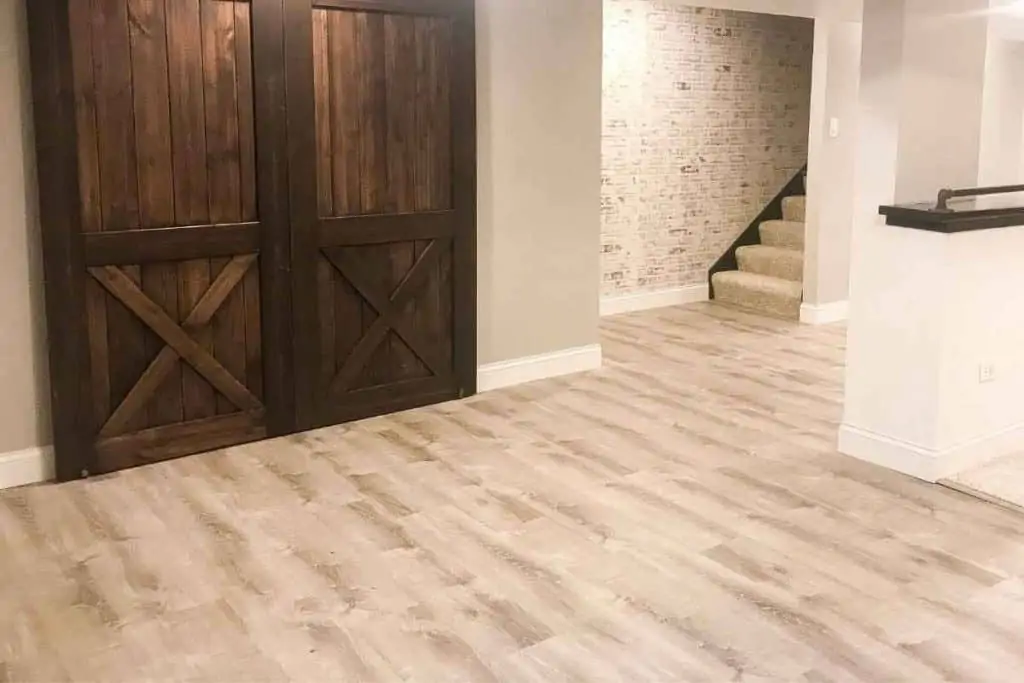 This post may contain affiliate links, which means I'll receive a commission if you purchase through my links, at no extra cost to you. Please read full disclosure for more information.
What Is Luxury Vinyl Plank Flooring?
Luxury Vinyl (aka LVT/LVP) is thicker and more durable than traditional vinyl. It has the look of wood but comes at a much more affordable price tag.
Luxury vinyl planks are waterproof and easy to install and much thicker than traditional vinyl.
The Benefits Of Lifeproof Flooring
When we were searching for flooring for our basement I wanted a few things:
Flooring that was easy to clean, looked good, was waterproof, and didn't cost a fortune!
Here are some of the benefits of using Life proof Flooring in your home.
Affordability
Affordability was one of our main concerns when looking for flooring.
Once we had decided to go with luxury vinyl planks, we must have looked at 100 different options.
The prices can get very high, so when we found the Lifeproof brand at Home Depot we were pleased to see the price was only $2.78 per square foot.
This flooring also includes the underlayment so no need to spend extra money on that.
Selection
I wasn't quite sure if I wanted darker or lighter-colored floors in our basement.
I was pleased to see that they had a pretty decent selection. We ended up going with the Lifeproof Flooring Sterling Oak.
If you are not sure which one you want to go with you can order samples from the website, or check out the best colors here.
Durability
Lifeproof vinyl flooring is both scratch-resistant & stain-resistant.
With four kids and a dog, durability was a huge factor for our vinyl basement floor. I have to say this floor has held up fantastically!
As promised it is scratch-resistant so I have never had any issues with our dog's nails scratching the floor.
My kids have dragged the treadmill on it and even dropped some heavy dumbbells on it all with no issues.
They also claim that LifeProof flooring is stain-resistant. I was worried about this because we regularly use our basement to entertain which of course comes with accidents no matter how hard you try to not spill.
I can reassure you after all the stuff my kids have spilled on this floor that it is definitely stain-resistant. It has been 3 years and the flooring still looks brand new.
I am so glad we went with this basement flooring.

Waterproof
Lifeproof flooring is 100% waterproof. (I wanted waterproof basement flooring that looked good!).
This was important for us since we were putting this vinyl plank flooring in the basement.
I was worried that with all the money we were spending that our basement might flood and ruin everything.
Remember waterproof is different than water-resistant when it comes to flooring.
Easy To Clean
You don't need to do anything special to clean this floor. It cleans up easily and looks great when done.
It's recommended that you just dust or vacuum it and then clean it with a pH-neutral cleaner or natural solution.
I will say I have used many different products to clean it and never had any issues.
Usually, I just give it a quick vacuum and then run my swifter over it and it looks good as new.
It also has a treatment on the bottom and top of the flooring which doesn't allow mold or mildew to form.
Check out this article for more details on how to clean vinyl flooring.

Texture And Feel
One of the main reasons I went with the Sterling Oak was because it looked like real wood.
There is a nice texture to this floor and many people are surprised to learn that it is vinyl.
We installed it right over our concrete floor and even though it's only 7mm thick, it feels very nice to walk on.
It doesn't feel hollow or cheap when you walk on it. It comes with a pre-attached underlayment that is not only comfortable to walk on but also quiet.
Note: The flooring looks browner in the photos – in person it has more of a grey tone.
This floor was super easy to install! My husband and his buddy did it all in one day.
When installing flooring you first have to decide if you are going to hire a professional or do it yourself. We have done both in our house depending on the flooring.
This is definitely a friendly DIY option. This flooring is tongue and groove so it snaps together fairly easily.
Things You Will Need:
Spacers
Pull Bar
Measuring Tape
Utility Knife
Optional: Mitar Saw / Jig Saw
Choose Flooring Pattern
Before you begin installing, decide which pattern you want to go with. We choose a staggered pattern for our basement.
Brick Pattern
Stagger Pattern

Installing First Row
Make sure you use the spacers to keep the floor away from the wall.
Measure the room so that you don't end up with small planks at the end.
Once you have laid down the first piece, the second one just snaps into the first.
Then you will use your mallet on the tapping block to ensure it connects tightly to the first piece.
Once you get to the second row, this is where your pattern will come into play. Make sure you figure out your measurements to get the result you want.
Then you just continue to snap the planks together and make sure they fit snugly.
You can make cuts with a miter saw or jigsaw to make things easier. This flooring is very easy to install it was a less-than-a-day project for us.
Check out the Lifeproof Installation Guide to get all the details about how to install this floor.
How To Purchase LifeProof Vinyl Plank Flooring
Lifeproof flooring is sold at Home Depot. I have also seen them sold on Amazon.
Once you decide which color you want to go with, make sure you measure the room you will be putting it in. Home Depot makes it easy to calculate how much flooring you will need to buy based on entering the length and width.
Make sure to get 10% more for waste.
This flooring is sold by the case and each case covers just over 20 square feet.
The price ranges from $2.78 – $3.19 per square foot depending on which color you choose. (I have seen them on special buy for $2.55/sq foot!)
If you can't decide which color to go with you can purchase samples on the website.
Transitions
Don't forget about the transitions! Since we put both vinyl plank flooring in the basement and carpet, we needed transitions.
Lifeproof does make matching transitions but we had a harder time finding those in the store. We ended up driving 45 minutes to find a Home Depot that had them in stock.
My suggestion: just buy them online here – it may be easier!
Lifeproof Flooring Warranty
Although I haven't had to use it, this product does come with a limited lifetime warranty for residential use.
The only downfall is that it is limited to the original purchaser and is not transferable.
Cons
The one con I would say about this flooring is that it is only 7mm thick.
I personally don't think that it matters much for the wear and tear so far in our house. But I will say when you walk on it it feels a bit flatter than say a 20mm LVP.
That being said, for the cost savings, it wasn't a deal-breaker for us.
The Verdict
As you can tell by now, I am a big fan of this floor. It has been 3 years since we put it in and it still looks amazing. I love the look of it, its durability, and how easy it is to clean.
So if you are looking for affordable luxury vinyl plank flooring, you can't go wrong with Lifeproof in my opinion.
Hope you found this post helpful, make sure to check out their other colors to see what fits best in your home.
Check Out More Basement Projects
Lifeproof Flooring

Frequently Asked Questions
I get a lot of questions about my life proof vinyl flooring so hopefully, these will cover them.
Which Color Do You Have In Your Basement?
Lifeproof Sterling Oak Vinyl Flooring.
Is LifeProof Flooring Any Good?
Yes! If you check out LifeProof flooring reviews on Home Depot you will see that it has a rating of 4.6 with well over 6000 reviews. There is a reason why so many people are happy with this product. I guess I'm not the only one.
Can You Put Vinyl Plank Flooring On Concrete Basement Floor?
Absolutely! Lifeproof flooring is floating so you can install it on many subfloors, including concrete. Since it is waterproof, it is a really good choice for basements or anywhere that you might have water on the floor. The vinyl planks are also treated which helps to prevent stains and odor.
Does LifeProof Flooring Need Underlayment?
Not at all. This brand comes with the underlayment attached to each plank so there is no need to buy underlayment. Not only will this save you money but it makes the installation process much quicker.
Who Makes LifeProof Flooring?
Lifeproof Flooring is made by Halstead New England Industries, and sold exclusively at Home Depot.
Is It Good For Pets?
From my experience, this flooring has held up well with pets. I have a 90-pound lab mix and have never seen any scratch marks on the floor.
Why Kind Of Subfloor Can I Put This On?
According to their installation, you can lay this flooring down over concrete, plywood, chip wood, hardwood, tile, Non-cushioned sheet vinyl, and metal. You can also install over radiant heat concrete subfloors as long as you consult the manufacturer to ensure it is compatible with vinyl.
What Are The Acclimation Requirements?
There is no acclimation required. This means if you buy the product today, you can install it today as well.
What Do You Use To Cut The Planks?
Halstead recommends that you cut with a quality utility knife. You will need to score the top of the plank several times and then snap it. After that, you will need to cut the underlayment separately. However, this can be a tedious process that will add extra time to the install. Consider using a jigsaw or miter saw to help speed the process up.