Porch Light Colors: What Do They Mean? (2023)
Porch light colors….what do they mean?
I noticed more and more lately that people in my neighborhood were ditching the classic white lights in favor of colored ones. Sometimes they reflected the colors of the holidays but other times they didn't.
The meaning of a neighbors porch light colors is a mystery to most people. If you have ever wondered what the meaning of neighbors' porch light colors is, this article will answer your questions and more.
This guide explains porch light color meanings so that you can understand what your neighbor is trying to tell you with their front yard lights.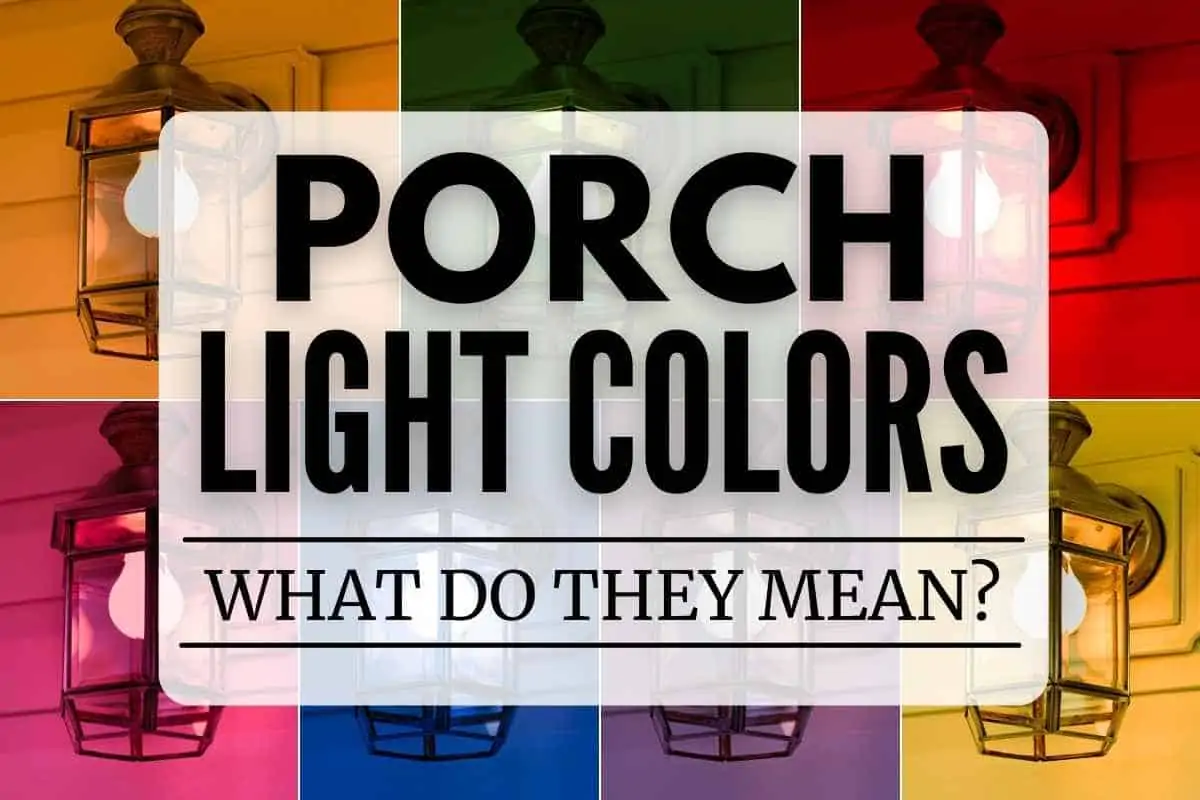 This post may contain affiliate links, which means I'll receive a commission if you purchase through my links, at no extra cost to you. Please read full disclosure for more information.
Here Is A Breakdown Of The Different Porch Light Colors And What They Can Mean:
Green Porch Light: Veterans, Military Support, St. Patricks Day, Lyme Disease
Blue Porch Light: Law Enforcement Support, Austism Awareness, Alopecia Areata
Red Porch Light: American Heart Association, Firefighters, Valentines Day, and yes even Prostitution
Purple Porch Light: Domestic Violence
Orange Porch Light: Halloween, Justice
Yellow Porch Light: Reduce Bugs
Pink Porch Light: Breast Cancer Awareness
Helpful Tip: If you like to change up your porch color lights, get one color-changing bulb instead of having to store & change multiple bulbs!
Let's dive a bit deeper into all the porch light colors and what they mean.
Green Porch Light Meaning
A green porch light usually shows appreciation for U.S. veterans and active military members. However, you will also see green lights for St. Patrick's Day, Memorial Day, and Lyme disease awareness month.
Green Porch Lights All Year Round
Have you ever seen green lights on houses all year?
Some people choose to use a green porch light all year round as a sign of respect for U.S. veterans and men and women in the Armed Forces. These people feel like showing your gratitude for those who served is not a one-day-a-year thing, but something you should show every day of the year.
When neighbors decorate their porches with green lights, it can be a great way to recognize and thank veterans for living in the area.
Our veterans and active military deserve our unending gratitude. The #greenlightavet campaign encourages people to use a green porch light to show their support all year long!
Veterans Day
Some people put out green porch lights on Veterans day to commemorate the service of U.S. veterans, active military personnel, guardsmen, reservists, and other uniformed services.
This tradition began in 2009 when the Moapa Valley Town Council passed a resolution to switch their white porch lights to green ones for that day's celebration in honor of local veterans.
To show appreciation for their service, green porch lights are lit from sundown until midnight during Veterans Day weekend and other times throughout the year when a U.S. veteran passes away.
Memorial Day
You often see green porch lights during Memorial Day for similar reasons. They're a show of respect for members of the U.S. military who have died in service to the country.
Many people traditionally put out a flag and light display on their front porch to honor U.S. service members who have died serving the country, but it's also common to see porch lights in memorial colors.
St. Patrick's Day
Green porch lights are common on St. Patrick's Day, which is why this holiday is sometimes referred to as "Green Out Day."
The symbolism of the color green being used on this holiday isn't directly related to Ireland's flag or shamrocks, but it does have ties to an old Irish saying.
Lyme Disease Awareness Month
Another reason people display green porch lights is for Lyme disease awareness month. The color green is used to symbolize this disease since ticks are often green.
In communities across the country, from Old Lyme, Connecticut to San Antonio, Texas, green porch lights are displayed during Lyme Disease Awareness Month every May.
It's estimated that more than 300,000 people in the U.S. are diagnosed with Lyme disease each year, making it a growing public health concern.
That's why some people choose to use their porch lights as a way to show support for those who have been diagnosed and awareness for this disease in general.

COVID-19
In Kentucky, the governor asked everyone to light up their houses green to remember the lives lost to Covid-19.
To this day, people still shine their green porch lights to honor those who are gone.
Where Do You Get Green Porch Lights?
You can usually find green light bulbs at most home improvement stores. If you prefer to shop online, you can also find one like this on Amazon which lasts for 25,000 hours.
Meaning Of Blue Porch Light
Although there are many reasons why someone would choose to put a blue porch light up, usually they are to bring awareness to a cause. The most common causes are Autism awareness, law enforcement support, and Alopecia Areata awareness.
Support Law Enforcement
The most common association of the color blue with porch lights is to support law enforcement.
This movement started in 1989 when Dolly Craig placed a blue light in her window to honor her late son-in-law, an officer killed in the line of duty. She shared her story with a local C.O.P.S. chapter and the idea has since grown into Project Blue Light.
In Ohio, the light Ohio Blue campaign encourages people to change their porch lights to blue in order to show support for all law enforcement personnel.
While this may have started to honor fallen officers, it has morphed into a year-round show of support for all law enforcement.
Autism Awareness
April is Autism Awareness month with April 2nd being World Autism Awareness Day. Autism speaks created a campaign known as Light-It-Up Blue to increase awareness about this.
On this day many landmarks around the globe are illuminated blue as a way to show support. Many parents will also put blue lights on their porches to show support for those who struggle with autism Spectrum Disorder.
The color blue was chosen for this awareness month because of the connection between autism and the sky. Sometimes children with autism will stare at the sky to calm or comfort them, therefore some parents will point out what color is the sky during that day.
Alopecia Areata Awareness
September is Alopecia Areata Awareness Month. This autoimmune disease causes hair loss, and affects 1.7 million Americans, according to the U.S. National Library of Medicine.
In order to help bring awareness to Alopecia Areata, people are encouraged to join the #LightItUpBlue4AlopeciaAreata campaign.
Along with landmarks that will be illuminated blue, people are encouraged to switch out their porch lights. You can then take a selfie and post it on social media with the hashtag #LightItUpBlue4AlopeciaAreata to show support.

So What Does A Blue Porch Light Mean?
Everybody has their own reason for wanting to show support with blue porch lights. Whether you want to bring awareness to autism, law enforcement, or Alopecia Areata, the color blue signifies your cause and makes a visible statement of solidarity.
If you're looking for an easy way to join in on showing support while honoring these causes that can be very personal, updating your porch light is just one small change that will make a big difference.
Where do you get blue porch lights?
You can usually find blue light bulbs at most home improvement stores. If you prefer to shop online, you can also find one like this on Amazon which lasts for 25,000 hours.
Red Porch Light Meaning
There are many meanings behind a red porch light including, American Heart Month Awareness, Firefighters Support, Valentine's Day, Halloween, and even prostitution.
American Heart Association
The red porch light can signify many things, but one that stands out the most is the color associated with the American Heart Association's desire for a heart-healthy lifestyle.
The association believes it's important to raise awareness about heart disease and how it affects people around the world. It specifically shows up during February when it's the association's month of heart health awareness.
Valentines Day
In February, the color red is associated with Valentine's day. During this time of year, many people will change their porch lights to red in order to be festive for this holiday.

Halloween
Red is a color associated with Halloween and all of its ghouls and goblins. While it may not be a superstition to put up red lights, many people will still light their porches in this color to celebrate the holiday.
Support Firefighters
May 4th is International Firefighters Day. The National Fallen Firefighters Foundation created the shine your light campaign which encourages people to show their support in celebrating the hard work that firefighters do.
One way they ask people to show support is by changing their porch lights to red on May 4th.
Many people choose to do this year-round to show others that they are in support of firefighters and all the sacrifices they make.
Prostitution/Brothel
A large number of people still associate red porch lights with prostitution or brothels. Whether this stems from the "red light district" or an urban legend, people still associate red porch lights as meaning "open for business".
The Myth – Gun Free Home
A few years ago there was a meme circulating that claimed a red porch light meant that a home was a gun-free home. This has proven to be a false claim.
Where Do You Get Red Porch Lights?
Normally, you can find red light bulbs at most home improvement stores. If you prefer to shop online, you can also find one like this on Amazon which lasts for 25,000 hours.
Purple Light Meaning
The most common reason for purple porch lights is to spread awareness about domestic violence.
Domestic Violence
When you see a purple porch light, it is a reminder that violence has no place in the home. It honors the survivors and victims of domestic violence.
People have been encouraged to light their porches purple for Domestic Violence Awareness Month in October. In addition to creating awareness about the very real problem of domestic violence, this action also serves as a visible symbol that people are standing up against domestic violence.

Where Do You Get Purple Porch Lights?
You can usually find purple light bulbs at most home improvement stores. If you prefer to shop online, you can also find one like this on Amazon which lasts for 25,000 hours.
Orange Porch Light Meaning
While many people use orange porch lights to decorate for Halloween, they also represent support for Delphi murder victims' families.
Halloween
In October, you will see orange porch lights across America. This is considered a festive, lively color and is often used as a decoration for Fall and Halloween. The color orange is so closely associated with Halloween, that many people consider it to be a "Halloween" porch light.
Cry for Justice
"Light up Delphi" was a movement in 2017 that encourage the people of Delphi, Indiana, and those across the United States to change their porch lights to orange in honor of two teenage girls who were brutally murdered.
Local stores sold orange porch lights with proceeds going to the victims' families. By turning the lights orange, the community honored both girls and show support until the murders are solved.
Where Do You Get Orange Porch Lights?
You can usually find orange light bulbs at most home improvement stores. If you prefer to shop online, you can also find one like this on Amazon which lasts for 25,000 hours.
Yellow Porch Lights
Yellow porch lights are said to help reduce the number of bugs you have flying around. If you are trying to get rid of bugs around your porch light, this is a great option to try.
Pink Porch Light Meaning
Breast Cancer
Pink porch lights are generally associated with Breast Cancer. You will typically see more of them in October which is Breast Cancer Awareness Month.
As part of the Let Your Light Shine! campaign, people can purchase pink light bulbs with the proceeds being donated to the foundation.
Where Do You Get Pink Porch Lights?
You can typically find pink light bulbs at most home improvement stores. If you prefer to shop online, you can also find one like this on Amazon which lasts for 25,000 hours.
Sometimes There Is No Meaning Behind The Colors
Sometimes the color of a porch light has no meaning. However, you might want to pay attention to any flashing porch lights you see – they could signal an emergency.
I recently asked people in a Facebook group what their porch light colors meant to them. Quite a few people responded that their children simply liked playing with their color-changing light bulbs!
So if you want to know why someone has a certain color – just ask them!

Conclusion
In conclusion, porch lights are a great way to show your personality through the colors you choose. Whether it is for holidays or causes that matter most to you, there's bound to be a color of light that will work for you and your home.
If you want to change colors frequently, consider a color-changing light bulb that you easily switch from one color to another.
We hope this article has helped shed some light on what each color means and what your neighbor is trying to say with their lights.
101+ DIY Projects For Inside & Out