53 Easy Home Office Wall Decor Ideas
What should I put on my office walls? If you find yourself making over your home office, you may be struggling with the wall decor. When it comes to decorating the walls there are no limits to what you can do.
Your home office should be a space you can focus in but it should also fit in with your home decor. Here you will find 53 unique home office wall decor ideas that will help inspire you to create a space that is functional as well as beautiful.
This post may contain affiliate links, which means I'll receive a commission if you purchase through my links, at no extra cost to you. Please read full disclosure for more information.
1. Accent Wall
One of the simplest ways you can add character to your home office wall is by adding an accent wall.
You can choose to paint a wall black to make the other elements pop against it.
Another idea is to add a shiplap textured wall or a fun board and batten wall. There are endless possibilities when it comes to an accent wall in your home office.
2. Clocks Set On Different Time Zones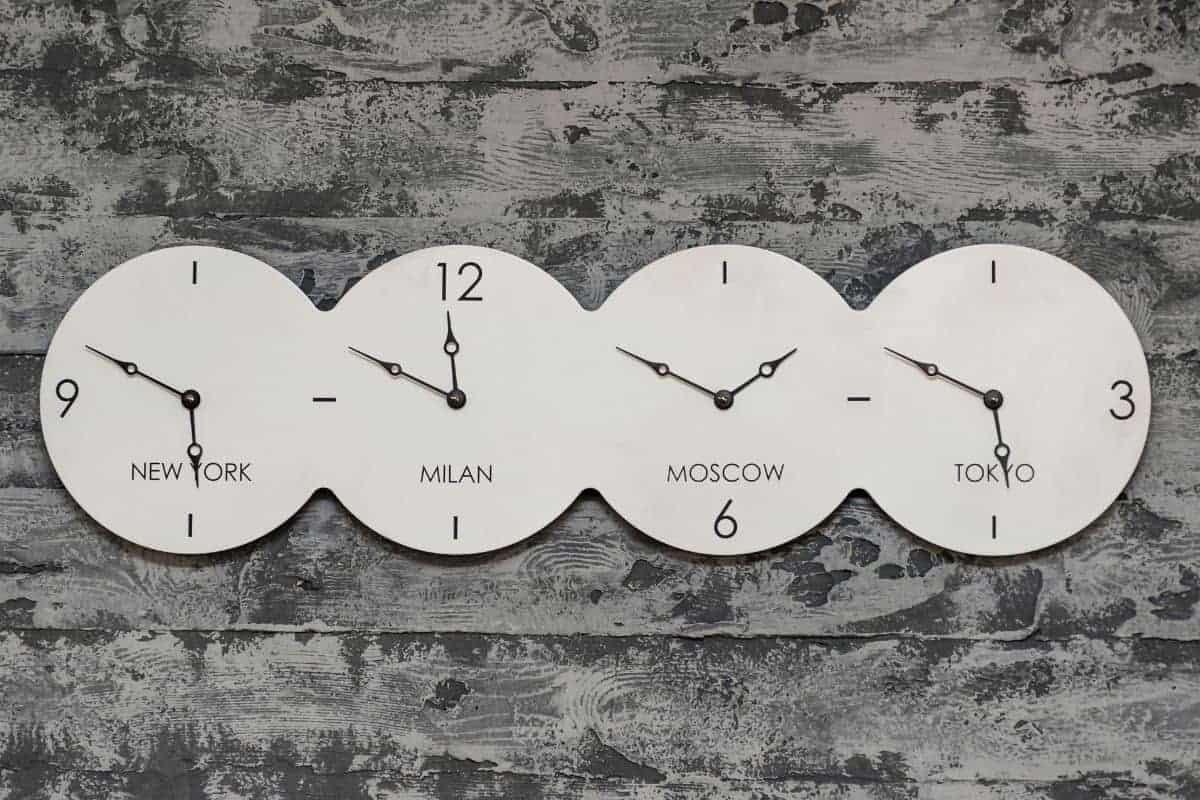 Do you work in Chicago but have clients in New York or Tokyo? Decorating your walls with clocks set to different times zones is an easy way to know what time it is at a quick glance.
It also makes for an interesting and fun design element for your home office.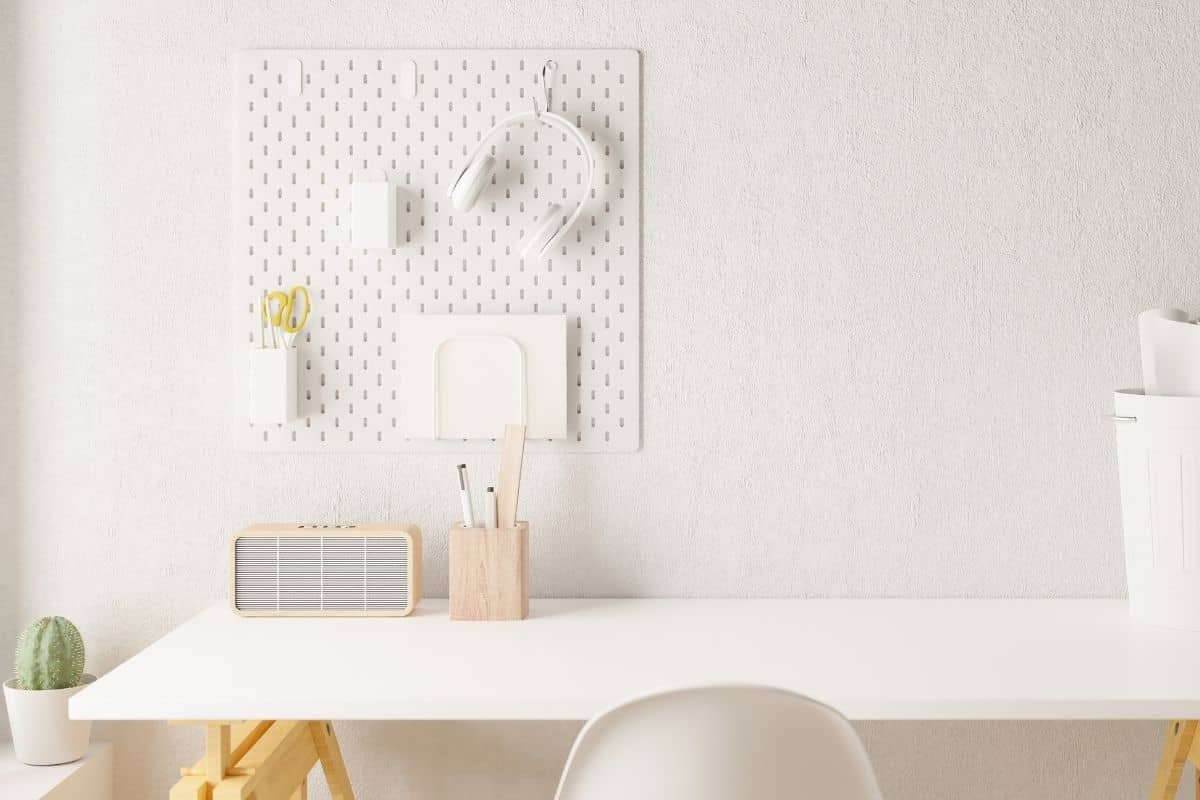 Pegboards are a great addition to any home office. You can have supplies easily accessible and organized right on the wall. With a pegboard like this one, you can add shelves, hooks, and even baskets to accommodate anything you might need on a daily basis.
Not only are they functional but there is no limit to how visually appealing you can make them. Consider adding a large frame to make it look more decorative, or spray paint the hooks a color to match your decor.
4. Large Mirrors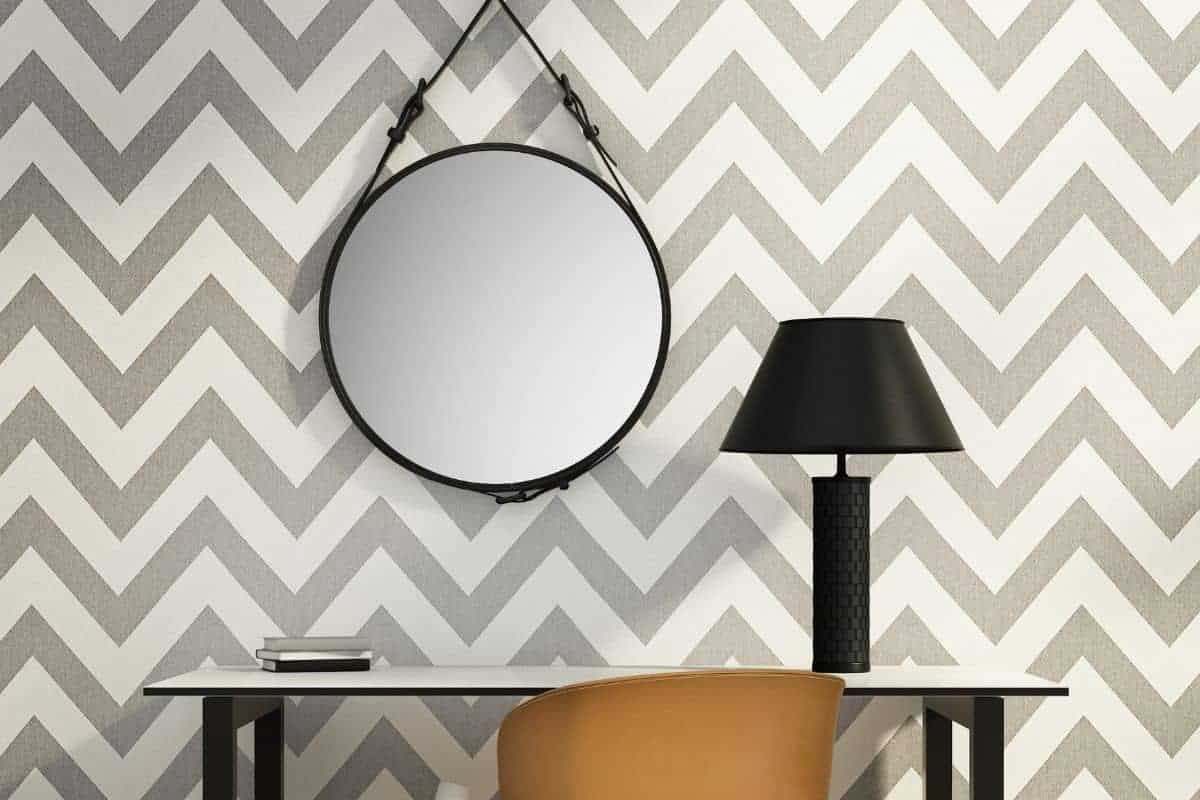 A large mirror can be a statement piece on any wall in the house. Consider adding one to your wall in your home office.
Better yet, get some look-a-like Anthropologie mirrors to really make a statement!
Mirrors can help make any space feel larger so this might be a good option if you are working with a smaller space. They also help to make the room brighter.
5. Home Office Wall Decor Decals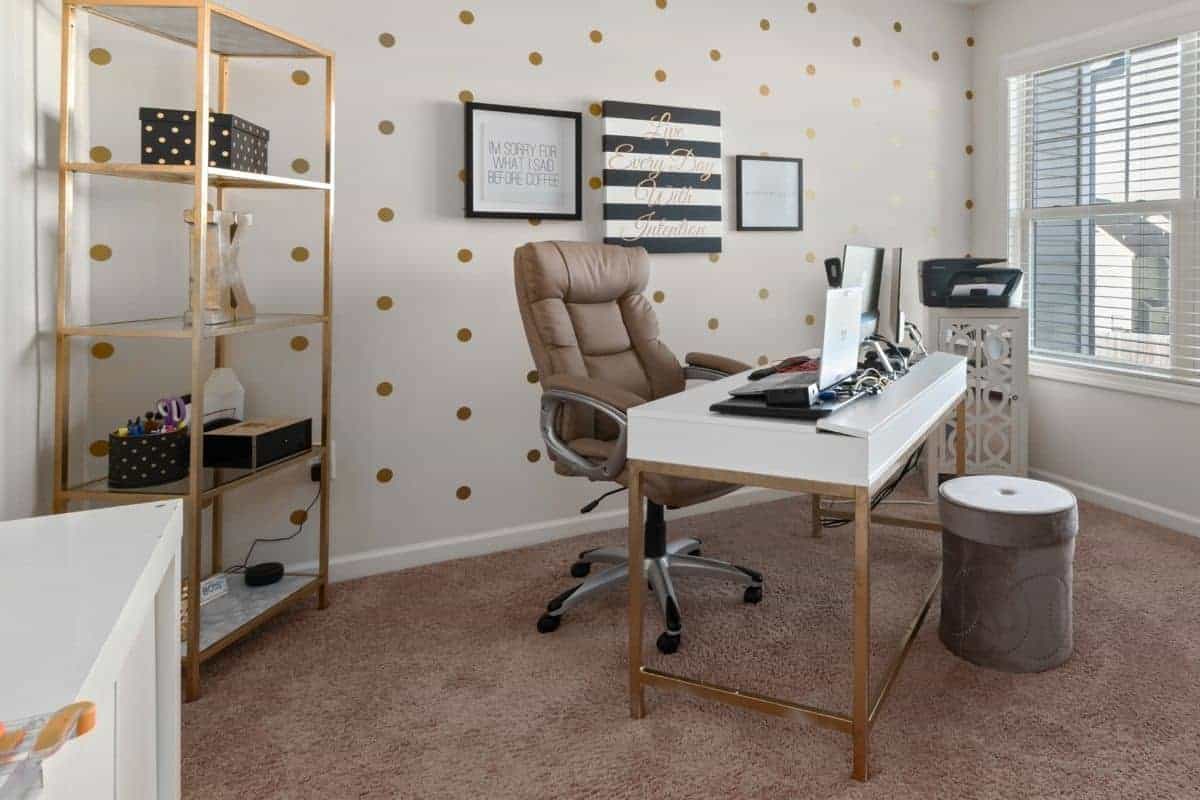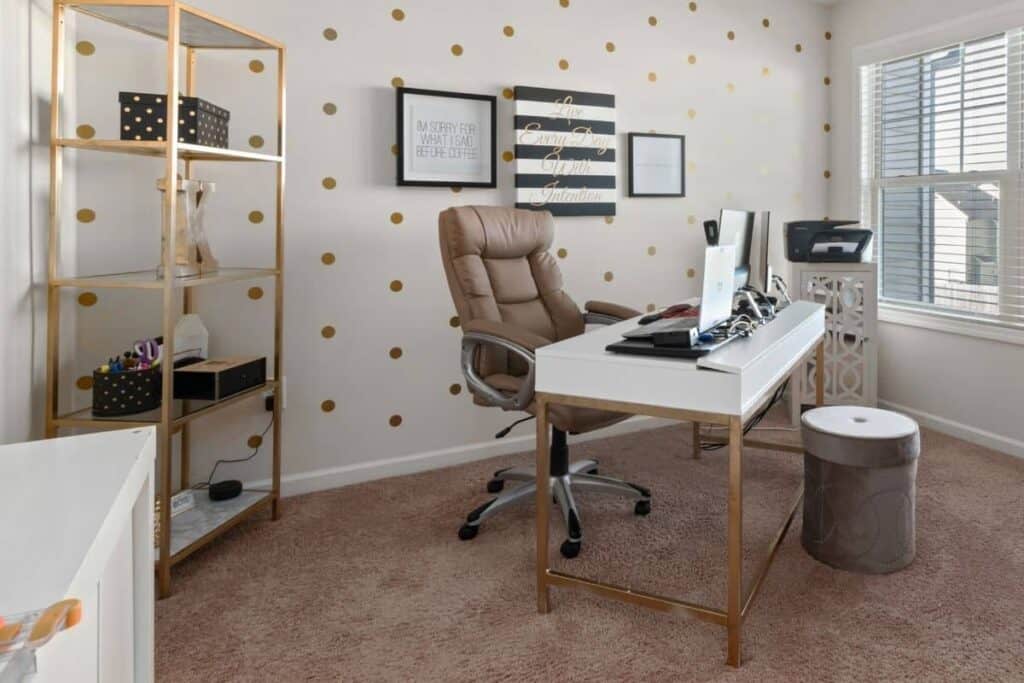 If you are looking for an inexpensive, non-permanent way to add some life to your home office walls think wall decals! There are endless design options out there and if you change your mind you can easily change the design.
Most wall decals are removable and reusable and are one of the easiest ways to add life to a boring wall – just peel and stick!
6. A Dark Painted Wall And Three Shelves
The contrast of a dark-painted wall against three shelves will help whatever decor you add to it stand out.
7. One Simple Floating Shelf
Keep your home office wall simple by adding a floating shelf. By strategically adding decor, a floating shelf can take place of a large piece of artwork and act as wall decor in and of itself.
One nice thing about this option is you can switch out the decor on the shelf when you are looking to change up the feel of the room.
8. A Changeable Calendar For The Home Office Wall
Large calendars can make for great wall decor in your home office. You can make your own large chalkboard calendar wall to fill up a large space or opt for a designer wall calendar. This galvanized metal wall calendar from Amazon is super cute.
9. A Textile Hanging For The Home Office Wall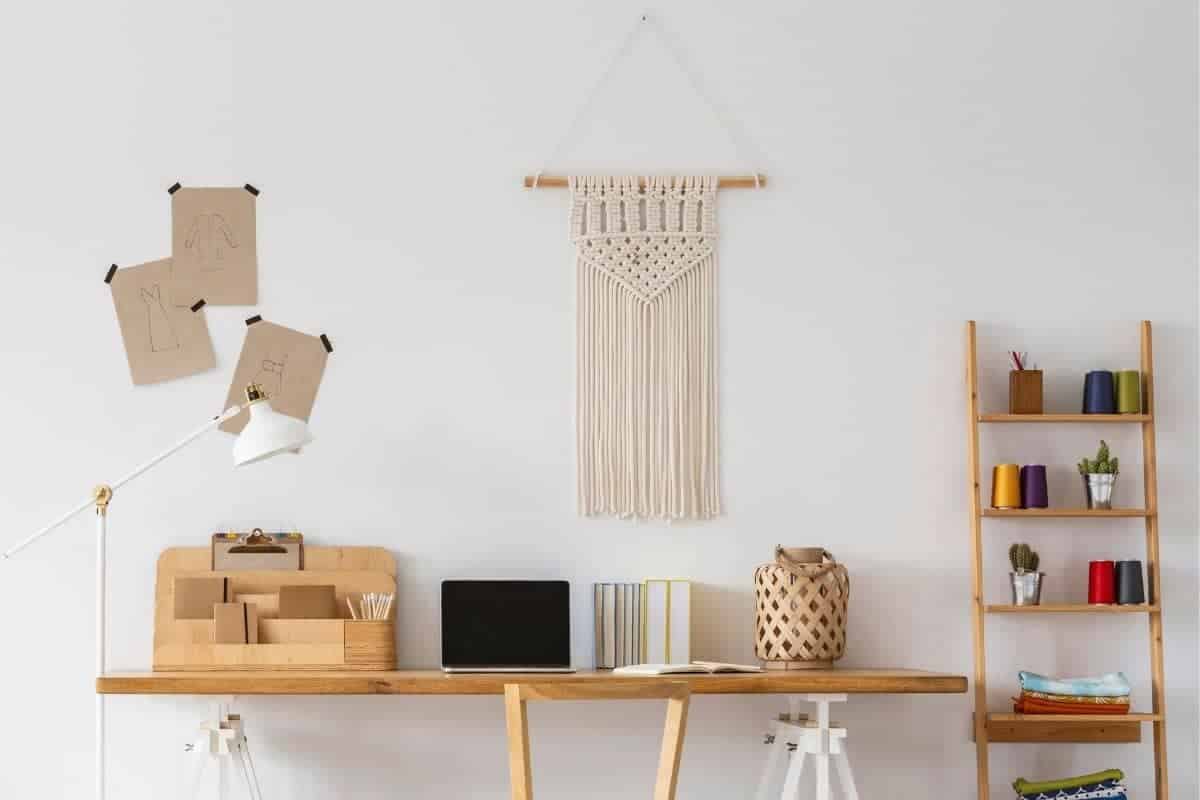 Skip traditional artwork for some fun textiles to hang on the wall. Fabric is often overlooked as wall decor but it is a great way to fill a large wall.
This woven wall art would look super cute in any office space.
10. A Bold Framed Print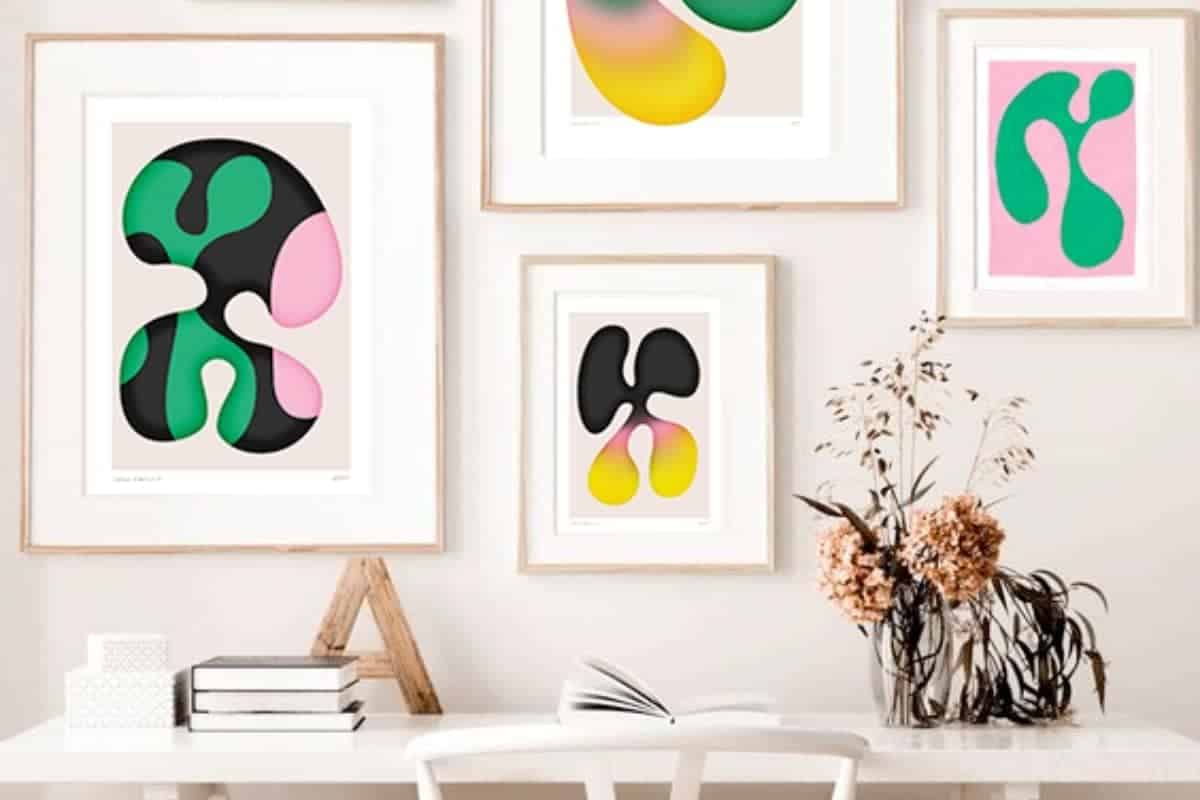 Bring some fun pops of color into your home office with wall prints.
Check out Amazon for an endless amount of bold print options that you can put in frames you already have.
11. Metal Grids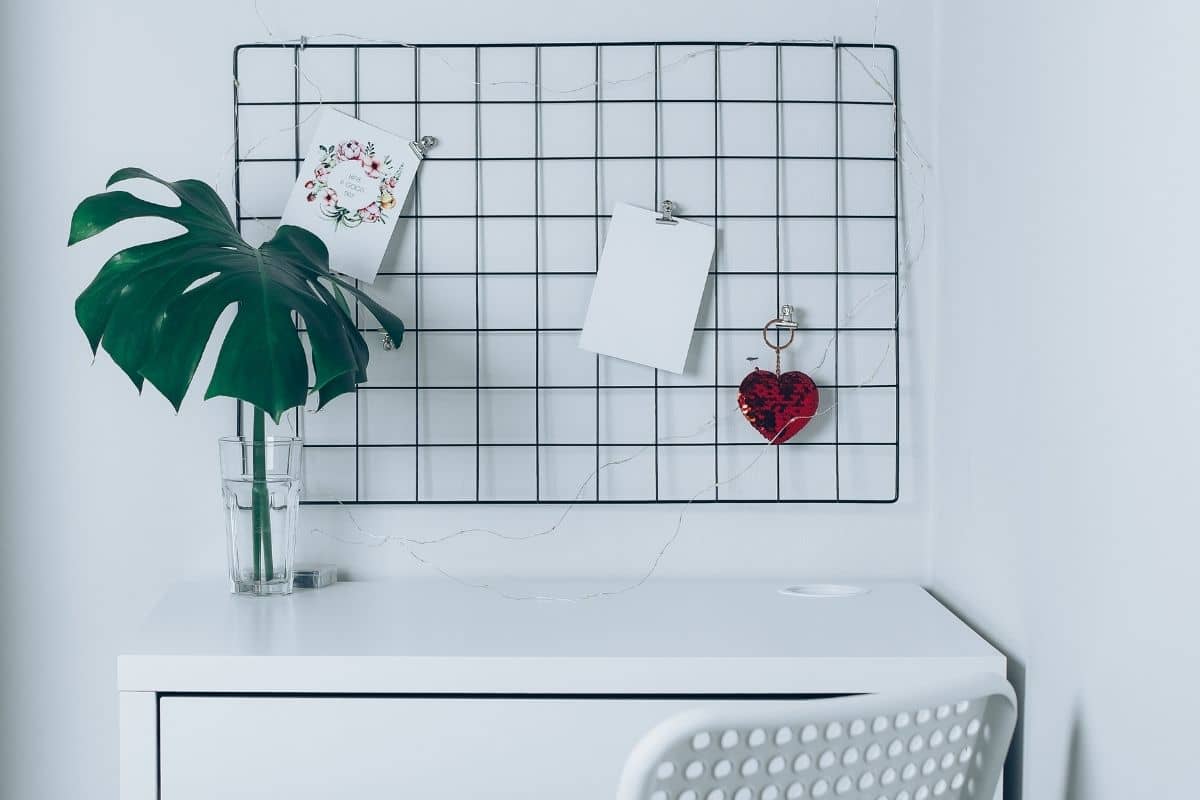 If you need somewhere to put reminders or notes but don't like the idea of a corkboard, then consider adding a metal grid to the wall.
With the use of clips, you can have anything you need handy and change it easily. Metal grids look stylish and elegant on any wall.
12. Clipboards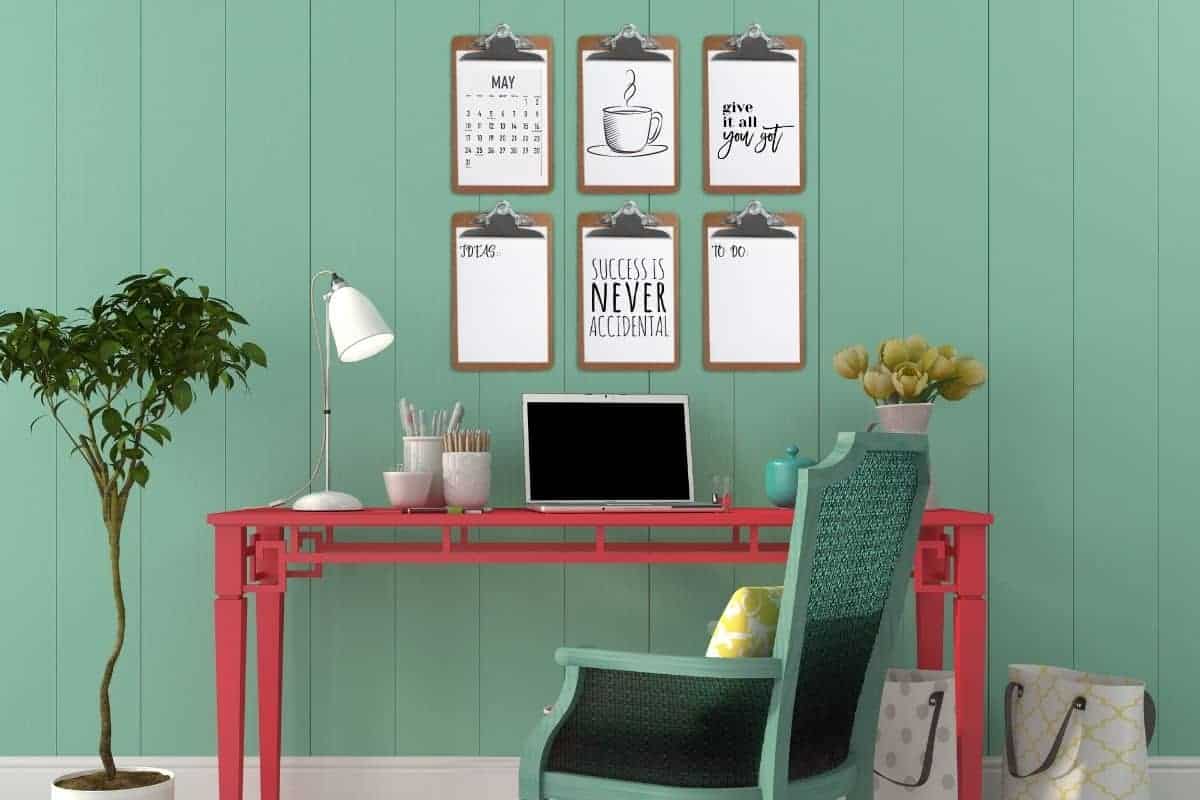 If you are looking for a fun practical way to decorate your home office walls, think clipboards! You can spray paint them to fit your decor or go with decorative clipboards. This is one of the most budget-friendly options to decorate your office walls.
Keep important papers visible at all times or just print some fun designs to hang on them. Antique clipboards look great, especially in a farmhouse-style office.
13. Inspirational Quotes
Who doesn't enjoy a good inspirational quote? Surround yourself with your favorite in your home office for those moments when you may need a reminder.
The contrast of black writing on a white background along with a black frame looks great on a white wall. You can also change up the quotes over time to keep them fresh. Or switch them out with some Halloween sayings or some fun Christmas sayings to add some holiday fun to your office.
14. Paper Scroll Memo Boards
If you like to jot stuff down often a paper scroll memo board is the perfect home office wall decor. It looks stylish on the wall by itself and is a practical way to write down reminders, notes, to-dos and so much more.
When you no longer need what is written down, you can tear off the paper and have a clean look once again.
You can buy one like this on Amazon, or make one yourself – all you need is some Kraft Paper similar to this, some hooks, and a rod.
15. Family Photos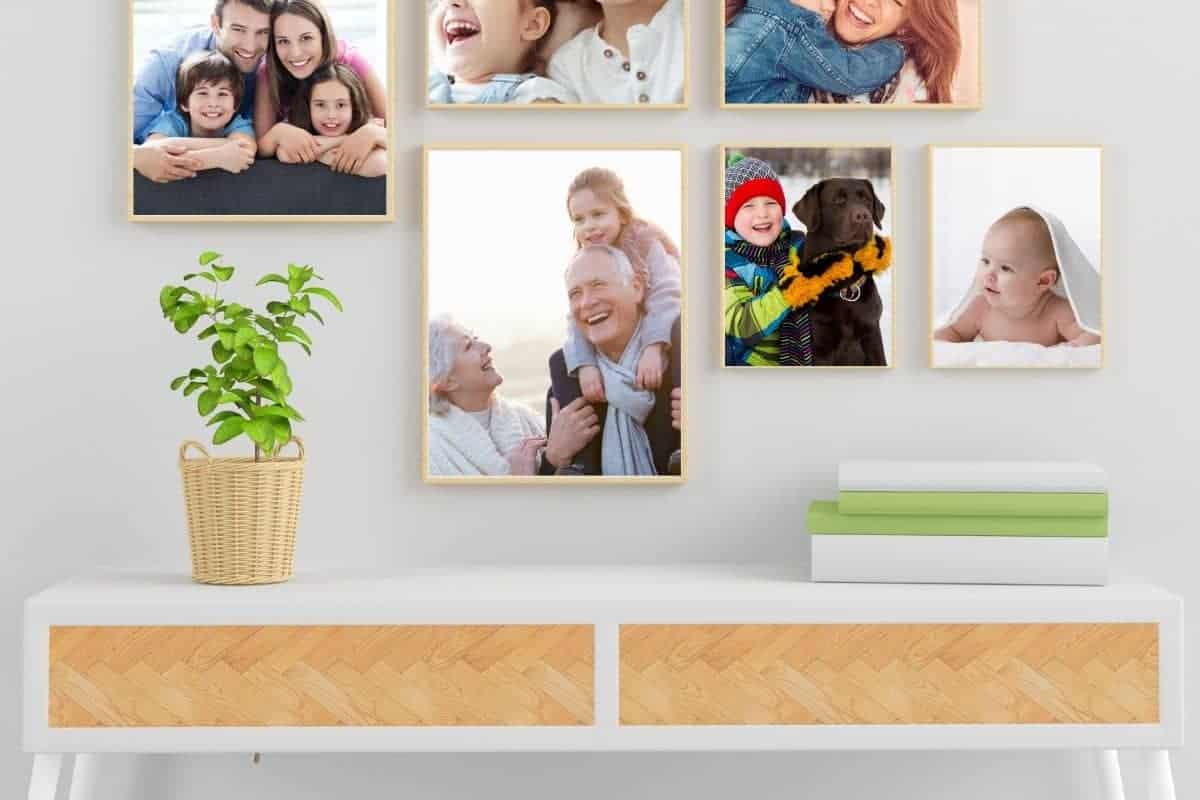 When you have a home office, you can certainly decorate it with family photos.
This is a great way to remind yourself daily what you are working for. A fun design element to consider is using black and white family photos to elevate the design.
16. Yarn Wall Art
Create one-of-a-kind wall decor with yarn. See our tutorial on easy it is to make your own boho inspired wall art with yarn.
This is also a great option to hide an electrical panel if you have one in your home office.
17. Large Wall Stickers
If you like the look of wallpaper, but don't want to go through the process of hanging it, large wall stickers can be an option for you. These large-scale decals can make a major statement in your home office.
Just peel and stick and you can completely transform that boring wall into something sophisticated and appealing.
18. Natural Prints
Most people don't realize that your home office wall decor can have a huge impact on how you feel. Add some natural prints to have a more soothing, calm feeling when you are working.
19. Engineer Prints
Engineer prints are large black and white posters that are usually used to print blueprints.
These are a great inexpensive way of printing pictures to use as wall decor! Keep the cost even lower by using clips to hang them on the wall instead of framing them.
20. Plants On Wall
If you are looking to breathe some fresh air into your home office wall decor, plants are a great way to go.
Not only will this look beautiful but it also can help to purify the air and reduce stress.
21. Eye Chart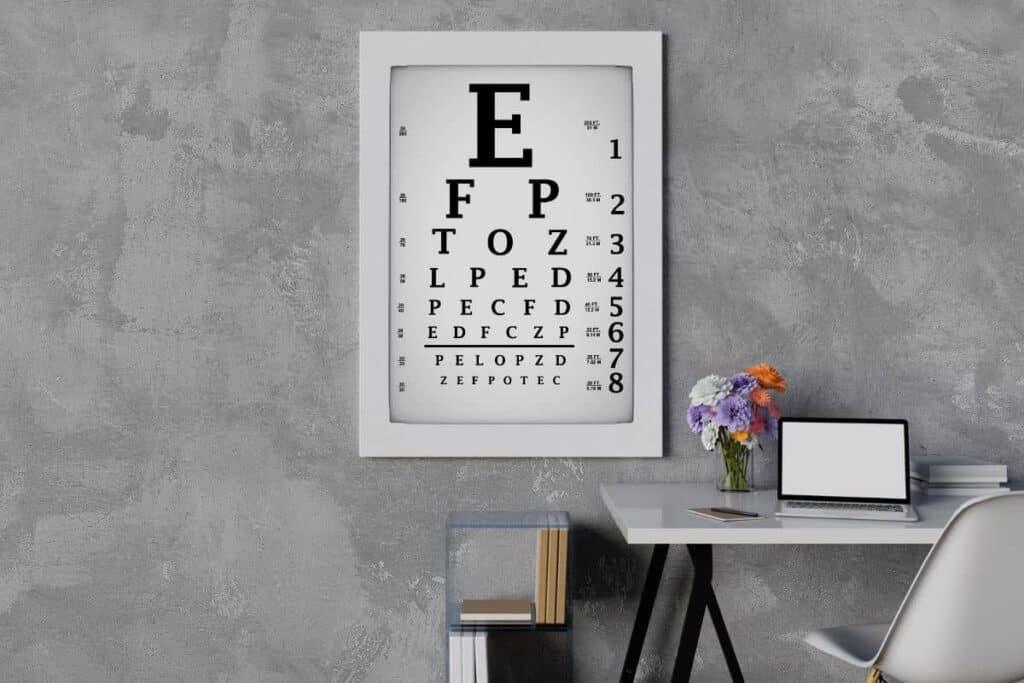 If you are looking for something different to hang on the wall, an eye chart is a great option!
Amazon has some really unique non-traditional eye charts that would be great for a home office.
22. Gallery Wall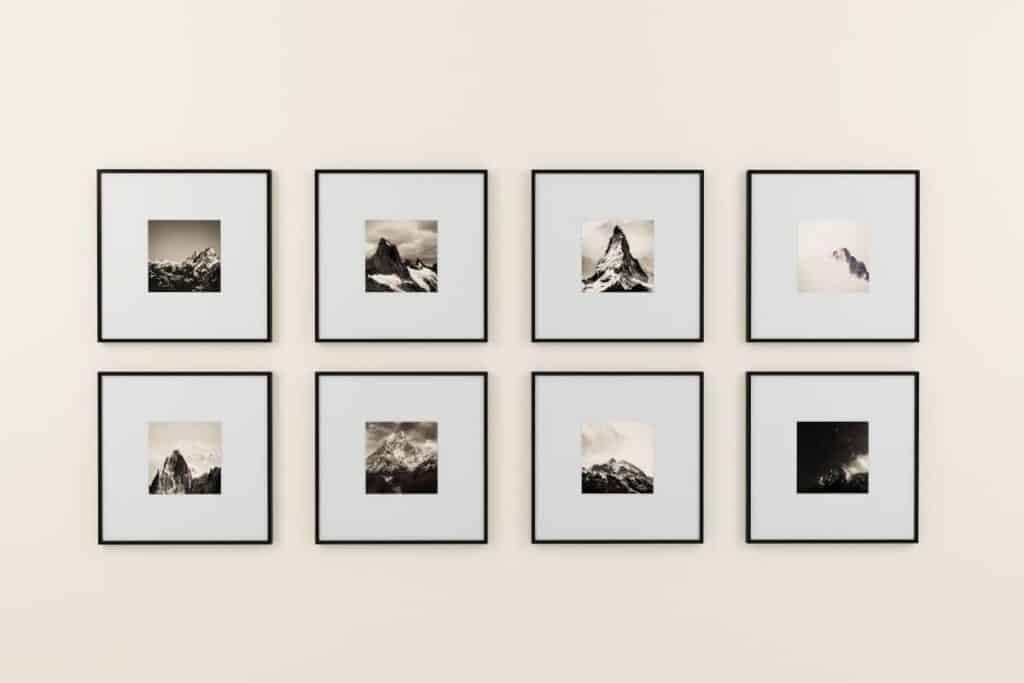 You can never go wrong with a clean gallery wall for your home office wall decor. Hang pictures of all the places you have traveled to for work or a collection of old products.
23. Large Map
If you love to travel, a large map on the wall is an easy idea to fill a blank wall while also adding interest to your space.
It can be an oversized vintage map of your city or a world map. Maps come in all shapes and sizes so finding one that fits your home office decor should be fairly easy.
24. Oversized Artwork
Sometimes the easiest way to decorate your home office walls is to add one or two pieces of oversized artwork.
This creates a focal point for the room and you can play off the colors or keep it simple with black and white.
25. Photo Ledges
Picture ledges are the perfect way to decorate with photographs if you are worried about hanging stuff on the wall. It makes it much easier to take down frames and change out pictures since they are just sitting on the ledge.
Also, photo ledges are not limited to just photos. You can add small decorative items such as plants or candles as well.
26. Cork Trivets For Memo Boards
Don't like the look of traditional corkboards? Use some cork trivets on the wall to create both a piece of art as well as something that will function for you as you work.
27. Metal Art
If you want something besides framed photos, there are a lot of amazing options when it comes to metal artwork.
28. Wood Wall Art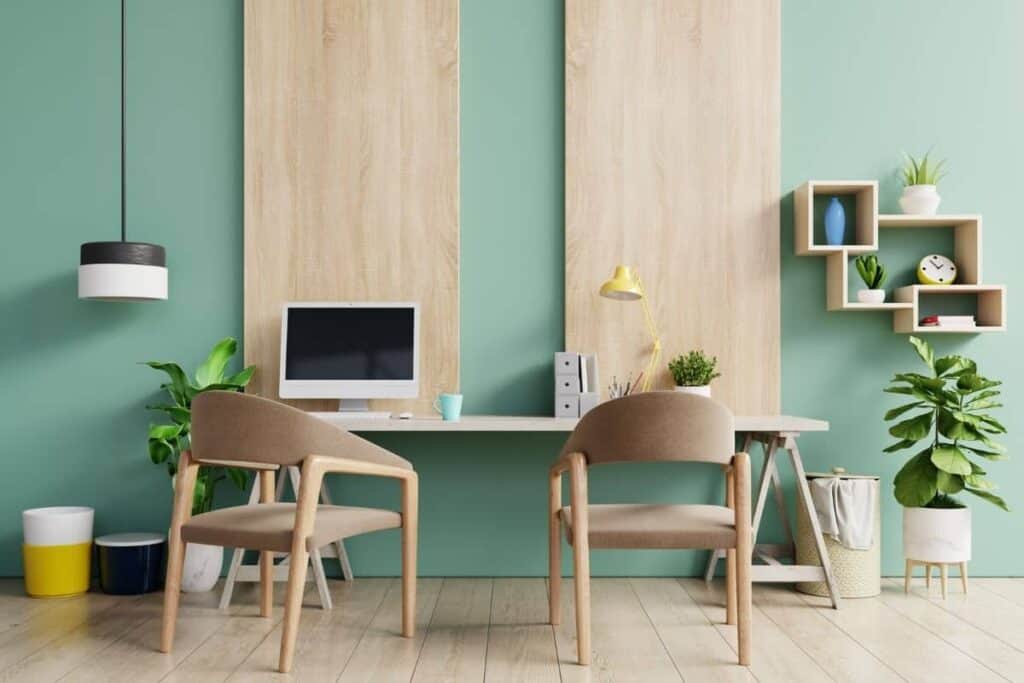 There is something about the three-dimensional pieces of wood that add beauty to a wall. Wood wall art also helps to bring texture which can change how the room feels.
Whether you make your own wood wall art or find a piece you love you can't go wrong with putting wood on the walls of your home office.
29. Song Lyrics Wall Art
Adding song lyrics to our home office wall decor can inspire and motivate us. Find a song that resonates with you and go to Etsy to create a unique piece of wall decor for your office.
30. Empty Decorative Frames
Who says you have to put art in your frames? I love the idea of adding vintage picture frames to your home office wall to create a statement. Head to the thrift store to find frames for a minimum cost. If you want to elevate the look, paint them all a single color.
31. String Lights
String lights are a creative way to cheer up your workspace and add some light. You can hang them across the wall or over a wire grid.
32. Awards Or Achievements
Incorporate any awards or achievements you have earned over the years in your home office wall decor. If you want to you can also showcase your family members' awards alongside yours to make sure everyone feels included.
33. Vinyl Records
Decorating the home office wall with vinyl records can be a fun conversation starter. You can choose to hang the records themselves or keep them on the album covers.
Take it a step further and frame them individually to make for a nice way to show off your favorite music.
34. Letter Board
Changeable letter boards are a great way to add decor to a home office. The simplicity of changing the letters makes it perfect for rotating inspirational messages.
You can also add music lyrics, family sayings, movie quotes, or Christmas sayings to the letter board.
35. Decorative Baskets On the Wall
Using woven baskets as wall decor is an easy and affordable way to fill up a lot of wall space. They can also help add texture, color, and warmth to your home office.
36. Antique Window Frames
A simple, yet beautiful way to add home office wall decor is with antique window frames. You can hang the frame by itself or add images and artwork in the various panes.
Another great way to use antique window frames is to upgrade them into mirrors. Not only does this make them functional, but it can also help reflect light throughout a small room.
You can also make your own window frames if you want!
37. Hat Decor
Looking for some unique, unexpected home office wall decor? Think hats! Play around with different sizes, textures, and colors to create a unique wall bursting with personality.
38. Magnetic Boards
Magnetic boards are another great way to add some wall decor that serves a dual purpose. Find one that matches the decor and get some fun magnets that will help keep important documents at arm's reach.
39. Wire Bins
Decorating your office walls with wire bins can serve a dual purpose. Not only do they look good but you can also store items in them. These ones are made especially for hanging on the wall.
40. Make Entire Cork Wall
Looking for a unique DIY Project to make a statement? Installing an entire cork wall can make for a beautiful backdrop for art, notes, photos, and important papers.
41. Hanging Wood Banners
If you are looking to fill your office walls but don't want the traditional frames, consider adding some hanging wood banners!
42. Display An Unusual Collection
Using your wall to display an unusual collection of items is a great way to add personality to your home office.
For example, you can hang vintage letters you have or a collection of old postcards. You can even display a collection of antique decorative mirrors or old-time clocks.
43. Frame Kid's Artwork
Displaying your child's artwork can be beautiful and fun.
If you are looking for a design-friendly way of incorporating it into your home office you can take a digital picture of the artwork to hang. Another idea is to turn the art into black-and-white photos.
44. Whiteboard On Wall
Whiteboards are something that you will see in a lot of offices. You can update the traditional boring whiteboard with a more decorative one that will fit in with your home's decor.
45. Scrabble Wall Tiles
Have you seen the trend of large scrabble wall tiles? Create as many words as you want to decorate the walls of your home office while adding a personal touch.
46. Multipurpose Board
Create a stylish multipurpose board in your office with a combination of chalkboard, corkboard, pegboard, and fabric. By grouping them all together, you create a focal point that not only looks good but functions as well.
47. Metal Shelves
Adding metal shelving to your home office walls will bring in an industrial design element.
48. Chalkboard Mural Wall
Let your creativity be your home office wall decor. Paint an entire wall with chalkboard paint and create a mural or simply use the wall for notes and reminders.
49. Pallet Wall Decor
Have you thought about adding some pallet wall decor to your home office? Your walls will look beautiful with some DIY pallet wood decor while also being visually appealing.
50. 3D Wall Art
Bring your walls to life with some 3D wall art. You can choose from 3D panels or individual pieces. Your art will appear to jump off the wall and it will be a conversation starter. Butterflies seem to be a popular option but there are many different styles to choose from.
51. Built-In Bookshelves
A great option if you are looking to add to your walls is to add built-in bookshelves to your home office. The bookshelves become the focal point and you can fill them with interesting decor as well as needed items.
52. Frame Book Pages Or Music Sheets
One budget-friendly way to add character to your walls is by framing old book pages or music sheets. They make for an interesting element as well as being very inexpensive.
53. Decorate With A Large Clock
An oversized clock can make for a great addition to your home office. Big clocks continue to be a classic decor element in any home.
Conclusion
As you can see there are a lot of ideas when it comes to what you should put on your office walls! There are plenty of cheap home decor stores you can check out if you are sticking to a tight budget. Find the style that matches your home decor and personality and you will bring your home office to life in no time.