DIY Accent Wall Ideas – And What To Use!
Are you considering adding an accent wall and looking for inspiration for your DIY accent wall project? Well, look no further! Here I will show you some great inspiration as well as tips to consider.
WHAT IS AN ACCENT WALL?
An accent wall is a single wall in a room that has a different color, texture, or design than the other walls in the room. Also known as a feature wall, accent walls draw your attention and can add depth and personality to your home.
WHY SHOULD YOU ADD A DIY ACCENT WALL?
The question is why shouldn't you?! If you are looking to dramatically change the feel and look of a room, adding an accent wall is the way to go. It adds depth and allows you to create a focal point in the room that draws the eye in.
Not only do they look amazing, but accent walls are an amazingly budget-friendly addition to any room makeover making the space feel finished and polished.
WHERE SHOULD YOU PUT AN ACCENT WALL?
Since the purpose of an accent wall is to draw attention, you should ask yourself where your eye naturally goes when you walk into a room. For instance, our house has quite a few accent walls – Shiplap on our fireplace wall, a few solid painted walls, and faux brick down our basement stairs to name a few.
Accent walls are also a good idea in the bedroom. In general, it's best to go with a wall that has no doors or windows. However, all rooms are different and there is no set in stone rules when it comes to selecting the accent walls.
WHAT COLOR SHOULD MY ACCENT WALL BE?
When it comes to color and texture, it's all about personal preference. In general, you want your accent wall to be darker than the walls surrounding it. White accent walls are classic but don't be afraid of a bold black accent wall, or to play with darker tones.
My house is mostly neutral earthy colors with a mixture of dark and light. So I focus more on the texture of my accent walls vs. the color. However, I'm obsessed with dark bold textured accent walls right now!
WHAT MATERIALS CAN I USE FOR MY DIY ACCENT WALL?
Wood
Plywood
Trim
Pallet Wood
Barnwood
Reclaimed Wood
Wood Paneling
Other Materials
Interior Paint
Chalkboard Paint
Painters Tape (to create designs)
Stone
Brick
Wallpaper
Stencils
Tile
Here are some of my favorites to inspire you 🙂
This post may contain affiliate links, which means I'll receive a commission if you purchase through my links, at no extra cost to you. Please read full disclosure for more information.
DIY ACCENT WALL IDEAS
Shiplap Accent Wall
Who doesn't love a Shiplap Wall?! I'm partial to a clean white shiplap, but I absolutely love the way this black Shiplap Wall turned out! This is one example of how you can make a wall with a door work; because it's black!
RELATED: Cheap & Easy Way To DIY A Shiplap Wall
Textured Wood Wall
These wood wall tiles bring so much warmth and texture to a space. This one uses glue and nails and is easy to do yourself.
Amazon also has a bunch of peel and stick options for textured wood walls.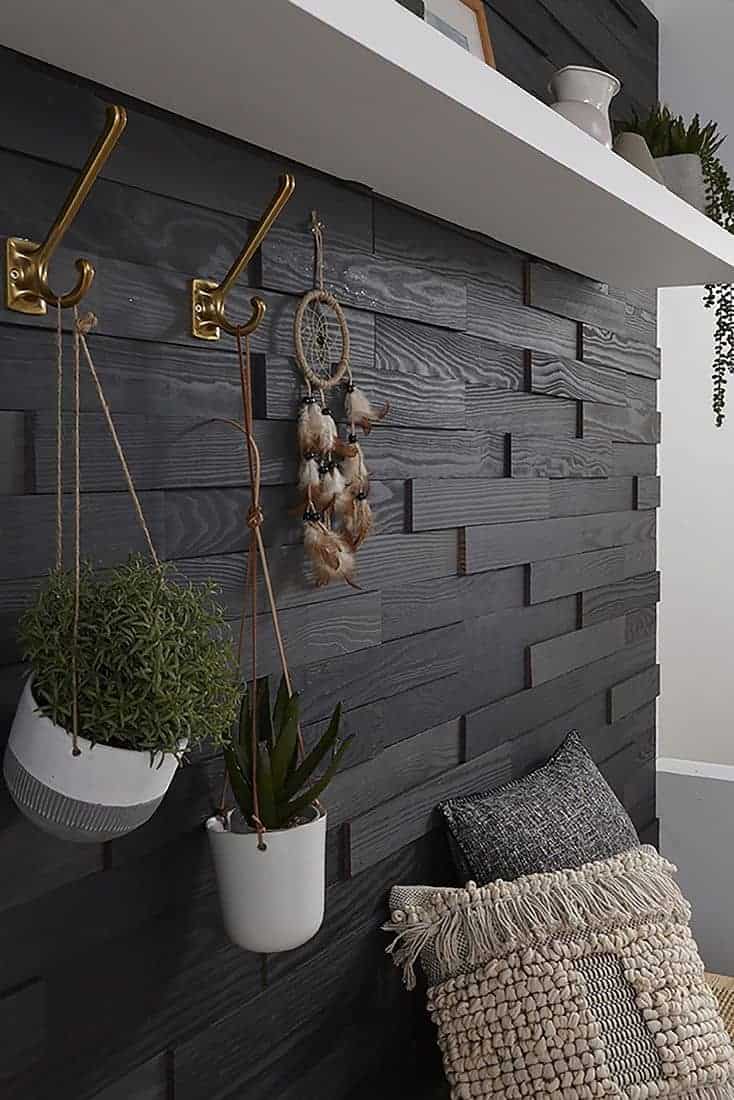 Board and Batten Accent Wall
If you are thinking about adding an accent wall, surely you have come across board and batten wall ideas. Not only do I love how gorgeous they look, but if you are decorating on a budget they are super inexpensive to do! Not to mention, you can customize any design that fits your space! I love this green accent wall in the bedroom.
Board And Batten Geometric Wall
There really is no limit to the different geometric accent wall patterns you can use when creating a board and batten wall. This is where your personality can really show in your home as well as standing out from the rest. So go ahead and play with the wall pattern, there are so many ways you can do it.
Herringbone Panel Wall
I must admit I've never been a huge fan of the herringbone pattern – but I will say this wall has gone a long way to change my mind! This look is something to consider if you are looking for a statement wall to go with your personality.
Vertical Shiplap Wall
I love the look of shiplap accent walls and this vertical shiplap wall is just another way of doing it. This look works well especially in smaller spaces or for walls that you want to look taller. You could easily duplicate this look with faux shiplap and save a ton of money!
Wood Plank Wall
I love how cozy and warm a room feels when you bring in wood elements. I am OBSESSED with the way this master bedroom accent wall from Joyfully Growing turned out!
Faux Brick Wall
When we finished our basement, I had originally wanted stone, but after pricing it out I decided to go with a brick panel wall using a German schmear technique. This was an easy very inexpensive project and still one of my favorites!
Tile
Check out this beautiful laundry room! They used tile to create a dramatic look. A lot of time we think of tile as a flooring or backsplash option, but who says you can't have a tile accent wall?
If you are looking for a more DIY-friendly project, you should check out these peel & stick tiles.
Chalkboard Wall
Consider a chalkboard wall for your next DIY accent wall! Chalkboards are great for small walls, playrooms, and kids' bedrooms. If you have a space that makes sense, adding a chalkboard wall can be a fun statement and all you need is some chalkboard paint.
Wallpaper
Wallpaper accent wall?! Yes! Growing up my mom had wallpaper all over our house. I have to say, wallpaper has been stepping up its game lately! There are so many gorgeous designs out there, consider adding it on a wall for a fun bold look.
Sponge Paint Wall
I have to say, I thought this was wallpaper when I first saw it! Ashleigh Sommer used nothing but a sponge to create this beautiful pattern for her bathroom accent wall.
Painted Accent Wall
If you want to keep it simple, consider just painting your feature wall. Don't forget to add some Floetrol to ensure a smooth finish. This is one of the easiest and budget-friendly accent wall ideas out there!
The hardest part of painting an accent wall is usually deciding on the perfect color! If you are struggling to find the right paint color, I suggest getting some peel & stick paint samples to help you decide.
Wood Accent Wall
This wooden slat wall is easy to install and makes for an interesting feature wall. I can't decide which one I like better; gap or no gap?!
Stone Wall
Stone adds texture and makes a statement in any room. I love how this kitchen accent wall makes the room look so luxurious. Check out different faux stone options as well.
Decorative Wall Panels
If you are looking for something unique, check out this wall panel from Home Depot! It's super easy to install and low cost. I love the architectural look this gives a space.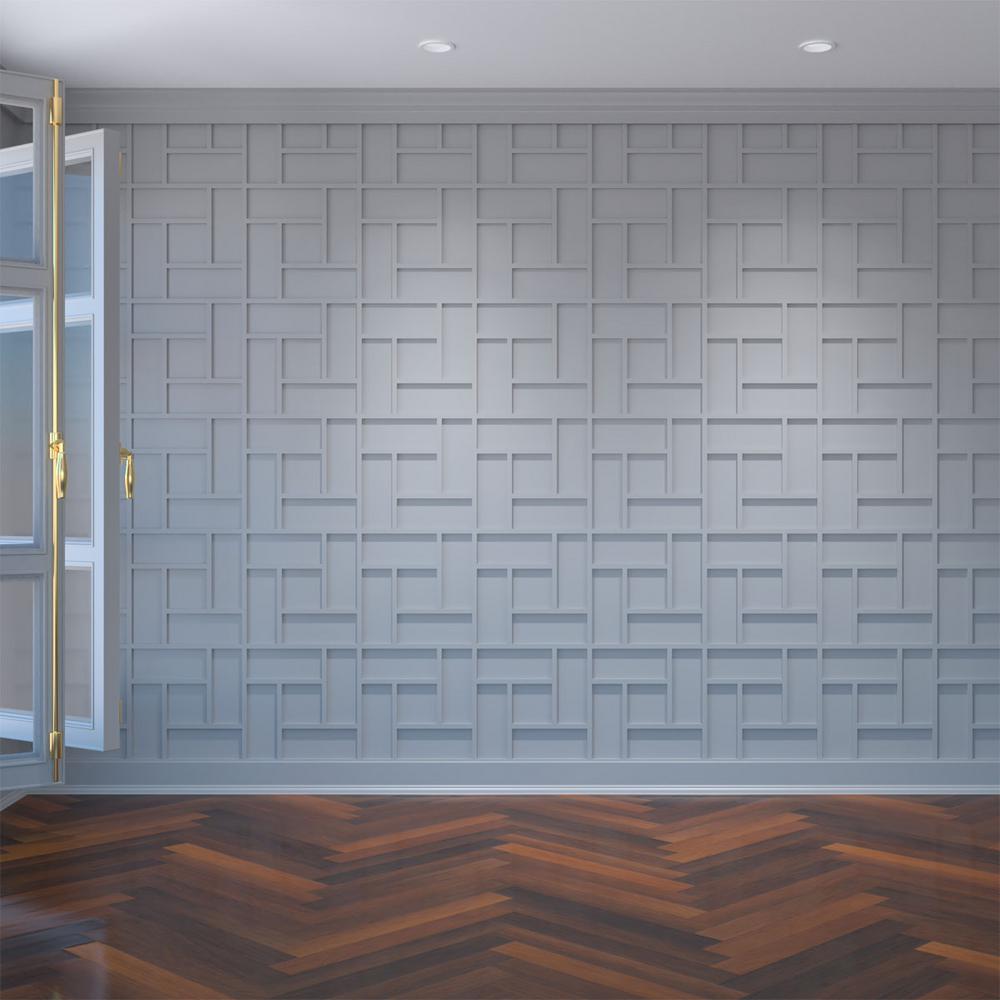 There you have it! Plenty of DIY accent wall ideas to inspire your next project! Which look inspires you the most?
Once you complete your accent wall, check out some other DIY Projects you can do to improve your home.