Farmhouse Style – Everything You Need To Know
What Is Farmhouse Style?
Farmhouse style at the core is all about mixing new and old elements for a cozy, comfortable home. It's all about simplicity, beauty, and creating a lived-in aesthetic in your home.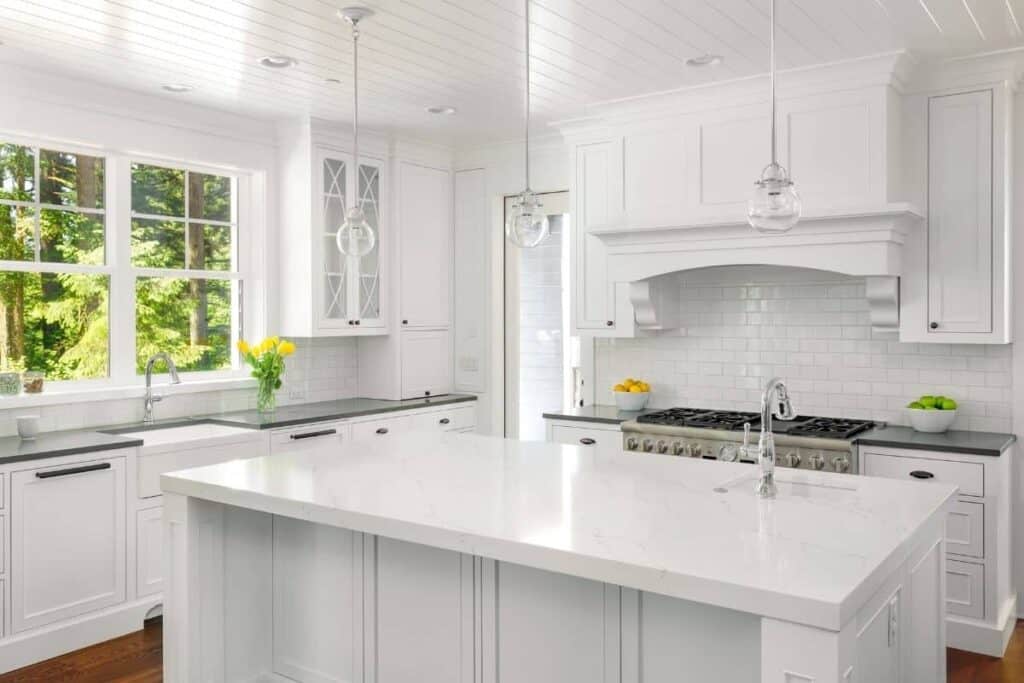 Traditionally, farmhouses are simple homes built on farmland to house those who worked or owned the land. They have been around for decades and you would mostly find them in rural areas.
Nowadays, farmhouse style doesn't mean that you live on a farm. It refers more to styling your home with trademark elements that echo a farm homestead and a simple mindset that often comes with living the country life.
One thing that farmhouse-style homes have in common is that they have items that look collected and not matchy-matchy. Pairing new sofas with vintage side tables is one way to achieve this look. When farmhouse decorating, the point is to mix and match to create a look that has evolved over time.
At the heart of it, farmhouse style is very comfortable, versatile and not at all formal.
Why is farmhouse style so popular?
You can't discuss the farmhouse style without mentioning Chip and Joanna Gaines. If you have ever watched the HGTV show Fixer Upper you will know what I'm talking about. Although this style has been around for a while, this dynamic duo definitely launched it to a whole new level.
There Are A Few Reasons That This Cozy Yet Simple Style Is So Popular.
Timeless Look. Trends and styles change. By choosing your pieces carefully, you can decorate with things you love now and have your style last far into the future with just a few tweaks here and there.
It's Family Friendly. One advantage of decorating with distressed and vintage-looking furniture is that it already comes with some character. A few dings or scratches from the kids will only add to the look.
Versatility. There is a ton of versatility with the farmhouse style. You can lean in more to a modern look or pivot to a more industrial farmhouse style.
Easy To Duplicate. You can find farmhouse decor everywhere nowadays. Whether you are shopping in the store, online, or heading to a local flea market you will almost always find some farmhouse home decor to add to your house.
Warm & Cozy Feels. At the end of the day, people want to feel comfortable and relaxed in their homes. This style helps achieve this feeling.
It's Not Too Fussy. One thing that really gets on my nerves is how some styles are just too fussy. There are so many elements to it that it just becomes way too much for me. Farmhouse style, by contrast, manages to be simple and beautiful without being too fussy for everyday living.
WHAT ARE THE FARMHOUSE COLORS?
Neutral Color Palette
The foundation of farmhouse colors is a neutral color palette. White is definitely the main color but you can also bring in shades of gray and beige.
Then you want to bring in earthier tones for accent colors. Common colors would include sage, navy blue, etc. Darker neutral colors (brown/black) will usually be mixed in with wood elements and metals.
Having a neutral color palette will set the foundation for the room which will allow you to easily switch up home decor accents that will seamlessly blend in.
If you are struggling with paint color choices, consider peel & stick paint samples.
Farmhouse Look Basics
One of the things I love about the farmhouse look is how much versatility it has. As long as you stick to some basics, you can create a beautiful farmhouse-style home that still looks unique and fits your personality.
Texture
Add different textures into the design by bringing in rugs that vary, mirrors that vary, and pillows that vary. This will help give the room character and not be too monotonous. Try an Anthropologie mirror look-a-like to make it a bit more modern.
Popular textures in this style include chunky blankets, grain sacks, linens, different woodgrains, etc.
Shiplap
Nothing says farmhouse look more to me than shiplap. There are so many ways to incorporate shiplap into your home. You can add it to the walls, ceiling, kitchen island, etc. Plus, it can be a super affordable project. See how we added our own DIY Shiplap Wall for under $100!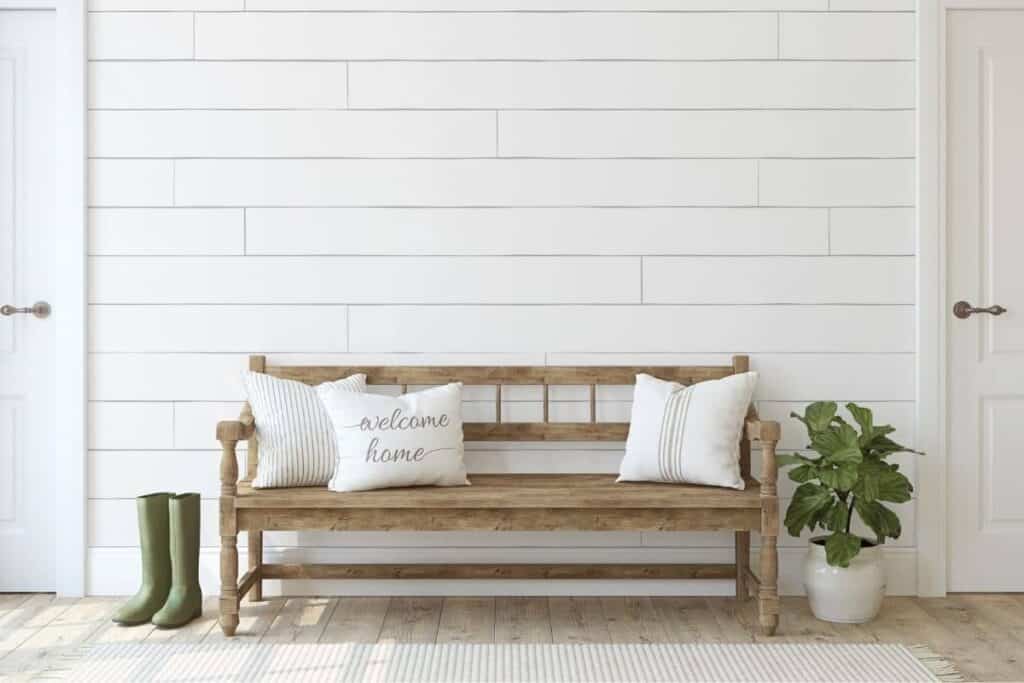 Beams
Adding an amazing ceiling beam (or more) can add so much character and texture to a space in your home. There are some great resources out there to create faux ceiling beams that look very real!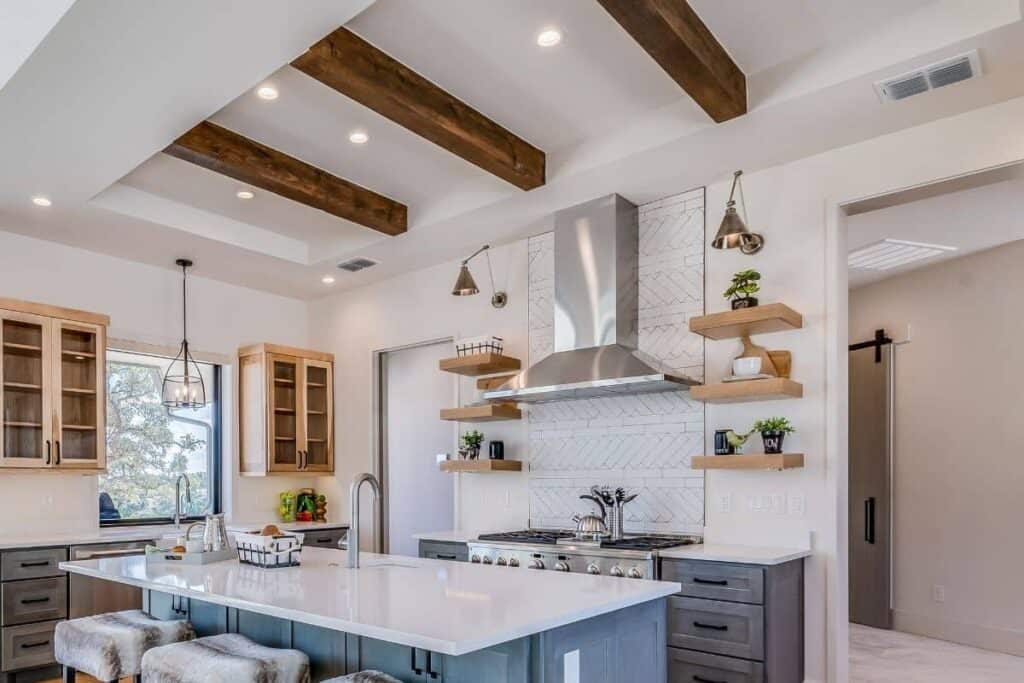 Barnwood
You will often see reclaimed barn wood as an element in a farmhouse look. This wood can be incorporated on a wall, ceiling, floor, or any piece of furniture. This eye-catching element will bring character and texture to your home. So if you are going for this style, make sure to find somewhere to add some barn wood.
Barn Doors
Do you have an opening in your home that you can fit a barn door? Not only do they fit the farmhouse look, but they also look amazing and take up less foot space. Want to really make a statement? Go ahead and add double barn doors to the mix!
Mix & Match The New And Vintage
Mixing and matching new and old pieces is an easy way to achieve the farmhouse look. An easy way to do this is by adding new and old knickknacks, furniture, or decor that you've found at antique or flea markets. It can be a challenge at first but once you get the hang of it, mixing and matching vintage and new pieces will quickly become second nature!
Farmhouse Light Fixtures
A great place to start with the farmhouse look is your lights! Start by deciding your material – wood, metal, glass, etc. New light fixtures will certainly make a huge statement in any room.
If you are on a budget, then check out some local thrift stores. You would be surprised at all of the amazing light fixtures that you can find there!
If you just don't have the money for new lights, then try finding some of your old light fixtures and see if they can get a facelift or touch up with some spray paint to make them new again.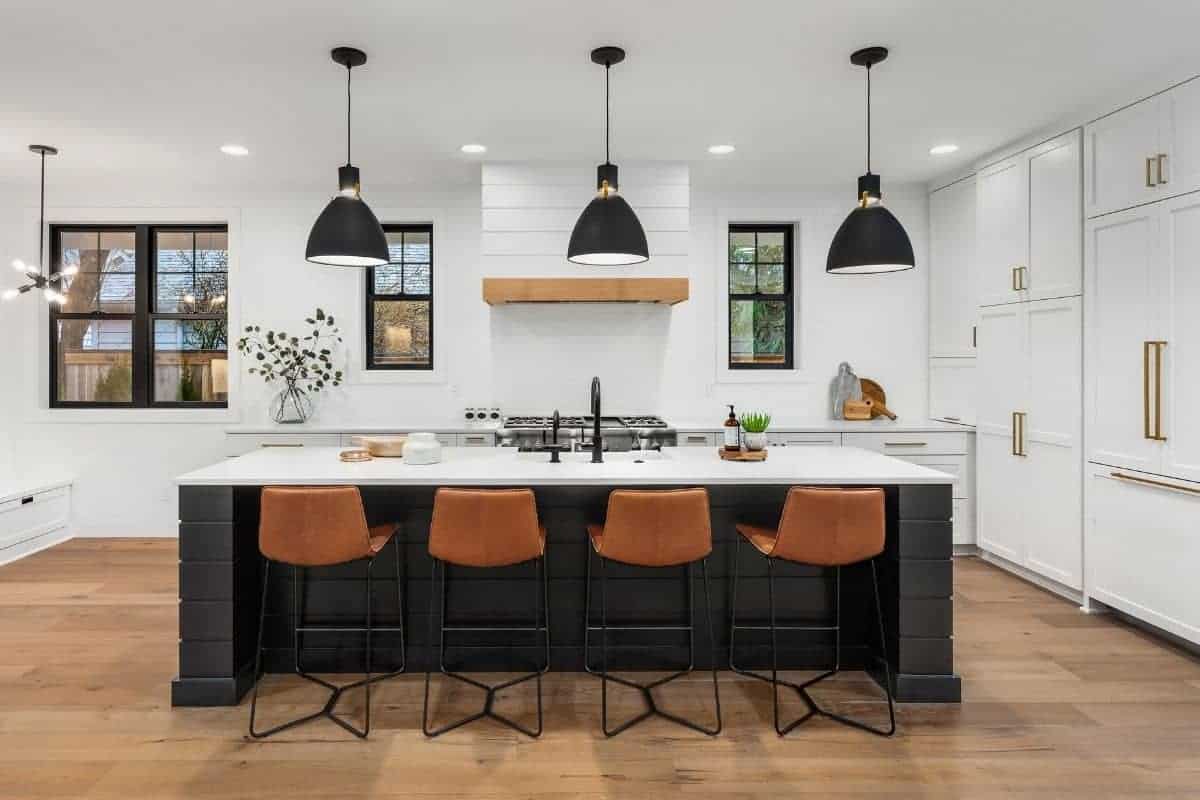 Natural Elements
The key to keeping a neutral color palette from falling flat is to add texture using natural elements. Here are just a few you can incorporate into your farmhouse look:
Burlap
Wood
Brick
Stone
Cotton
Leather
Metal
Linen
Adding any or all of these natural elements into your design will go a long way to achieving the farmhouse look.
Focus On The Fireplace
There are many ways to update your fireplace without too much effort or cost.
One way to update your fireplace without much effort is by adding rustic wood or shiplap around it. There are so many gorgeous shiplap fireplaces out there to draw inspiration from.
If your fireplace is an old one, then you might want to update it with new firebox options that can fit into your style or simply paint the inside of it.
Some other options are a custom wood mantle, a new surround, or whitewashing your existing brick.
Open Shelving
Style meets function with open shelving. Not only is open shelving practical, but it can become part of your overall decor. The shelves themselves as well as the brackets you choose create visual interest.
The decor you put on them can add to the look of the room. Don't limit yourself to just the kitchen, you can add them to bathrooms, bedrooms, etc.
Kitchen Apron Sink
When it comes to your kitchen, don't overlook the sink. Farmhouse sinks come in a wide variety of styles and can be a big statement piece to your farmhouse look.
I have always been a fan of the apron front sink because they look amazing with farmhouse style and are really functional as well.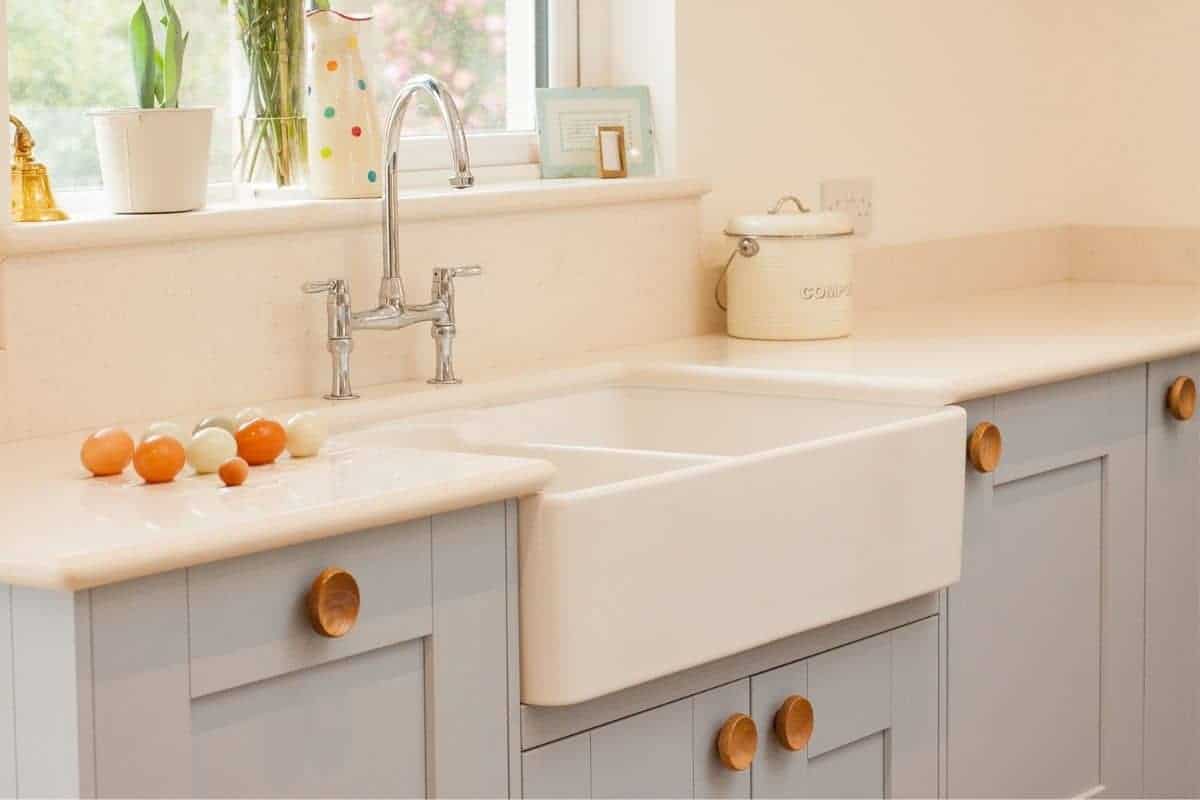 Painted Furniture
Painting some hand-me-down furniture to coordinate with your room is a great route to go when pulling off a farmhouse look. By painting your furniture, you add a little bit of farmhouse style to it and save yourself money!
In one afternoon you can paint and distress a garage sale or thrift store find and have it looking like a family heirloom in no time (like this farmhouse stool!).
Farmhouse Decor Ideas
Now that you have an idea of what the Farmhouse style is and the basics you should stick to, it's time to put the look together. Make sure to also see our guide on how to find cheap farmhouse decor. Here are some great farmhouse-style decor ideas you should consider.
Iron Bed Frame
Galvanize Metal Decor
Decorate With Wire Bins
Add Some Wicker Baskets
Use Vintage Signage
Incorporate Faux Olive Trees
Hang A Porch Swing
Repurpose Vintage Finds
Hand Paint Some Flower Pots
Display Rustic Art
DIY Farmhouse Decor
Since farmhouse style is all about mixing new and old, this is a great style to DIY. If you would rather spend your money in other areas, then add a little farmhouse flair to your look by decorating with items that you've already got.
You can make your own farmhouse signs, make a simple antique window frame, or update a vintage sewing box.
If you don't want to buy anything or create something from scratch, take some time to see what you can find around your house. Start with the things you already have sitting around, like old tools and farming equipment, decorative storage bins of all kinds, wooden crates, vintage signage, etc. And don't be afraid to ask your friends or family if they have something that might work for your style too!
Where to find farmhouse decor
Now that you know what elements you're looking for, you can start looking for items to add to your home.
Remember, it's all about mixing the old and new. So start with your local thrift stores, flea markets, and garage sales.
Then, check out the 20 Best Places To Shop For Farmhouse Decor for some of your newer items.
What are the different farmhouse styles?
Farmhouse is not just one style. There are a few things that make each farmhouse style slightly different, but at the core, most farmhouse elements remain the same.
Modern Farmhouse
French Farmhouse
Rustic Farmhouse
Coastal Farmhouse
Colonial Farmhouse
Traditional Farmhouse
Bohemian Farmhouse
Conclusion
In conclusion, the farmhouse style is a design style that uses simplicity and beauty to create a cozy, lived-in aesthetic in your home. Once you know the basics of this design style, you can find creative ways to revamp your home and make it appear more farmhouse style in no time. Whether that is by painting furniture, adding new shelves, installing faux shiplap, or using old things you already have. Hope this article helped!
Best Farmhouse Pillows For Cheap
10 Steps To Makeover Any Room in your home.