Whether it's a classic farmhouse, modern farmhouse, or one of the other farmhouse styles, farmhouse decor is all the rage right now. But if you are anything like me, you want to know where to find cheap farmhouse decor so that you can decorate your home without breaking the bank!
Here I will show you where to find cheap farmhouse decor online, stores that carry inexpensive farmhouse decor, and places you can find dirt cheap farmhouse decor.
This post may contain affiliate links, which means I'll receive a commission if you purchase through my links, at no extra cost to you. Please read full disclosure for more information.
Where Can I Buy Cheap Farmhouse Decor?
If you prefer to shop for farmhouse home decor instead of DIY'ing, make sure to check out some of these places.
Cheap Farmhouse Decor Online
If you love shopping online, here are some great places to find cheap farmhouse decor.
Amazon is one of my favorite places to buy farmhouse for less!
You can stock almost any farmhouse accents you need like these super cute pillows, wood beads, candles, lamps, blankets, and rugs, all of which look more expensive than they are. Plus, if you are a prime member you can get free delivery quickly!
2. Decor Steals
If you love the farmhouse look, you have to check out Decor Steals Website! The amount of home decor they have is amazing.
From wire baskets and vintage candle holders to benches and side tables, they have it all.
What makes them unique is that they are a daily deal site. So each day they feature 3 new home decor products that are a "steal" for 24 hours!
3. Kirklands
So many of my favorite pieces are from Kirkland's. They have a great selection of pillows, galvanized metal accents, vases, and candleholders.
You can almost always find a coupon for some extra savings as well!
4. Target
Oh, Target how I love thee. I will admit some of their decor can be a bit pricey. However, I am always able to find cute stuff under $20 (like these super cute hooks). So make sure you check out Target when you are looking for home decor.
5. Big Lots
I cannot get over how much affordable farmhouse decor Big Lots has! The only downside is you have to spend $59 to get free shipping. However, at those prices, you can get a lot for $59!
6. Hobby Lobby
If you haven't shopped for farmhouse decor at Hobby Lobby you are missing out. Not only do they have a huge selection, but their prices are very good!
To top it off they put all their home decor on sale at 50% off every other week. Twice a year they will also start marking it down to a whopping 90%!
Farmhouse Decor shop has a huge selection of cheap farmhouse decor. Most of their items are American and French-Style and they also have a small selection of vintage and handmade items.
8. At Home
They call themselves the Home Decor Superstore for a reason! At Home is a massive store that is dedicated to nothing but home decor.
I find it less overwhelming to shop on their website because the store is so big. The selection of cheap farmhouse decor is amazing and they have a huge selection.
Who would have thought? Tractor Supply has some awesome home decor especially if you are going for a more industrial farmhouse look. If you haven't check them out yet, you should.
Related: Industrial Farmhouse Decor Ideas
Stores With Affordable Farmhouse Decor
HomeGoods
HomeGoods is one of my favorite places to shop. Their prices are great and their inventory always changes so every time I go is an adventure. This is my go-to store for throw blankets, baskets, and seasonal farmhouse decor.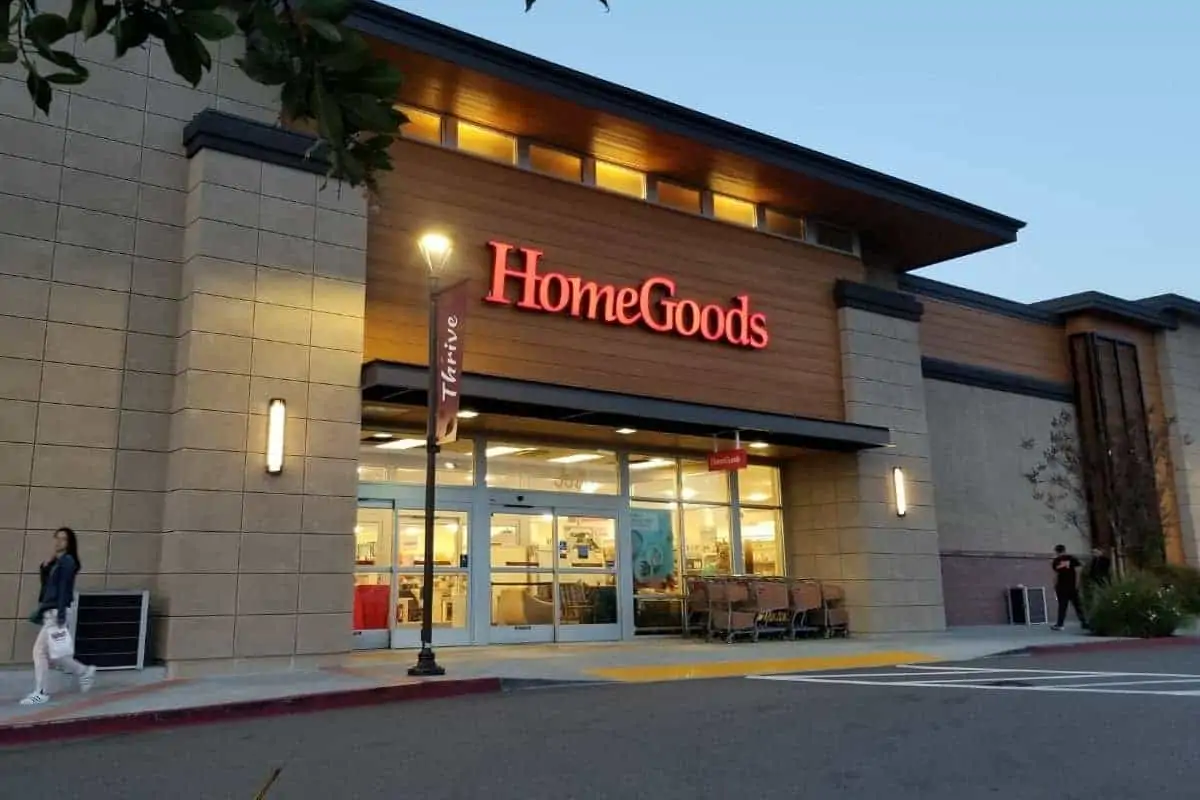 TJ MAXX
TJ MAXX is another great store to get farmhouse decor for cheap. They have a great selection of home decor items that changes regularly so make sure if you find something you like to snatch it up right away!
MICHEALS
Micheals is the best of both worlds. They are an arts & crafts store that also sells a ton of home decor. So you can DIY some farmhouse decor or purchase something you like. They also run a ton of sales and you can almost always find a good coupon to use as well.
IKEA
When I think of IKEA my mind goes to furniture, but they have great farmhouse decor as well. They have a great selection of vases and greenery if you are looking to add some. Also, they have throw pillow covers for cheap!
Dollar Stores
Can you get any cheaper than the dollar store? While you can find some cute items by themselves (like galvanized tins & wire baskets!) I tend to have better luck here when I want to DIY some cheap farmhouse decor.
Related: Dollar Store Farmhouse Window Frame
Dirt Cheap Farmhouse Decor
If you are willing to put in some time and energy you can find or make some dirt cheap farmhouse decor. Check out our Ultimate Guide To Decorating On A Budget for more ideas.
Here Are Some Places You Can Find Dirt Cheap Farmhouse Decor…..
Garage Sales
Flea Market
Craigslist
Facebook Marketplace
Thrift Stores
Your Own Home – Upcycle old decor into farmhouse style
Did I miss any? Do you have any other favorite places you love to shop for farmhouse home decor at a discount? Let me know!
Be sure to check out my favorite Farmhouse Pillows For CHEAP!