Decorating On A Budget: Make Your House Look Amazing!
The only thing I love more than decorating my house is decorating on a budget! If I can find a cheaper way to do something I usually will. It doesn't have to cost a fortune to make your house look amazing on a budget. From free ways to decorate to low-cost, there are many ways to stretch your dollars. Let's start with my favorite; free ways to freshen up your space on a tight budget.
HOW TO DECORATE WITH NO MONEY
SHOP YOUR HOME
Tight budget? There are many ways to decorate with no money. Whenever I get the itch to redecorate, one of the first things I do is shop my home.
It reduces clutter and helps me make sure I buy less therefore there is less mess. Also, by spending less I can justify buying wow pieces that I really love!
TIPS ON HOW TO SHOP YOUR HOME
Look for pieces that have a similar color or feel to them but don't be too picky
Everything does not need to match perfectly. As long as they work together you can mix up your textures, patterns, and colors.
Start with one room and a time, remove what you don't like then look around for what to replace it with. Then move to the next space.
Do a walk-through of your home; explore every nook and cranny for lost forgotten items

Head to the attic, basement, or garage – find those long-lost decor items and pictures. Can you give them a fresh coat of paint and make them new again?

Shop your home for storage items

I-phone boxes make great storage boxes for drawers
Remove wax from old candles and use the jar in drawers to organize small items.
MOVE THINGS FROM ROOM TO ROOM
Whenever I think about decorating with no money, I usually start by moving things from room to room. My house is pretty cohesive so this strategy works really well for me.
I usually start by emptying one room and then grabbing items from another, replacing them as I go. Things you can move from room to room include:
Throw blankets
Throw Pillows
Plants
Rugs
Artwork
Small Furniture Pieces
Home Decor Accents
Bedding
This post may contain affiliate links, which means I'll receive a commission if you purchase through my links, at no extra cost to you. Please read full disclosure for more information.
SHOP SOMEONE ELSE'S HOME FOR FREE HOME DECOR
One of my favorite pieces in my basement is an old globe that we grabbed from my in-law's attic. It was my husband's as a kid and fit perfectly with our decor.
Call some decor-loving friends and plan an exchange swap! Gather some pieces you no longer love and have them do the same. Make a fun night of it! Ask your family if they are getting rid of any FREE home decor, or ask them to keep an eye out for an item you are looking for.
REARRANGE YOUR FURNITURE
If you are able to, consider rearranging your furniture. Not only is this free to do, but it only takes a little time and some muscle. Sometimes all you need is a new perspective to create a great space.
How your furniture is arranged has a great impact on the look and feel of the room. When you are decorating on a budget, think about rearranging your furniture and also consider moving pieces from one room to another. Just because that sofa table has been in the front hall for years, doesn't mean it can't be used in the living room!
GET RID OF DATED, WORN, OR DAMAGED ITEMS
Sometimes taking something out of the room is all you need. If you have old outdated pieces that can't be updated, get rid of them!
REARRANGE YOUR SHELVES & BOOKCASES
I am big on seasonal decor, so my shelves and tables are always getting rearranged! You can create a whole new look by simply rearranging your shelves and bookcases. Make sure to decorate with odd numbers and play with textures and height. It can be overwhelming to start from scratch so check out some tips on how to decorate shelves & bookcases that will help give you a place to start.
DECORATE WITH NATURE
One cheap easy way to decorate on a budget is with nature! In the fall I grab some tree branches and add them to vases or lanterns for some cute free decor.
Fall: Grab some tree branches and add them to vases.
Winter: Find some pinecones and sprinkle them throughout the home
Spring: Go outside and pick some fresh flowers to put in the bedroom
Summer: Display a collection of seashells that you have brought home or grab some driftwood and display it
Find some cool rocks! I have spray-painted larger rocks and used them as bookends in my daughter's room. You can also use them for standalone decor on a shelf. You don't need to let a tight budget stop you from creating the home you want.
REORGANIZE & DECLUTTER
Reorganizing and decluttering are great ways to makeover a room without spending any money. Sometimes less is more. When you are decorating on a budget, sometimes getting rid of decor is just as effective as adding it. I always like to start by removing all decor from a shelf or table and then adding little by little until it looks good.
FREE HOME DECOR
FACEBOOK GROUPS
Facebook groups are great!! I am part of several local online "garage sale" Facebook groups and the amount of FREE home decor people give away is insane. I just checked out one of my local groups and here are just a few things listed for free! All within 10 miles of me 🙂
Pianos (as in more than one!!)
Rocking Chair
Mirrors
End tables
Stone dining room table
4 Practically new throw pillows
& So much more
SELL STUFF TO ADD TO THE BUDGET
Sometimes when I get the urge to update a room, I'll look around and see what I can sell that I no longer want. This helps me to get rid of items I no longer want, reduce clutter, and update a room without spending money.
I recently sold a boxing bag and old guitar we had laying around and used the money to completely redo my daughter's bedroom. I listed both on Facebook marketplace and sold them the same day!
USE FETCH REWARDS TO ADD TO A TIGHT BUDGET
I just discovered this app a few months ago and I use it all the time now. You earn gift cards for scanning receipts of things you are already buying (think groceries, gas, etc).
I always end up getting a Homegoods, Amazon, or Target gift card and treat myself to something for my house! (Use my referral code 2VA6K for a bonus 2000 points!)
MENARDS 11% REBATE PROGRAM
Take advantage of the Menards Rebate Program. Whenever we have a big project I make sure to purchase everything I can from Menards when they have their 11% rebate program. Everything you buy is eligible for an 11 percent mail-in rebate, in the form of a store voucher. Once I get the rebates back I use the funds to purchase something I've had my eye on.
PRINTABLE ART
The amount of free printable art available is almost overwhelming! No matter what your design style is, you are sure to find plenty of free printable artwork you can add to an existing frame you already have.
One of the biggest ways I save money when decorating is to use what I already have. There are so many things you can do yourself with stuff you already have around the house!
Here are some home DIY projects you can do:
CHEAP HOME DECOR
SHOP SECOND-HAND THRIFT STORES
One of my favorite things to do when I'm decorating on a budget is to head over to a thrift store. This is especially helpful if you are going for a farmhouse-style home. I have found a ton of inexpensive decor at thrift stores.
Shopping second-hand is not only cheaper but usually, you are able to find unique one-of-a-kind items. Make sure you keep an open mind when looking, and try to envision what the decor would look like with a fresh coat of paint. Some of my favorite pieces are just painted thrift store home decor.
You can easily turn a thrift store find (like this round tray) into knock-off designer decor with a little TLC.
DOLLAR STORE
Pinterest is full of simple and budget-friendly ways to decorate your home just using stuff you can find at the dollar store.
This is one of my favorite cheap ways to decorate! I recently made this antique window and these farmhouse signs using items from the dollar store.
Below is a picture of wine bottle decor I made with twine from the dollar store, and I still have a ton of twine leftover 🙂
FACEBOOK MARKETPLACE (BUY & SELL GROUPS)
I find it to be the best resource for finding antiques, vintage pieces, cheap farmhouse decor, and home items on a tight budget and it's all accessible right from your phone or computer. I just scored a floor jug vase that retails for over $100 on Marketplace for $10!
Keep an eye out for supplies as well as furniture and decor – Hardware, paint, etc.
TIP: Set notifications for a piece you are searching for. You will be notified every time someone posts an item that matches what you're looking for.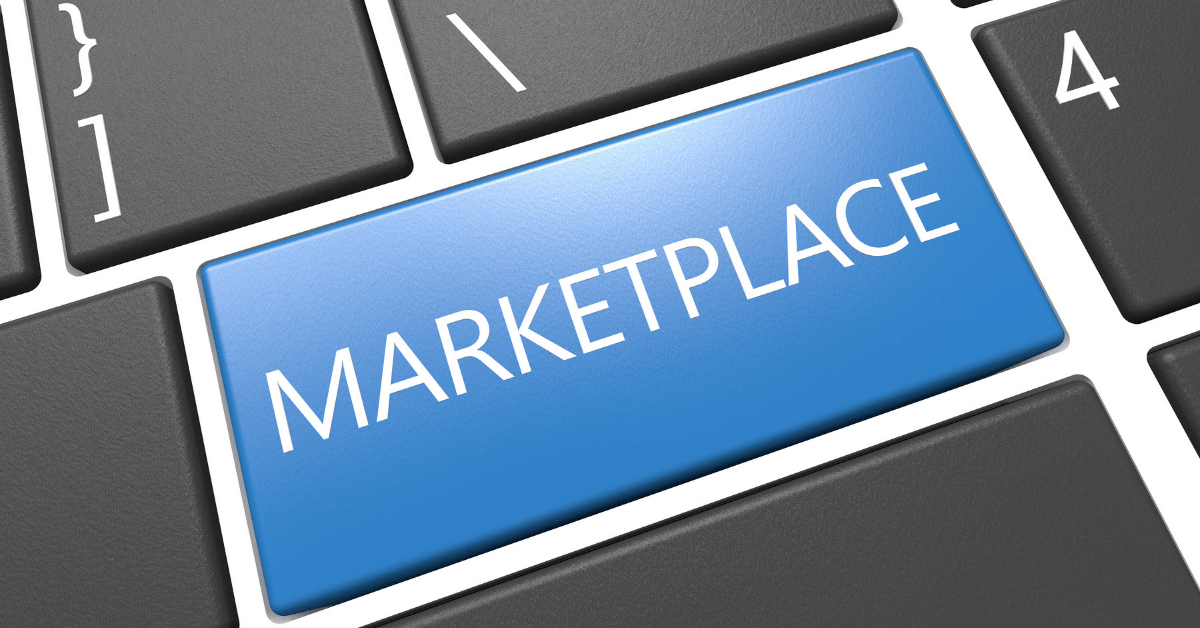 GARAGE SALES
Who doesn't love a garage sale?! It amazes me some of the beautiful cheap home decor I have picked up from garage sales. Don't forget that Facebook has tons of garage sale groups, so you don't necessarily need to wait for garage sale season to find what you are looking for!
Some things I always look for are hardcover books. Take off the sleeve to see what the cover looks like and if it matches your decor. I typically don't spend more than a quarter on them. There are so many uses for these!
Keep an eye out for cute picture frames that can be repainted if necessary, mirrors and vases.
Check out this before & after wine rack I found at a garage sale!
ESTATE SALES
Estates sales are great especially if you are looking for older antique pieces. Nowadays you can go online and see what estate sales are near you, some even allow you to shop online.
FLEA MARKET
Flea markets offer an abundance of interesting finds! When I'm looking to add some flair to my house, I can almost always find something unique that I love at the flea market! Half of the fun of sticking to a tight budget is in the hunt.
Keep an eye out for anything cheap that you can easily update with a fresh coat of paint or new knobs etc.
LIQUIDATORS
Check your local area to see if you have a store return liquidator near you. We have one locally that gets returns from major retailers. They auction off pallets of items starting at $1.00! Sure you might end up with some stuff you don't need but you can also score big for a little out-of-pocket cost.
RESTORE
Habitat for Humanity has ReStores all over the country where people donate new and used furniture, building supplies, home goods, and even appliances. They then sell to the public for a fraction of the retail price. I have found lots of hardware for cheap here. Also, I just purchased a beautiful flocked Christmas tree for $32!!
AFFORDABLE HOME DECOR
There are plenty of cheap home decor stores. Here are some of my favorite stores to shop at when I'm looking for cute new decor. I can almost always find what I'm looking for without breaking my tight budget.
Here are some places where I have found some beautiful home decor:
HomeGoods
Marshalls / Ross / TJ Maxx
Burlington
RELATED: Stores Like Hobby Lobby
HOME DECORATING IDEAS ON A BUDGET
USE PAINT
Nothing gives you more bang for your buck when decorating on a budget than a fresh coat of paint. Paint changes the entire look of a room for a low cost. Don't limit yourself to just the walls, there are many things you can paint to change up the look of your home!
Counters: Update counters by using a restoration kit
Appliances: Refresh old appliances with special appliance paint
Re-paint the kitchen cabinets
Transform a whole room by painting it
Don't forget to paint the ceiling (Not necessarily white….)
Spray paint old decor that no longer matches your style
Go bold with a black accent wall
Paint Old picture frames
Use chalk paint (Check out this chalk paint vase makeover!)
Metal spray paint: Think light fixtures, cabinet knobs & handles
If you struggle with finding the perfect paint color, consider using some peel & stick paint samples before you commit to a color.
REPURPOSE YOUR FURNITURE
When you are focused on decorating on a budget, one thing to look at is your furniture. Before you throw away your furniture, decided first if it can be brought back to life! You can update worn furniture by doing any of the following:
Repair old furniture
Add new hardware
Stain furniture pieces
FIND SOME GOOD DESIGNER DUPES
If you're trying to decorate on a budget, find some good designer dupes. Love the look of Hermes blankets but don't want to spend the money on the real thing? Check out these Hermes blanket dupes.
Have you been drooling over the Anthropologie primrose mirror but can't spend over $1000?! No worries, there are 20 dupe mirrors that look very similar for way less.
Dreaming of a cloud couch? There are plenty of cloud couch dupes that look identical to the Restoration Hardware one.
You can almost always find something similar to the high-end decor without the price!
UPDATE A BOOKSHELF
Adding some paint or wallpaper to the interior of a bookshelf is a very inexpensive decorating idea. Take a boring bookshelf to the next level by creating a focal point to display your favorite objects. I love how this bookshelf turned out!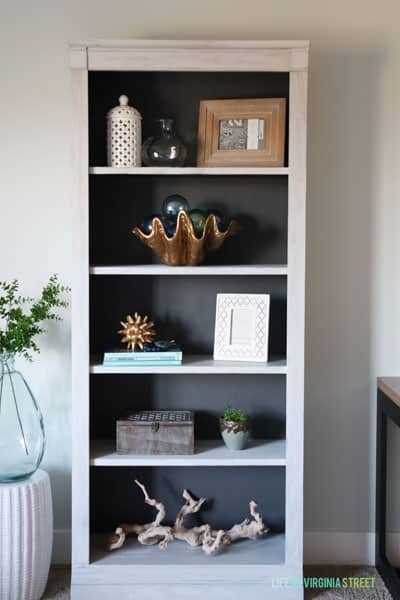 PICK DOUBLE-DUTY PIECES
Double-duty pieces are a great way to save money while decorating on a budget. For example, you can invest in an Ottoman that doubles as storage. Or use a dresser as a nightstand. Place a plant on a stool when you are not using it.
LEARN SOME IKEA HACKS
IKEA tends to have very reasonably priced furniture and the amount of amazing Ikea hacks I have seen online is astounding! Check out some of the best IKEA hacks here.
EMBELLISH PIECES
Add trim to your builder-grade bathroom mirror
Add molding or trim to a generic piece of furniture
Paint the legs or trim on a table
Spray paint hardware or swap them out altogether
Buy new legs for an otherwise nice piece of furniture
Use fabric on furniture
Add nailhead trim
Get some wood embellishments to add to a piece of furniture
CHANGE OUT YOUR TEXTILES
When I think of cheap decorating ideas, pillows always come to my mind. Changing out the fabrics in a room can really change the way it feels. Think pillows, throw blankets, tablecloths, runners, etc.
Related: 50+ Super Cute Throw Pillows For CHEAP
Simply moving them around to different rooms can change the look and feel of your space. Consider investing in some pillow covers which allow you to change the look without having to keep buying more. I love this tip for decorating for Christmas. There are so many cheap Christmas pillow covers you can get that will easily store for the rest of the year.
There are also many great ways to make your own throw pillow covers, many of which involve no sewing!
ADD A SLIPCOVER TO OLD COUCHES
Not ready to invest in new furniture? Cover it instead! Slipcovers are affordable, easy to clean, and easy to switch out when you want to change up the look.
GET CHAIR COVERS FOR YOUR TABLE
I don't want to replace my kitchen table because eventually, we want to get rid of it and extend our island. But the chairs drove me crazy. I thought about refinishing the table and chairs, but like I said I don't intend to keep them so I decided to add some chair covers and I love the way they look! I got these ones on Amazon and they have a ton of colors and pattern options.
ADD A TABLE RUNNER
A table runner is such a simple thing that can take your decor to the next level when decorating on a budget. Buy one or make one yourself out of the fabric you already have. You could even find a cute scarf you have laying around and use that!
BATHROOM DECOR
When it comes to cheap bathroom decor I always suggest hanging new shower curtains. Also, consider changing out the towels to more decorative ones.
Adding a small shiplap wall is also a great budget-friendly bathroom update.
UPDATE YOUR BEDDING
Even a simple duvet cover can make your bedroom look new again. Consider changing out your bedding to freshen up the space.
CHEAP WAYS TO DECORATE WALL
When it comes to wall decor, there are so many things you can do besides hanging up artwork. This is a time you can get creative and really add some personality to your home.
ADD ARTWORK
Whenever I decorate a room, it never feels complete until there is art on the walls. I have managed to find some great pieces over the years at TJ Maxx, Marshalls & Homegoods. I also love looking at prints online. Desenio has so many great options for gallery walls.
PRINTABLE WALL ART
Instead of spending a fortune on art for the wall, consider purchasing printable wall art to add to frames you already have. Etsy is full of beautiful printable wall art that will only cost you a few dollars.
DIY WALL ART
Wrap an old canvas in fabric for an easy cheap wall art hack.
Spray paint old clipboards and add printable art
Update an old picture with chalkboard paint
Paint a canvas and hang it up
Add joint compound to canvas for textured art
Frame your kid's artwork and display
PRINT OUT YOUR FAMILY PHOTOS
This is one of my favorite seasonal decor tricks. I printed larger black and white photos of my kids from when they were little. During the fall I have pictures of them playing in leaves, etc. I also change out my pictures throughout my house based on the time of year. I keep all the pictures in the frame so that they are easy to rotate.
Make Your Own DIY Signs
If you like signs with sayings, then you can easily make your own DIY signs using an old canvas or picture frame.
OTHER CHEAP WAYS TO DECORATE
LOOK AT YOUR HOOKS
Wall hooks can be really cheap, and they can add a lot to the room even though they are fairly small. Consider the items you can add to the hooks that would complement your decor. A basket, a hat, scarf, or even some string lights can add to the decor!
I love woven baskets! Baskets add warmth and texture to a space and can be used to decorate in so many ways. Not only can you usually find a ton of these at thrift stores, but they are usually pretty cheap at Homegoods too!
Here are some of my favorite ways to use baskets on a tight budget:
Blanket Storage – Roll them up and put a basket by your couch
Linen storage closet – Store towels & sheet sets in them
Laundry Room – Store dryer sheets, etc in them
Pantry – Organize items in your pantry
Plants – Add a plant to a basket
UPDATE YOUR KITCHEN HARDWARE
It's amazing the difference new hardware can make! Updating your hardware can make a big impact without breaking the bank.
Head over to Target, Home Depot or check out Amazon for bulk handles and knobs that will transform your space.
Or spray paint your existing hardware for a budget-friendly option.
Install Vinyl Plank Flooring
Most vinyl plank flooring is easy enough to install yourself these days. Stretch your budget by updating your flooring yourself.
Conclusion
Making your house look amazing doesn't have to break the bank! There are so many cute decor ideas to incorporate when decorating on a budget. Get creative and see how beautiful you can make your space!
When it comes to budget decorating, what are some other decorating tips you have? I'd love to know!