Our DIY Faux Brick Fireplace
When we first moved into our builder-grade home, I remember being so excited to have a fireplace. Every year around Christmas I would think to myself "Ugh, I need a mantel!" Well, other projects always seemed to take priority, and here we are 14 years later – still no mantle and some ugly outdated tiles to go along with it. Well, this is the year – my DIY Fireplace makeover is finally happening!
I looked through a bunch of fireplace remodel ideas online and figured out the design and all I could think about was getting it started! I landed on a farmhouse-style fireplace. As part of our total room makeover, we had recently added a white plywood shiplap wall. To complement it, I wanted to go with a dark wood mantel that was much wider than the fireplace itself, and obviously that tile needed to go! I have been really into the white brick look, so I opted for a "faux brick fireplace" using tile and wide white trim.
This post may contain affiliate links, which means I'll receive a commission if you purchase through my links, at no extra cost to you. Please read full disclosure for more information.
Fireplace Tile
Like I said, my design was based on a white brick look so I researched options for the fireplace. When we finished our basement, I was able to create a fake brick wall using wall panels, but that wasn't going to work here because of the potential fire hazard.
So after searching high and low I was able to find a "faux" brick fireplace tile at Home Depot online. It's called Capella White Brick tiles that were 2 ⅓ x 10 inches. It also comes in other colors if you are not a fan of the all-white.
Before Starting
The first thing we did was paint the inside of the fireplace. It was a fairly simple and quick process. We cleaned it out first, then used some cheap paintbrushes to apply the high heat paint.
It only took one coat and the difference it made was amazing. I don't think this DIY project would have turned out as good if we hadn't done this first.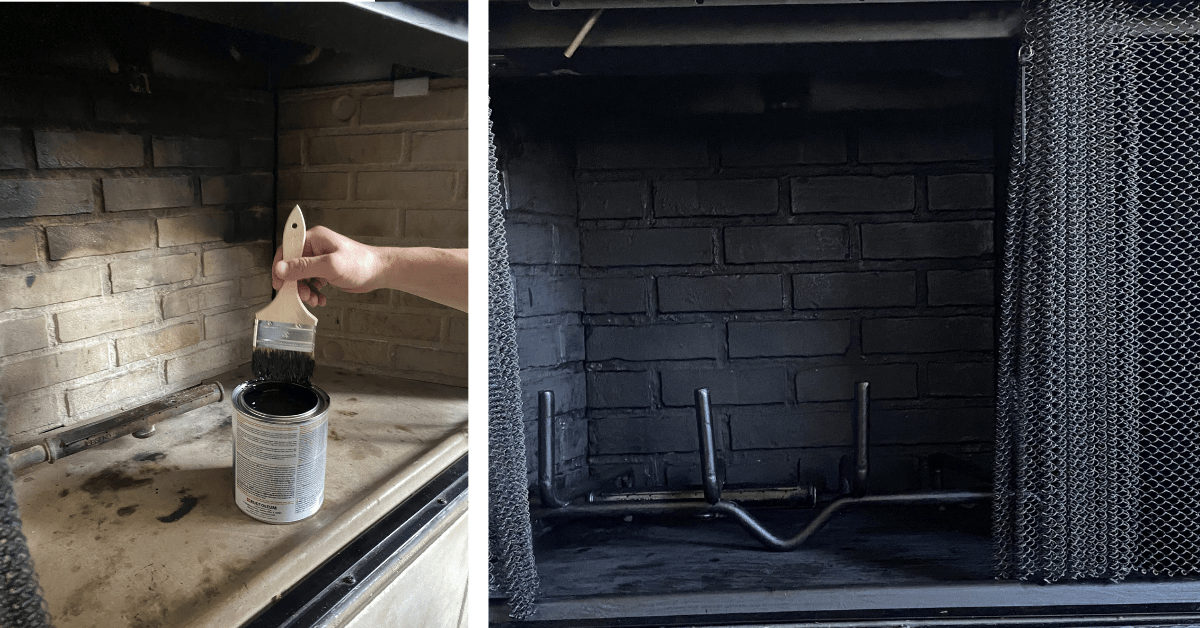 Remove Trim
Once we finished painting the inside, it was time to remove the trim. This was a fairly quick process. I wanted a thicker white trim fireplace surround so this thin piece had to go.
Remove Old Tile
Now that the trim was off, it was time to start removing the old tiles. This process was a bit time-consuming but not too difficult. We started with removing some of the grout.
Then we used a chisel and a hammer to loosen and pry off some of the pieces. Of course, we had some more difficult pieces that we had to break up and then remove little by little. Make sure you have a large trash bin close by as you will want to clean up as you go!
Fireplace Floor
In the process of removing the floor tiles, we had to deal with the floor. This was as simple as buying a new cement backer board to put down before we could start putting tile over it.
Fireplace Tile & Grout
Time to start adding the brick tile! We had a little help with this step since I'm not the best at tile work.
We bought a fast-setting mortar so we could grout within a few hours, and went with a bright white grout. (Yes it's an all-white fireplace!)
I played around with how I was going to layout the tiles and decided on a half tile stagger to give it a realistic brick look. The tile started from the bottom and worked its way up. Then we tackled the floor and grout.
Wood Mantel
No fireplace remodel would be complete without a beautiful mantel! We went with a DIY fireplace mantel so I could get the width and depth I wanted. I am so excited by how ours turned out.
The box was built out of 1×6 pine boards. The cuts were made out of 45-degree angles because I wanted to make sure it looked like one solid piece when it was done. The mantel was done a few days prior to the project which gave me time to stain and seal it.
Pre-stain Wood Conditioner
Since I was using pine boards, I made sure to pre-stain condition the wood before staining it. (Pine is cheap but notorious for not staining well!) It took two coats of the pre-conditioner before I was ready to stain.
Stain Mantel
For the wood fireplace mantel, I used 2 coats of Kona stain. Once the stain was dry, I made sure to seal it with a matte polyurethane coating to top it off. You can use either polycrylic or polyurethane for your mantel.
Install Mantel
Finally, it was time to put up the mantel! In order to secure it to the wall, we had to add a 2×4 first to the wall and then secured the mantle into place with screws and some brad nails. A little wood filler in the holes and it was all done.
Fireplace Surround (Trim)
Our fireplace "surround" was going to consist of trim. I wanted a thicker trim so I went with a 5/4 x 6 x 8' Select Pine Board. Since I wanted to create the illusion of the fireplace being wider, I made sure to start the trim as close to the edge as possible and go out from there. Before we put it up, I made sure to give it a nice coat of bright white paint.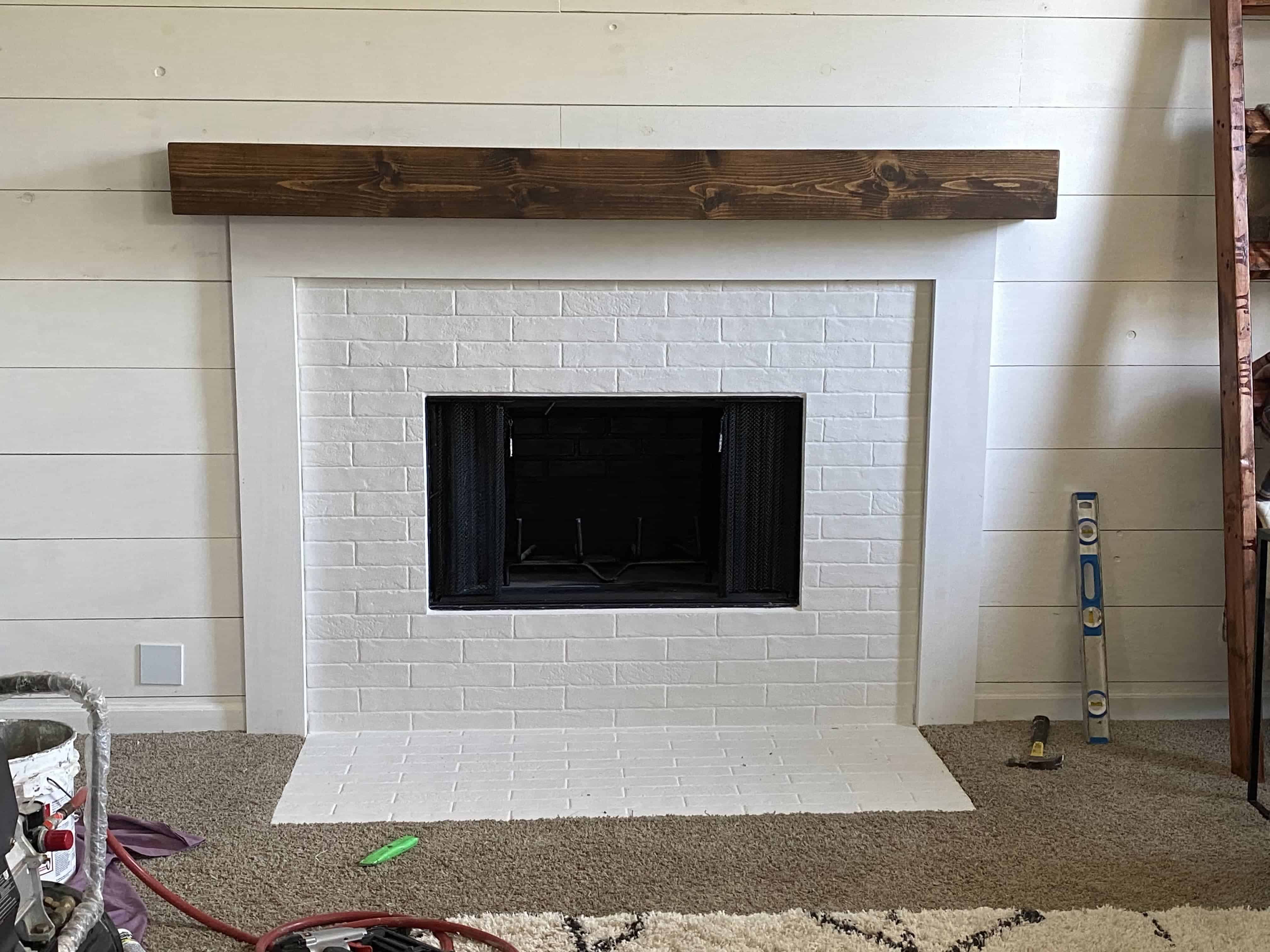 Caulk
Last but not least, we added a bit of caulk around the edges to give it that finished look.
I'm so happy with the way it turned out! I'd love to know what you think about my "Faux" Brick Fireplace?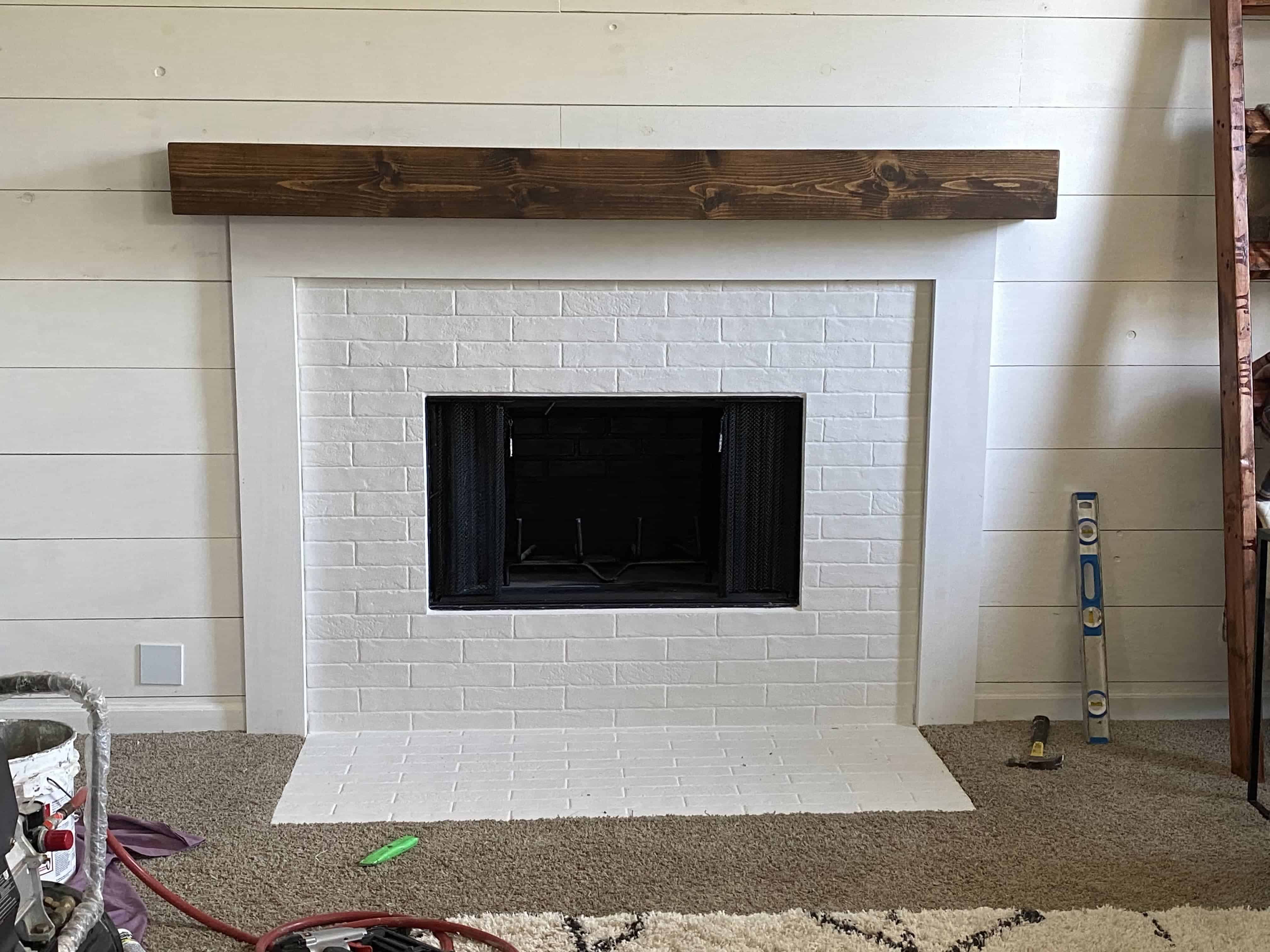 I love the way it looks against the faux shiplap wall! Now it's time to start decorating 🙂
RELATED: Best Places To Find Cheap Farmhouse Decor