How To Paint Inside Fireplace – & What Paint To Use

I have never been able to fully clean the inside of my fireplace. Recently I was thinking, "Can you paint the inside of a fireplace?" Well, the answer is yes! Today I wanted to share how to paint the inside of a fireplace.
I actually did this a few weeks ago as part of our total fireplace makeover and I LOVE how it turned out. I have been wanting to do this for so long because no matter how much I scrubbed it never looked clean inside! It was so easy and fast I'm kicking myself for not doing it sooner. Oh well, at least it's done now!
Here I want to show you how to paint the inside of the fireplace the easy way as well as what firebox paint to use.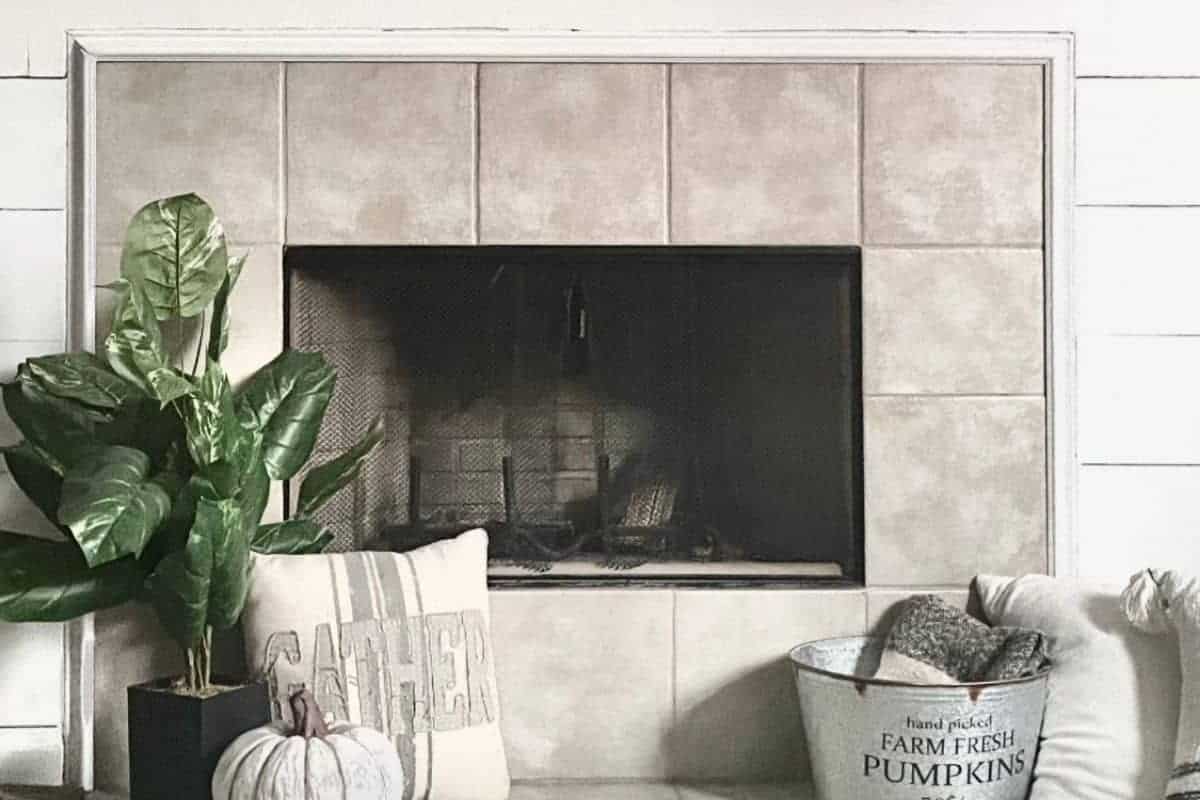 This post may contain affiliate links, which means I'll receive a commission if you purchase through my links, at no extra cost to you. Please read full disclosure for more information.
STEP 1: GET INSIDE FIREPLACE PAINT
I did some research before I started this project and found out I needed to use high heat paint (aka "heat resistant paint").
I ended up getting Rustoleum high heat paint. This high-temperature paint goes a long way so we just got a small size.
Step 2: PREP
The first thing you want to do is get rid of any dirt, ash, and dust that is inside your fireplace.
I started by vacuuming it out as best I could. (Make sure you put down a drop cloth of some sort to protect your floors).
Step 3: DEEP CLEAN FIREPLACE
Now that you've vacuumed out all the big stuff it's time to deep clean it as much as you can. This can be a dirty process so grab your gloves and enjoy!
I sprayed down the inside and used an old scrub brush to get every little part I could. It wasn't perfect but it gave me a nice surface to start with.
Step 4: TAPE OFF
At this point, you might want to tape off any areas that you don't want to get paint on. Since we are replacing our tiles, we skipped this step.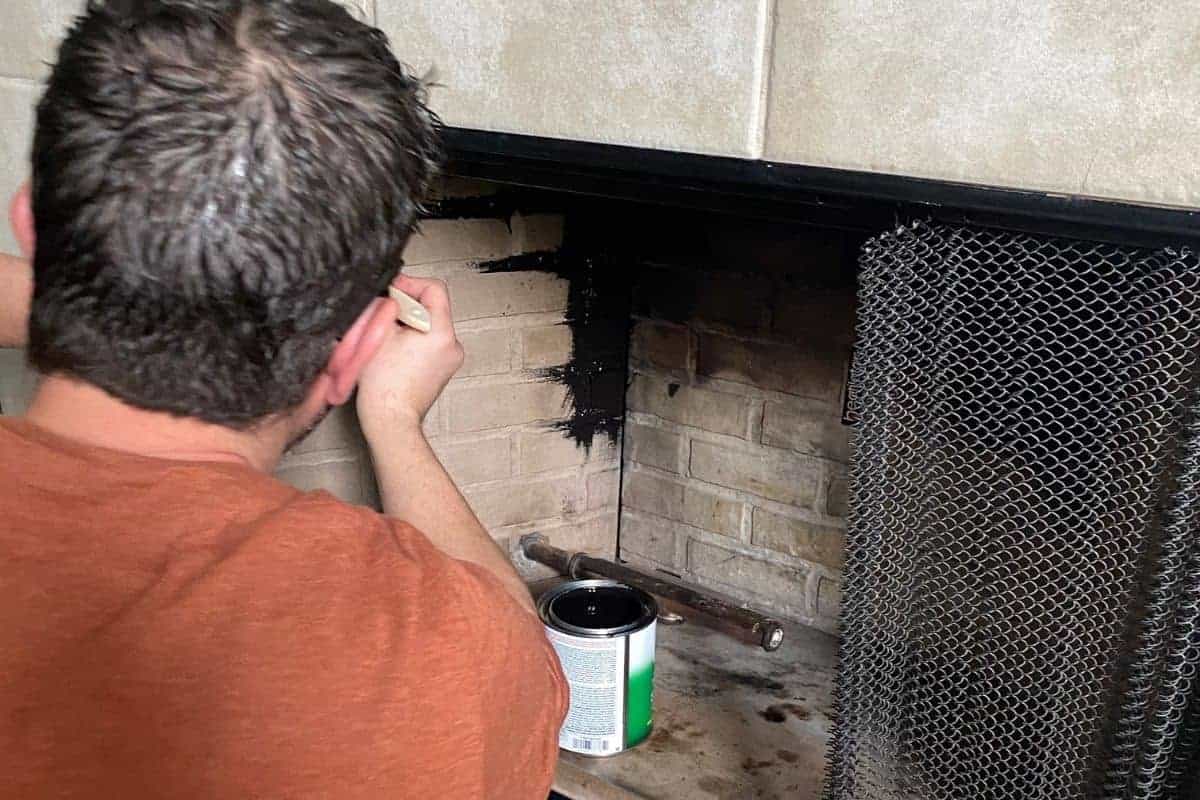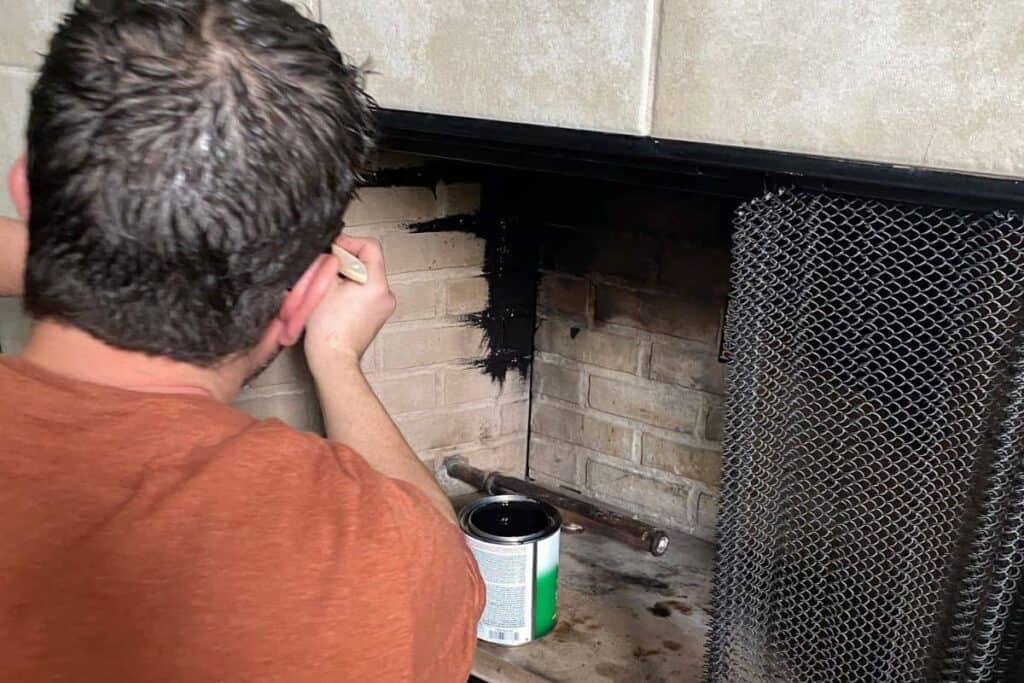 STEP 5: PAINT INSIDE OF FIREPLACE
Now it's time to paint the inside of your fireplace. Make sure to follow the directions on the back of the high-heat fireplace paint can.
Mix paint thoroughly before using it. Use a brush or roller and simply paint it on.
Start at the top of the back and work your way down towards the bottom. Once that is done you can finish the floor part of your firebox.
We only ended up doing 1 coat since it covered really well. They recommend not using a second coat anyway. It probably only took about half an hour to do. Seriously I wish I had done this sooner!
Supplies:
Drop Cloth
Vacuum
Scrub Brush
There you have it! This was one of the easiest DIY projects I have tackled to date. I really should have done this sooner it was so quick and easy. This is a great project to do if you have an unused fireplace or just want to update the look.
Now that we're all done with painting the inside, it's time to get rid of that tile & add a mantle. Check out our total fireplace makeover to see how it ends up!