Simple Vintage Farmhouse Stool Makeover
Over the past few years, I have been transitioning to farmhouse-style decor. I'm so excited that I have finally found the perfect piece for my farmhouse stool makeover project!
This post may contain affiliate links, which means I'll receive a commission if you purchase through my links, at no extra cost to you. Please read full disclosure for more information.
For months now, I have been wanting a distressed white stool to add to my house, but I wanted something that looked vintage. When I found this one at the thrift store, I knew that was it. Even better, at half off, I got this beauty for only $2.00!!
Here I will show you how easy you can do your own farmhouse stool makeover using just paint & sandpaper.
Farmhouse Stool Makeover Instructions
Step 1: Clean Bar Stool
The first thing I did was give the stool a good cleaning. I simply used water & dish soap for this. Once it's clean, wipe it down with a fresh towel and let dry.
Step 2: Prepare To Paint
For this stool makeover, I decided to go the easy route and spray paint it. Since I was going for a farmhouse style stool, I went with this white chalk spray paint.
To prep, the only thing I needed to do was lay down a large drop cloth.
Step 3: Spray Paint stool
For this project, I used two coats of this chalk spray paint.
Make sure to follow all the tips and tricks to spray painting so that you don't have any drips or bubbles.
Step 4: Sand Stool To Distress
Once the stool had dried, it was time to distress it a bit.
This is a very simple process, just take some sandpaper and go over the edges and top little by little.
Keep sanding until you are happy with the way it looks.
Step 5: Enjoy!
Once you are done, go ahead and decorate it or just use it as is.
I love how simple this farmhouse stool makeover was!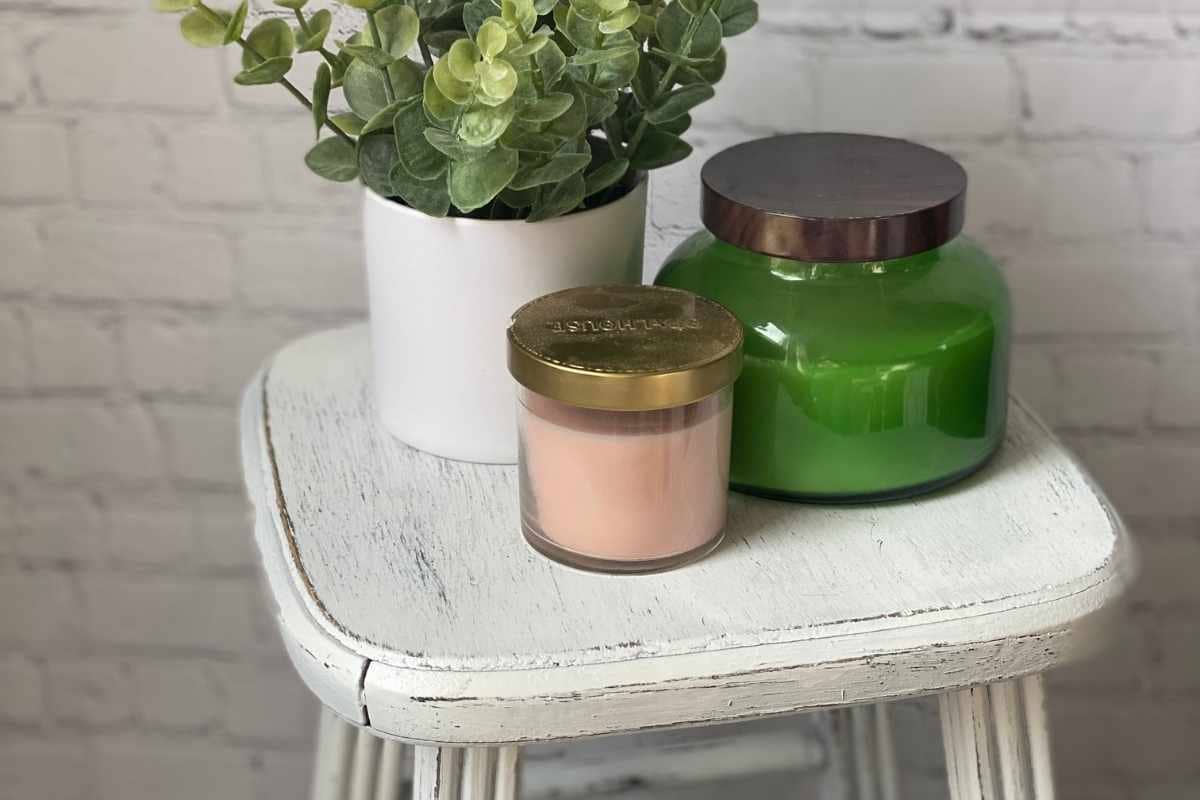 I plan to use this stool with my seasonal decor by my fireplace, but who knows where it will end up! There are so many possibilities.
Update: See How I Used This Stool In My Fall Fireplace Decor
Make sure to keep an eye out for these old stools, you can easily transform them in an hour.
Thanks for stopping by! Make sure to check out some of our other thrift store projects here: