What Colors Go With Navy Blue? 13 Striking Combos
These days, navy blue is extremely popular in home décor. It's a versatile color that can be used in many different ways, and it goes well with a variety of other colors. If you're considering using this color in your home, here are some great ideas for what colors go with navy blue.
The best colors to pair with navy blue are pink, white, grey, brown, black, and copper. Navy blue also works well with pops of bold colors such as red, burnt orange, and mustard yellow. With navy blue, the possibilities are endless! So don't be afraid to experiment and create a unique look that suits your home perfectly.
This post may contain affiliate links, which means I'll receive a commission if you purchase through my links, at no extra cost to you. Please read full disclosure for more information.
Navy Blue & Pink

The classic combination of navy blue and pink is the perfect way to add some flair and a touch of fun to any home decor. Not only is the pair visually pleasing, but what color goes with navy blue can be a difficult question to answer.
The warmness and depth of navy blue pair perfectly with a cheerful shade of pink, creating a look that's chic yet playful. Bright pinks can lighten up any space, while hot pinks offer an edgy twist.
With this classic palette in hand, from accent walls to subtle splashes of color in accessories, your space easily reflects your own personal style – there's no limit to what you can do!
Navy Blue & White
Navy blue and white are colors that look great when used together to decorate the home. The colors make a crisp, classic statement while simultaneously adding depth and interest.
Navy blue can easily be incorporated into any space without seeming overwhelming or too bold. And when paired with white, it takes on an even softer look while still providing drama and contrast.
Consider using navy blue with white home decor accents to bring timeless beauty to your living room or bedroom – you won't regret it!
Navy Blue & Mustard Yellow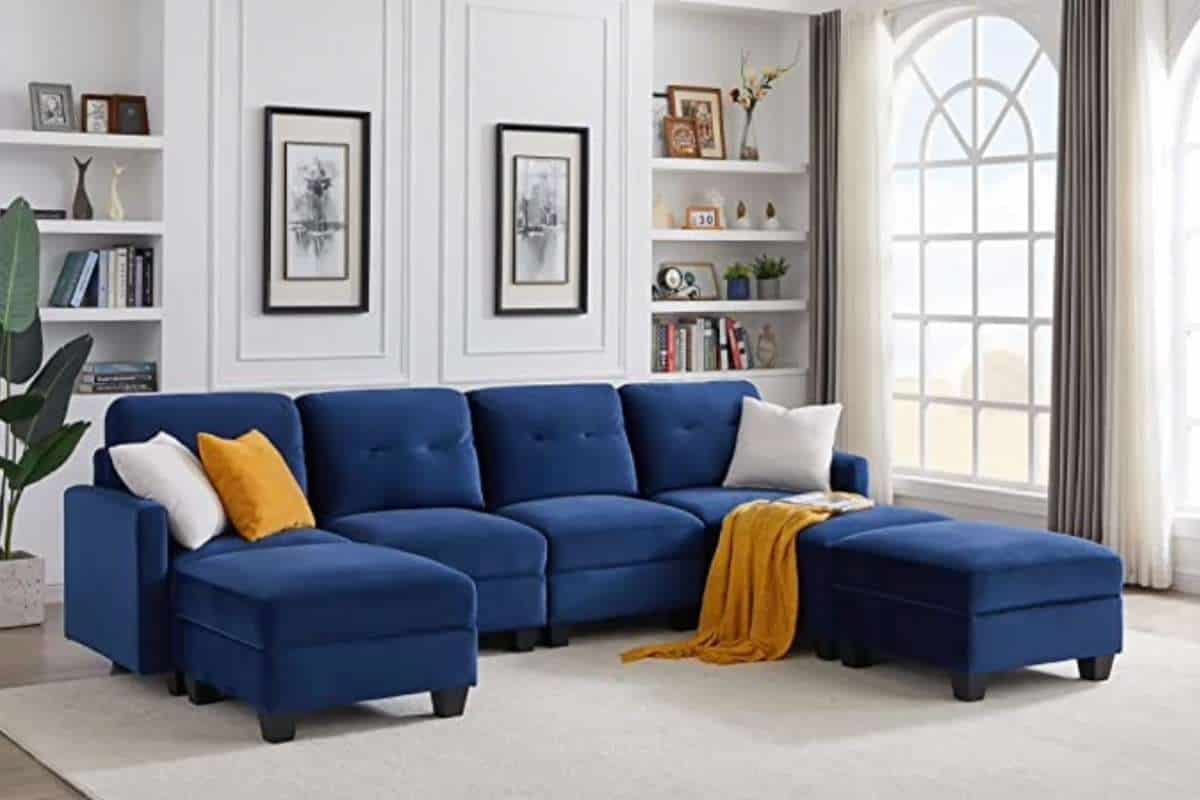 Navy blue and mustard yellow pair together beautifully to create a stunning look in any home. The deep navy blue creates an eye-catching contrast with the bright, attractive hue of mustard yellow.
These colors not only provide visual appeal, they can also be used to create different ambiances in your space. Navy blue can give off a modern, sophisticated vibe while mustard yellow adds a cozy, inviting atmosphere that welcomes guests into your home.
Whether you're looking for something chic or something more relaxed, you'll find the perfect color combination when you pair navy blue and mustard yellow together.
Navy Blue & Light Gray

Navy blue and light gray make a dynamic duo when it comes to colors that go with navy. Navy blue stands out while light gray serves as the perfect balance to keep the colors in harmony.
Together they bring an excellent combination of colors to your home that not only look great but are peaceful and inviting too.
Whether you choose to mix navy blue with light gray accents or take it a step further by painting walls with this color combo, either way, you will be sure to love the finished result!
Navy Blue & Burnt Orange
Navy blue and burnt orange offer a striking color palette that immediately captures the eye. When incorporated into your home decor, the colors create an inviting and comforting atmosphere.
The dark navy blue tones ground the space with a sense of sophistication, while burnt orange is a bold accent that adds warmth and depth. Whether you use block colors or prints, this combination of colors will bring a splash of personality to any room in the house.
To make the colors work together even better, pair navy blue and burnt orange with neutral colors such as beige, grey, black, or white. Perfect for a bedroom or home office.
Navy Blue & Gold

Navy blue is a timeless classic, giving any interior decor a timeless and sophisticated look. To bring out the best of navy blue, consider accent colors like gold.
The combination of navy blue and gold is an unmatched dynamic duo, creating a warm and inviting atmosphere in any home.
From subtle accents to eye-catching statement pieces, these colors create the perfect balance for both traditional and contemporary spaces. When decorating your home with colors that go with navy blue, consider selecting gold as the anchor color to provide that added touch of luxury for every room.
Navy Blue & Emerald Green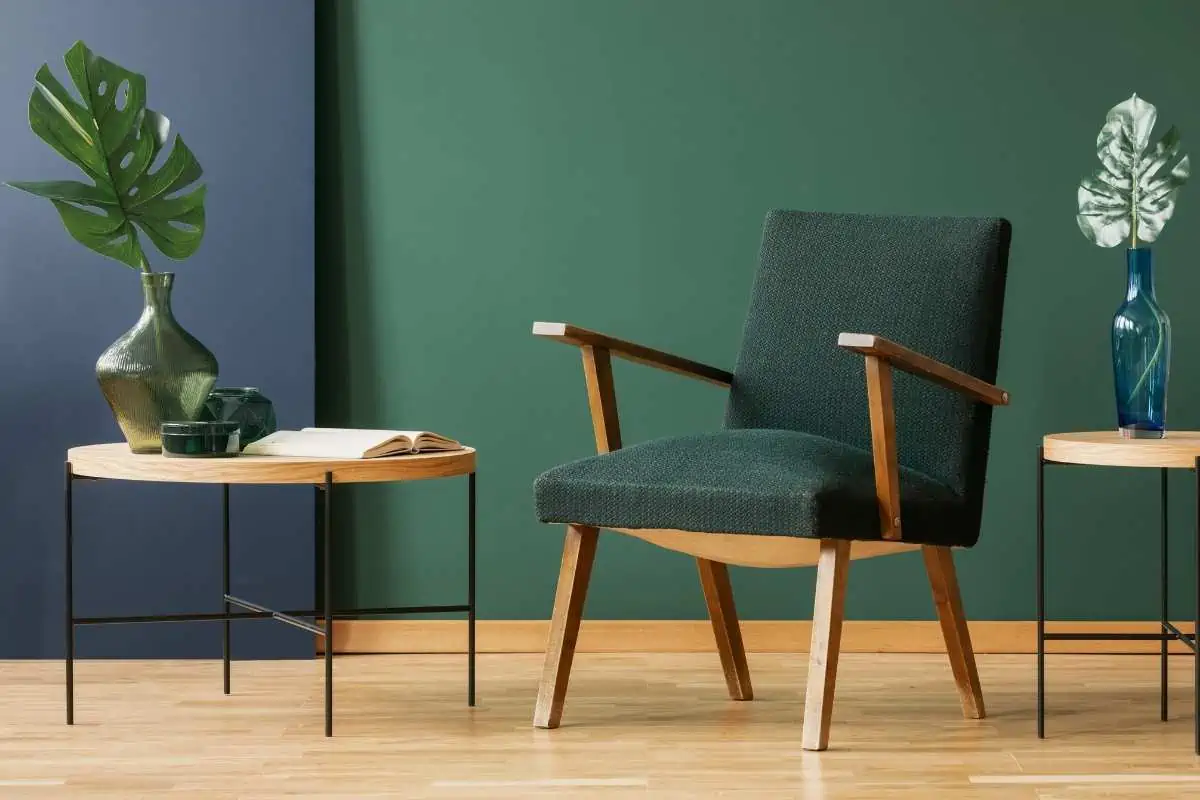 Navy blue and emerald green is a stunning color scheme that can turn any interior space into a work of art. This regal pairing makes a bold statement, while still allowing the overall decor to keep its sophistication.
To bring this palette to life, you could use navy blue as the main element in your color scheme, sprucing it up with pops of dark emerald green to add contrast and depth.
Pieces such as a vibrant gold oversized mirror or crisp white accents will help liven up the atmosphere without detracting from the elegance of your design. Together, this powerful duo will make your home shine with sophisticated style and timeless majesty.
Navy Blue & Light Green

Whether you're looking to get creative, go bold, or keep it subtle, navy blue and light green is an outstanding color combination for any home decor.
Navy blue is a deep hue that can easily be softened with muted shades of green, ranging from mint green to pale jade. With this pairing, you can create a nautical-themed space perfect for summer days, or add some modern flair with accents like white and dark greens.
The navy creates a cozy atmosphere while light green helps keep the room feeling bright and inviting. All in all, this classic color combo is an ideal way to complete your home decor project.
Navy & Red

Red and navy is an iconic color palette that adds a classic yet contemporary look to any space. Navy blue creates an air of sophistication while the pop of red provides energy and excitement.
Whether you choose to use this combination for accessories or paint the walls, it will stand out as a bold statement in any room.
To keep things toned down but still make a statement, consider pairing navy with muted shades of red such as burgundy or maroon. Adding neutral colors like grey and white will create a more balanced look while still retaining the charm of this timeless color pairing.
With navy and red, you are sure to have a timeless and stylish home that will be sure to impress!
Navy & Brown
While this might not seem like a typical color combination, navy blue and brown can work together to create a luxurious and inviting atmosphere in any home.
Navy blue is the perfect base for this pairing, creating an air of sophistication while still allowing other colors to shine. Brown adds warmth and depth, allowing you to create an interior that's cozy but still modern.
If you're feeling a bit more daring, go all out and use dark brown for furniture, walls, and other details. Add some lighter tones of brown for contrast and a pop of navy blue to bring the look together.
This bold color palette will create a unique atmosphere that's sure to turn heads!
Navy & Tan
This classic combination of navy blue and tan is perfect for creating a tranquil environment in any home. Both colors are reminiscent of the sea and sand, evoking a sense of relaxation and comfort.
By incorporating both colors in a space, you can create an atmosphere that's both cozy and modern. For a warmer look, opt for shades of tan like beige or cream. To add a modern touch, consider using navy as the main feature in your decor, with accents of tan throughout.
For an extra luxurious touch, consider selecting gold as the anchor color to provide that added touch of luxury for every room. Together, navy and tan will create a calming oasis that will be perfect for any home.
Navy & Copper
Navy blue and copper make a striking combination that will bring life to any room.
Navy provides a calming yet sophisticated vibe while the copper adds a modern touch of glamour. The contrast between these two colors creates an eye-catching effect that will turn heads.
Navy & Black
This timeless combo of navy and black will add an air of sophistication to any room. Navy blue is a deep hue that provides a calming atmosphere while the classic black adds a modern touch.
This combination is perfect for creating a space that's both bold and elegant without being too overwhelming. To keep things toned down, start with a neutral palette such as white and then add pops of navy and black throughout. This will give the room a more subtle yet still stylish look. Or go bold with a black accent wall and navy accents.
Together, this classic pairing is sure to make any space feel luxurious and inviting!
Conclusion
In conclusion, navy blue is one of the trendiest colors of the season and it has endless possibilities when used in home décor.
Although it looks stunning on its own, pairing navy blue with complementary colors can take your home design to a higher level. From pinky-blush and white to deep hues like yellow, burnt orange, and black — there are so many color combinations to choose from!
Ultimately if you're looking for a chic way to update your home décor, consider using navy blue as an accent color with any of these companions. With the right combination, you'll have a stunning palette that will wow all guests and makes you feel proud of your style.