150+ Halloween Sayings For Signs (2023)
Need some help brainstorming halloween sayings for signs?
Sometimes it can be hard to think of a clever sign to make for Halloween. We have you covered! We have a ton of different sayings for you to choose from. You can find funny sayings, scary sayings, witch sayings, etc.
Whether it's your front door or your yard that needs the spooky touch this year, we've got ideas for halloweens signs for any location! With all these choices at your fingertips, there's no reason not to get creative with your signs this year.
So if you are ready to start crafting, but just need a quote check these out.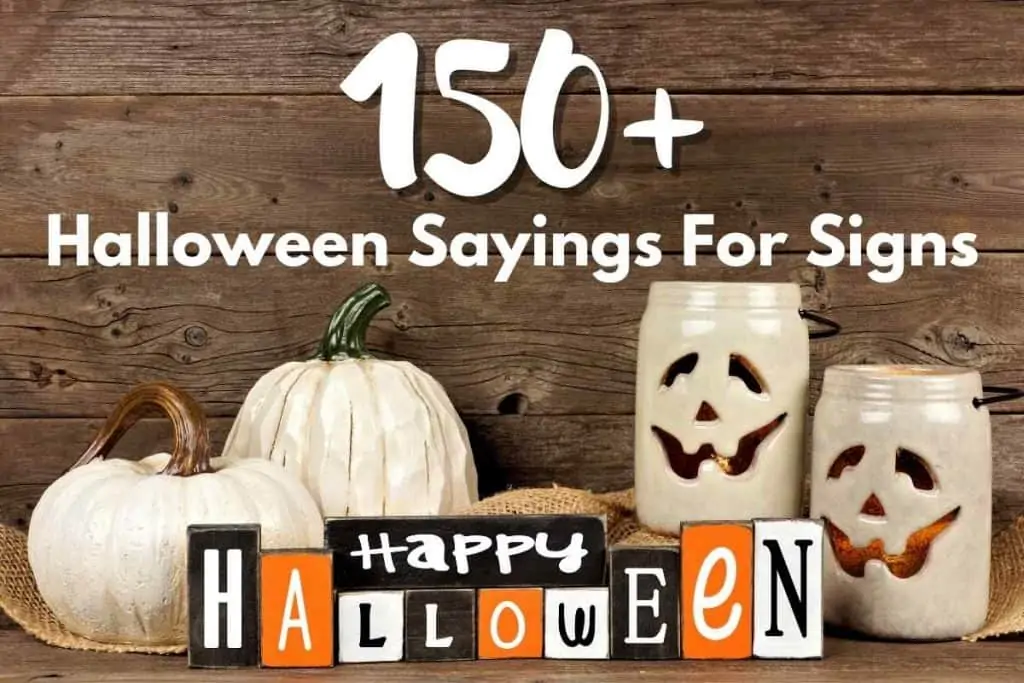 Halloween Sayings For Signs
Black Cats, Spooky Bats, Witch Hats
Boo To You
Boo Y'All
Boos Or Booze? Your Choice!
Carving Time
Drink Up Witches
Eat Drink & Be Scary
Faboolous Friends
Feeling Pumped
Fortune Teller
Frequent Flyer
Ghostly Greetings
Gone Batty
Halloween Lovers Only
Happy Haunting
Haunted House
Having A Ghoul Time
Hey There, Pumpkin
Hocus Pocus I Need Wine To Focus
Home Is Where You Hang Your Broom
Home Of A Wicked With, A Handsome Devil And Their Little Monsters
Hope You Have A Fang-Tactic Night
House Of The Living Dead
I Ain't Fraid Of No Ghost!
I Only Spook When Spoken To
I Vant To Drink My Coffee
I Want My Mummy
I'm Just Here For The Candy
If One Door Closes And Another One Opens Your House Is Probably Haunted
If The Shoe Fits
If You've Got It… Haunt It
It's All About The Candy
It's The Most Frightful Time Of The Year
Let's Cuddle….And Watch Horror Movies
Mind Your Mummy
Mom Of Monsters
Mommy's Little Pumpkin
Monster Mash
Monster Parade
My Other Car Is A Broom
No Tricks. Just Treats
Not Resting In Peace
Oh My Gourd
Potions, Spells, Curses
Ready To Spice Things Up?
So Cute It's Scary
So Franken' Cute
Spooktacular
Spooky & Sweet
Spooky Skeletons
The Boo Crew
There's Some Horrors In This House
Tis The Season To Be Spooky
Too Cute To Spook
Trick Or Treat Yo'Self
Trick Or Treat, Smell My Feet
Used Coffin For Sale
Vampire Night
Welcome Every "Batty"
Welcome Foolish Mortals
Welcome To Our Web
Welcome To The Nightmare
Welcome To Our Haunted Farmhouse
Welcome! Come In And Rest Your Bones
Wickedly Cute
Will Trade Candy For Beer
Witches Brew
Witches Coffee House – Stop By For A Brew
Yes I Can Drive A Stick
You Can't Scare Me
Zombies Love A Girl With Brains
Funny Halloween Sayings For Signs
Halloween is a great time to show a sense of humor. Who doesn't like a little humor in their signs? Here are a few funny halloween sayings that can be used for signs.
I'm Here For The Boos
Let's Get Smashed
Take Your Boo-Sheet Somewhere Else
Will Dab For Candy
Boo-gie Time
Oh Me So Corny
Come In For A Bite, Were Just Dying To Meet You
Ghosts Don't Give A Sheet
Ghosts Were People Too
What's Up Suckers
The Cobwebs Are Decorations
Happy Hallo-Wine
Horror Movies And Chill
Sayings For Scary Halloween Signs
Halloween can be scary, so why not have scary signs? We have a list of clever, and even slightly creepy halloween sayings that can be used for signs.
Creepin' It Real
Home Sweet Haunted Home
Lets Get Spooky
No Trespassing: We're Tired Of Hiding The Bodies
If Zombies Chase Us, I'm Tripping You…(Nothing Personal)
Enter If You Dare
Pick Your Poison
Be Creepy With Me
The Scare Is Real
Black Cat Attack
Enter If You Dare
We Warned You
Fright This Way…..
Reep It Real
Don't Be A Scaredy Cat
I Smell Children
Knock If You Dare
Welcome To Our Dead And Breakfast
Every Town Has An Elm Street
Zombie Crossing
Welcome To Your Nightmare
Halloween Witch Sayings
Witches are a big part of Halloween, so why not have some witch sayings for your sign? Here are some classic witch sayings that you can use to spook up the look of your sign.
Basic Witch
Beware Of The Witch
Black Magic
Caution! Witch Crossing
Don't Drink & Fly
Don't Make Me Flip My Witch Switch
Free Flying Lessons (Bring Your Own Broom)
Good Witch
Halloween; The Season Of The Witch
I Don't Need Halloween…. I'm A Witch All Year
I Put A Spell On You
I Witch You A Happy Halloween
I'm 100% That Witch
If The Broom Fits
It's October Witches!
Not A Basic Witch
Once A Witch Always A Witch
Quit Your Witchin'
Resting Witch Face
Some Days I'm Extra Witchy
The Witch Is In
Watssup Witches
Where My Witches At?
Witch Better Have My Candy
Witch Please
Witchcraft
Witches Be Crazy
Witches Brew
Witches Gotta Stick Together
Witches Only
Witches Squad
Short Halloween Sayings For Signs
If you plan on making a small sign, there are plenty of short halloween sayings for signs. Here are some of the best ones that can be used for any sign.
October 31
Beware
Bite Me
Boo
Boo Yah!
Boo You
Caution
Danger
Do Not Enter
Eek
Full Moon
Goblins
Gone Batty
Happy Halloween
Hey Boo
Hocus Pocus
Horror
Keep Out
No Entry
Rip
Salem
Spooky
Spooky
Trick Or Treat
Cute Sayings For Halloween
Sometimes you want something cute for your Halloween decor. Here are some great slogans you can use for your sign.
Boos, Hisses & Halloween Kisses
Candy Corn Queen
Ghoul You Are Bootiful
Ghouls Just Wanna Have Fun
Halloween Is My Love Language
Halloween Makes Me Corny
Happy Boo Day
Happy Meowloween
Kinda Sweet A Little Corny
Trick Or Treat Smell My Feet
You Don't Scare Me, I Have Kids
You Got It, Haunt It.
Conclusion
Halloween is a great time for spooky sayings. Whether you are looking for funny halloween signs, scary halloween signs or even witch quotes for your sign this year, there are plenty of ideas to choose from. We hope you found the perfect saying for your sign.