DIY Wooden Lantern (No Power Tools Needed)
I want to share with you how I made this DIY wooden lantern using no power tools whatsoever!
There is something beautiful about decorating with wooden candle lanterns. They look good during the day and also at night once illuminated. Lanterns are also very versatile to use in decor. You can add almost anything to them, especially seasonal decor. They go great with a farmhouse-style home as well.
Recently I decided I wanted a tall rustic lantern that I could add a hurricane vase to. I wanted something simple to make that didn't require any fancy power tools. Instead, I used four canvases. Here are the step-by-step instructions on how to make a wooden lantern using canvases.
This post may contain affiliate links, which means I'll receive a commission if you purchase through my links, at no extra cost to you. Please read full disclosure for more information.
DIY Wooden Lantern Supplies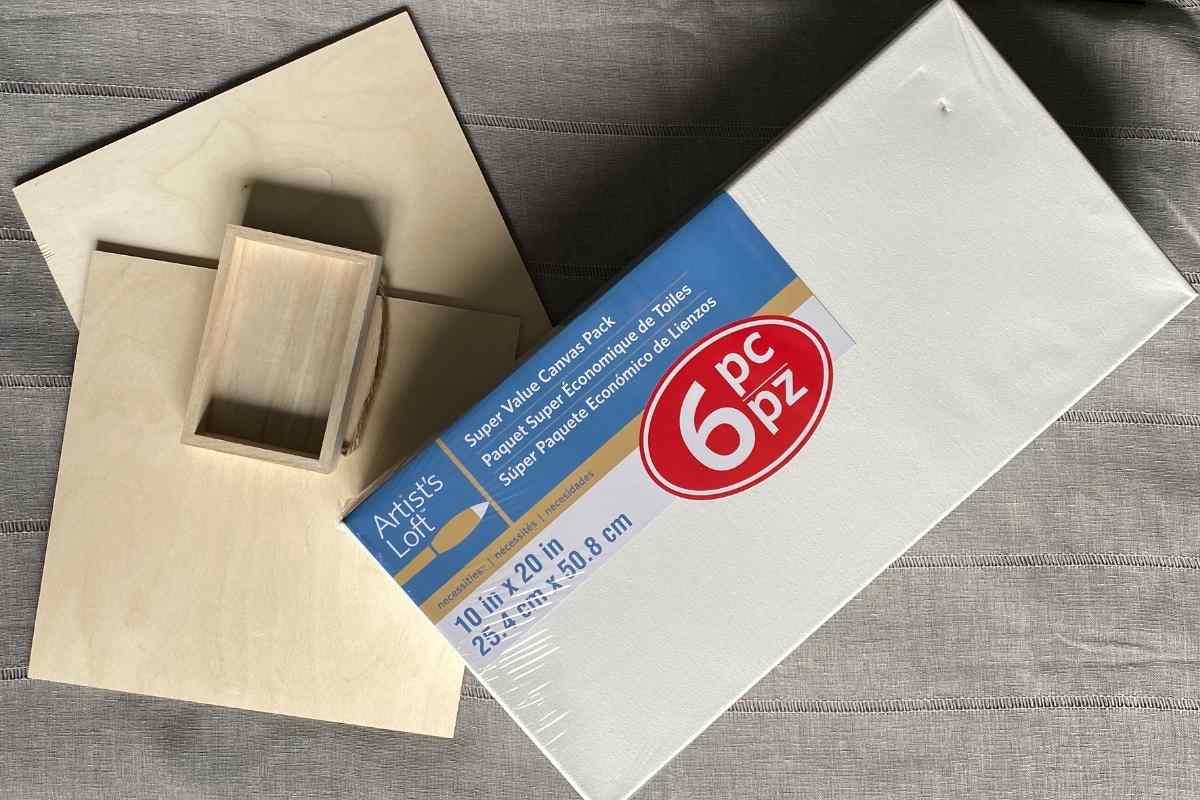 Step 1 – Remove Canvas From Frame
For this project, I used canvas frames to build the frame of the lantern. This worked so well with the window frame I recently made that I knew it would work well for a lantern.
First, remove all the canvas material from the frame. Once they are all removed, grab a pair of pliers and remove the staples from the wood. Just make sure to leave the corner staples as those are what hold the pieces together.
Step 2 – Paint or Stain Wooden Lantern
Once you have all the frames ready to go, give it a once-over with a piece of sandpaper. Now, it's time to paint or stain them. I wanted more of a rustic look, so I chose to stain the wood with this Kona stain.
Along with the canvas frames, I also stained the craft wood for the top and bottom of the lantern.
Step 3 – Glue Wood Frames Together
Now that the stain was dry, it was time to glue the frames together to create the lantern shape. I used gorilla glue for this.
Simply add some glue down the side of the frame, and use a clamp to hold them in place as the glue dries.
Step 4- Attach Top & Bottom To DIY Wooden Lantern
For the top and bottom, I used 12×12 craft wood. I used the gorilla glue again to attach the wood to the frame. Once I had everything in place I put a heavy object on the top to weigh it down and let it sit for a while.
Once it was dry, I added the 4×6 piece of wood to the top to finish off the look.
Step 5- Add Rope To Lantern (Optional)
As a finishing decorative touch, I added some white rope to the top of the lantern using a glue gun. You can simply add it and let it hang, or add some decorative wire to it like I did so that it stays upright.
Step 6 – Add Candle & Decor To Lantern
Finally, it's time to dress up your DIY Wooden Lantern! I added a hurricane vase to it, but I will find ways to decorate it seasonally as well. Here are some great ideas for lantern fillers.
I love the way this DIY Wooden Lantern turned out! It was such a simple project. It's amazing the things you can create when you are decorating on a budget. These would make great wedding lanterns as well. You can use the same concept to make mini lanterns using smaller canvases.
If you like this project make sure to check these ones out:
101+ DIY Projects For The Home
How Long Does Spray Paint Take To Dry?
Make sure to follow on Pinterest, Facebook, and Instagram for more inspiration.