DIY Outdoor Candle Holder – Super Easy
I was at the thrift store a few days ago looking for some outdoor pots. I came across these cool-looking bamboo placements and an idea hit me. These would be a super easy DIY outdoor candle holder! So I picked them up along with a glass candle jar.
See how I transformed these two items into a unique outdoor candle holder.
This post may contain affiliate links, which means I'll receive a commission if you purchase through my links, at no extra cost to you. Please read full disclosure for more information.
Choose Placemats
Below is a picture that shows the placemats. The way they looked caught my eye, but when I saw how flexible they were when I picked them up that's what sold me on them. They would be so easy to fold into a cylinder shape.
If you are not lucky enough to find some at goodwill, Amazon has these really neat ones that would also work.
This was so easy I may just make some as gifts.
In fact, I have my eye on this bamboo runner that would work great if I want to make a bunch of them!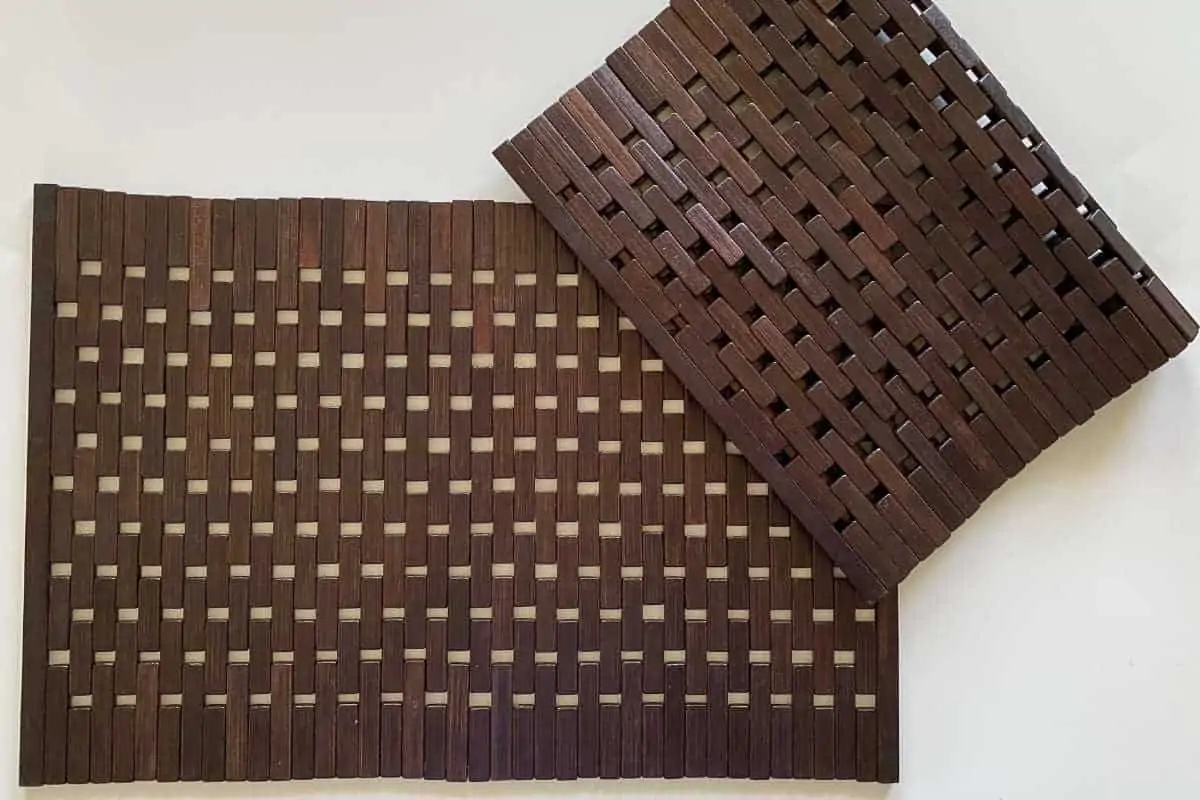 What can I use as a candle holder?
The nice thing about this project is you have many options for the candle holder. The easiest way is to find a cylinder shaped glass vase.
I wasn't able to find a glass jar that was exactly the same shape, so I picked up one slightly smaller and figured I could just cut away the excess.
Here's what I was going to use.
Now once I got home and started to figure out how I was going to cut the placement, I realized that the whole thing would probably come apart if I did that! It was held together by a stretchy material that would surely ruin the entire thing. I didn't want to take my chances!
So I just chose to overlap it slightly. I figured no one (except all of you that is lol) was going to look that close when it was sitting on my front porch!
I grabbed my glue gun and started with the outer edge. Only a few lines of glue were needed to secure the placemat to the glass.
Here's the final result, what do you think? I love how it turned out, and more importantly how easy it was! The fun thing about this project is that you can duplicate it with many different shapes and sizes of glass.
Make sure to check out all of our decorating on a budget tips for more ways to decorate without spending a fortune.
Supplies:
Bamboo Placemat Ideas To Use
Here are a few cool bamboo placemats I found on Amazon that would be perfect for this project.
Thanks for stopping by a taking a look at our DIY Outdoor Candle Holder! Make sure to check out some of our other DIY Home Decor Projects!
TIPS TO IMPROVE YOUR HOME
Make sure to follow us on Facebook, Pinterest & Instagram for more inspiration!