Get The Look: Stunning Black Accent Wall Ideas
Have you been thinking about adding a black accent wall to your house? A black wall can be a beautiful addition to your design but you do have to make sure you don't overdo it. Black can be scary especially when you think walls but I am going to show you some inspiring rooms that will have you embracing dark walls and picking up that paintbrush today!
This post may contain affiliate links, which means I'll receive a commission if you purchase through my links, at no extra cost to you. Please read full disclosure for more information.
Are Black Walls A Good Idea?
Don't be afraid of a dark walls!
Black walls are both modern and dramatic and can make your space feel cozier and more inviting. There is a certain element of drama with black without being too over the top. Not to mention it looks cool!
Black is essentially a neutral color – it goes with everything!
What Colors Go With A Black Wall?
Practically every color goes with black but if you are thinking about putting it on the wall, you should generally opt for light and bright neutral shades to pull the look together.
White or off-white curtains, furniture, vases and throw pillows will stand out and pop against the dark wall helping the room come together. Add a few wood elements to the room to really put it over the edge.
Bright or light-colored accents will pop against the dark background as well.
How To Pull Off A Black Wall
When you are adding a black accent wall to a room, it's important to think about the space as a whole to get the most dramatic effect. Here are some tips to keep in mind when styling a room with a dark wall.
Use Light Colored Linens
Using light-colored linens in the room and in general will keep everything from looking too heavy and dreary. Consider your bedding, curtains, throw pillows, rugs, etc.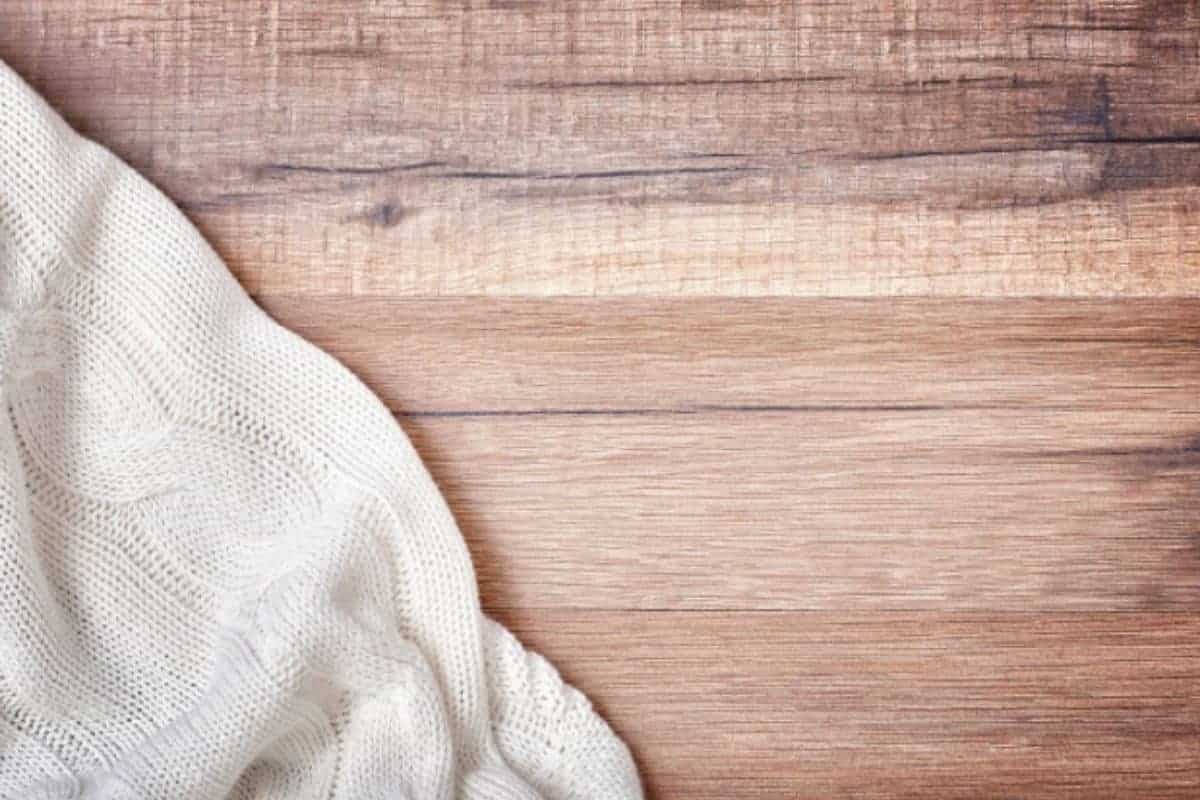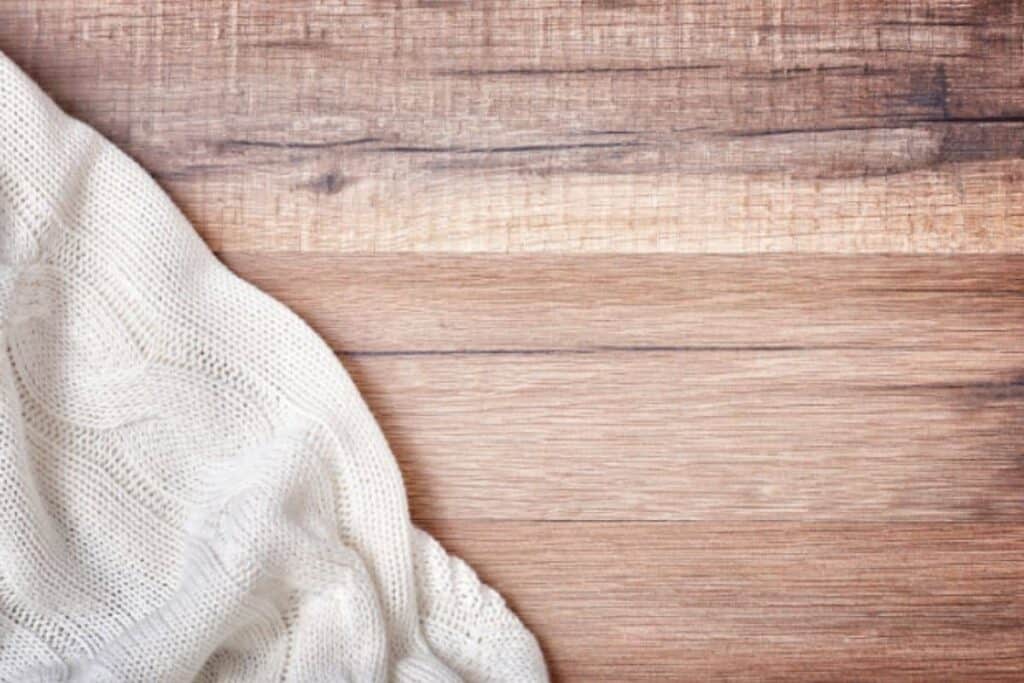 Add Some Artwork
A black wall is perfect for displaying light-colored or even white artwork. Black walls allow your artwork to really stand out. You can go with one big piece or add a gallery wall, either one will work! I also like the look of black and white photos against a solid black wall.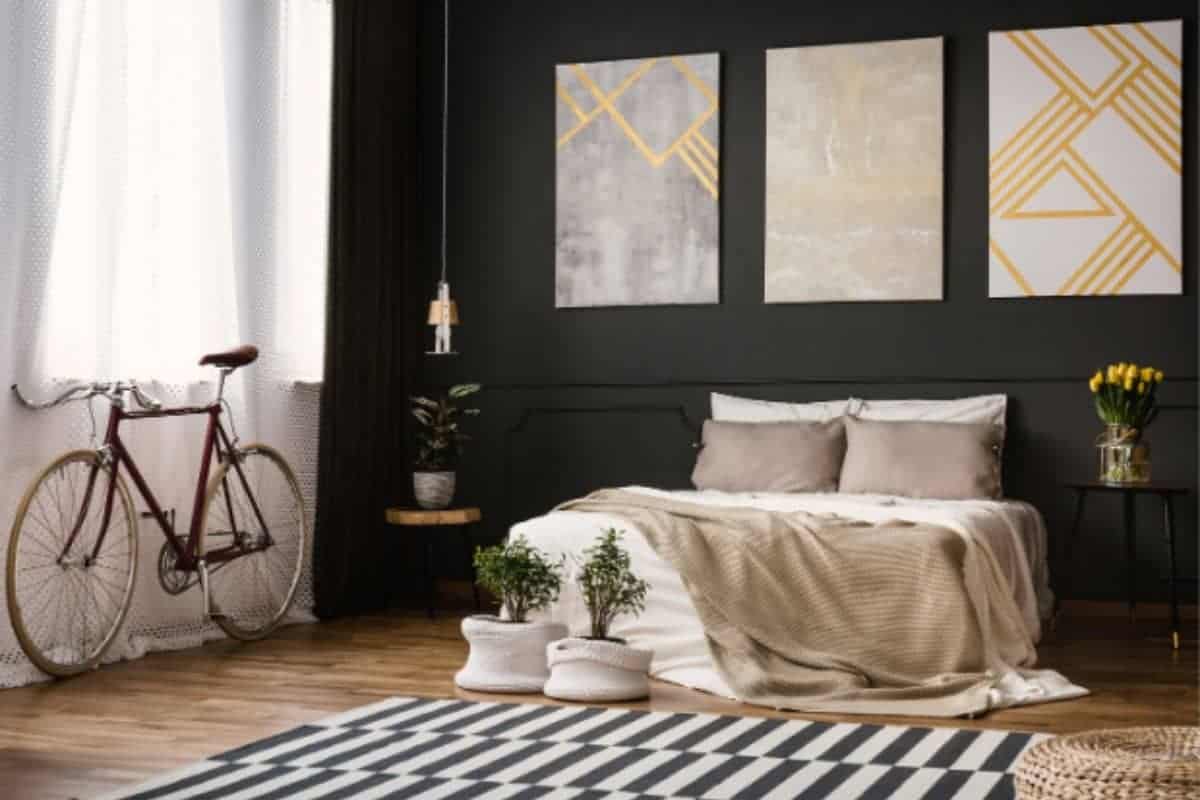 Repeat Black Somewhere Else In The Room
If you want to add a whole new level of elegance in the room, repeat the color black somewhere else. Whether it's a black light, or black trimmed mirror, or just some black accents you won't regret it.
Add Some Greenery
Consider adding some greenery to create a striking look against your wall. Plants and leaves can prevent the room from looking too stark and it looks amazing!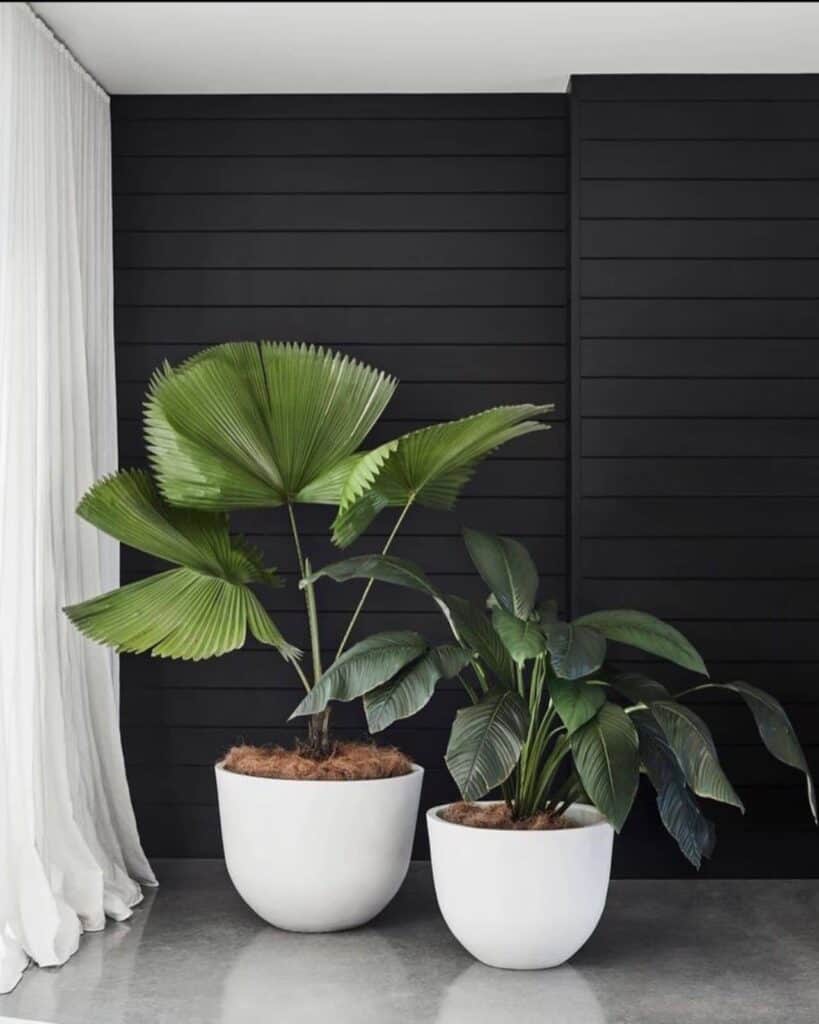 Pattern, Texture and Style
Not ready to commit to a painted black wall? Consider breaking it up by adding some texture or pattern to the wall. That can be by using wallpaper or wood such as shiplap, panels, etc.
WHAT WALL?
When it comes to choosing the right wall, you want to keep a few things in mind. The first thing to think about is the lighting. You want to look for a room that has good natural lighting so that the room doesn't end up feeling dreary.
You also want to consider the furniture you already have in the room. If you are working with a room that has a lot of dark-colored furniture, you may want to reconsider a room that has a more neutral, lighter palette.
Black Accent Wall Paint
There are many different options for black paint but here are some of my favorites!
If you are struggling to find the right black paint color for your home, consider trying out some peel & stick paint samples to help you out!
Black Accent Wall Ideas
Here are some rooms with blacks walls that will hopefully give you some ideas on how you can incorporate this look into your own home.
Black Accent Wall Bedroom
A bedroom is a perfect place for a black accent wall. This is the perfect example of using light neutral colors to make the space work. This room pulls in the greenery, white bedding, neutral rug, and black light fixture to create a master bedroom that looks inviting. So go ahead and add that black accent wall in the bedroom, you won't regret it!
Black Bookshelves In Home Office
I am obsessed with this look! Instead of painting a wall, consider painting a set of built-in bookshelves like this one from Just A Girl. I love how the neutral decor just pops in this space.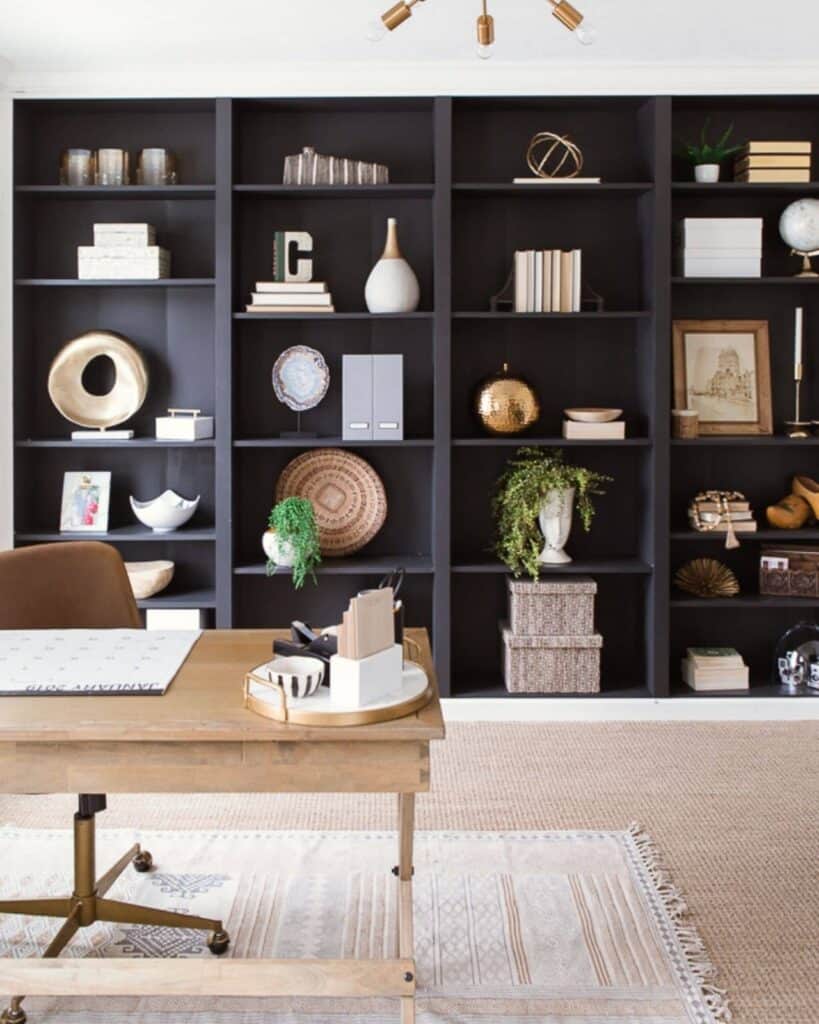 Black Living Room Wall
Black is a classic, timeless color (think little black dress). Consider going black in your living room to create a cozy space. When you have a partially large living room, incorporating a black wall can help it to feel more intimate and inviting.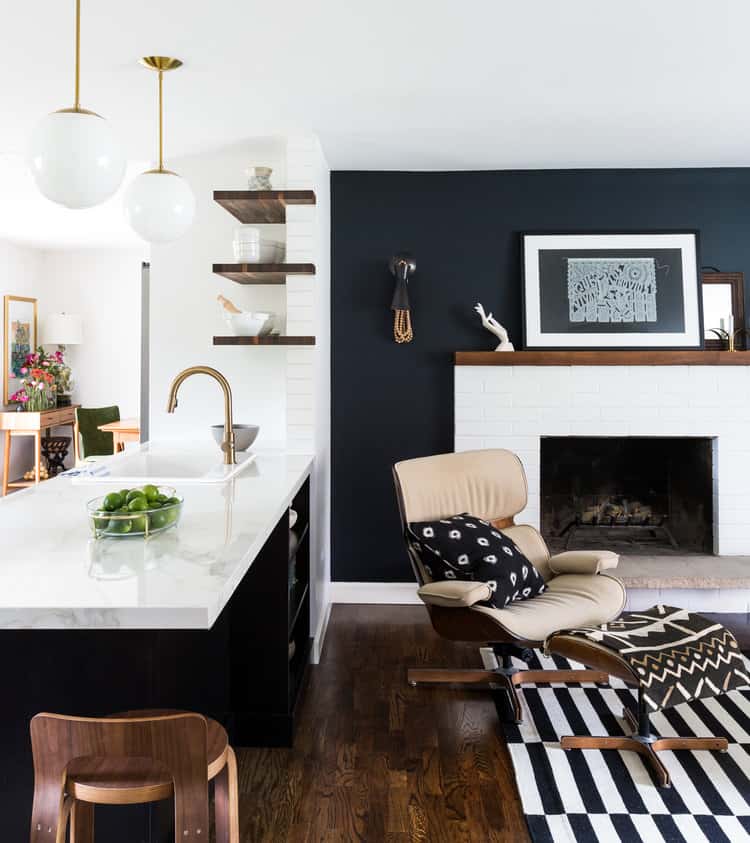 Black Accent Wall Office
With more and more people working from home, having an office space that you enjoying being in can help you be more productive.
One of the things I love about this office space is how they incorporated black shelves. This helps them blend into the wall and allows the accents to shine.
Related: 53 Easy Home Office Wall Decor Ideas
Black Accent Wall With Wood
Love Create Celebrate used wood slats to create this amazing black accent wall! The wood element makes this space look very high-end.
Black Shiplap Wall
I love the look of black shiplap! We added a white shiplap wall in our family room, but there is something about black shiplap that grabs my attention. I just love how the combination of black and texture really makes a room look inviting.
Black Accent Wall Ideas For Your Bathroom
Are black bathrooms in style? Yes! Black bathrooms are very trendy right now. This picture is the perfect example of how elegant and sophisticated a black bathroom can look.
One thing to consider is painting the longest wall in the bathroom black as it will help the room appear larger by emphasizing the length. If you want to take the look up a few notches, consider finishing off the space with black hardware such as cabinet knobs, light fixtures, and frames.
Notice how this bathroom pulls in the white colors, greenery and natural light.
Black Wallpaper For Walls
If you are nervous about a solid black wall, another option is to go with a black wallpaper that has a bit of texture or pattern to it. Wallpaper can also be easier to reflect the light off of, so this might be an option if you are concerned with how much natural light your room gets.
I love how the subtle pattern of this black wallpaper adds a bit of character to this bedroom.
This black silk wallpaper has just a bit of texture to it and the best part is that it is peel & stick!
Painted Black Living Room Built In's
This room from Craft Berry Bush makes me want to add built-ins to my living room! Remember that it's the neutral colors, greenery, and lighting that really make this space work.
Black Accent Wall Design
Another way to add some texture is to go with a black batten wall! Lolly Jane created this whole look using pine boards! This DIY project that they did completely transformed the room and was inexpensive – just the kind of project I love 🙂
Conclusion
There you have it! Hopefully, you picked up some ideas on how you can incorporate a black accent wall into your home. Is this on your list of DIY Projects this weekend??
Black Paint Colors
Scared of picking the wrong black paint? Try out some peel & stick paint samples before you commit!
Once you have decided on what you want to do remember it's the finishing touches that pull the design together. Check out some of my ideas on how to decorate on a budget here.