75+ Of The Best Farmhouse Pillows For Cheap
If you love decorating with farmhouse pillows but don't want to spend a fortune you have come to the right place! I'm going to show you tons of cute throw pillow covers you can get for CHEAP!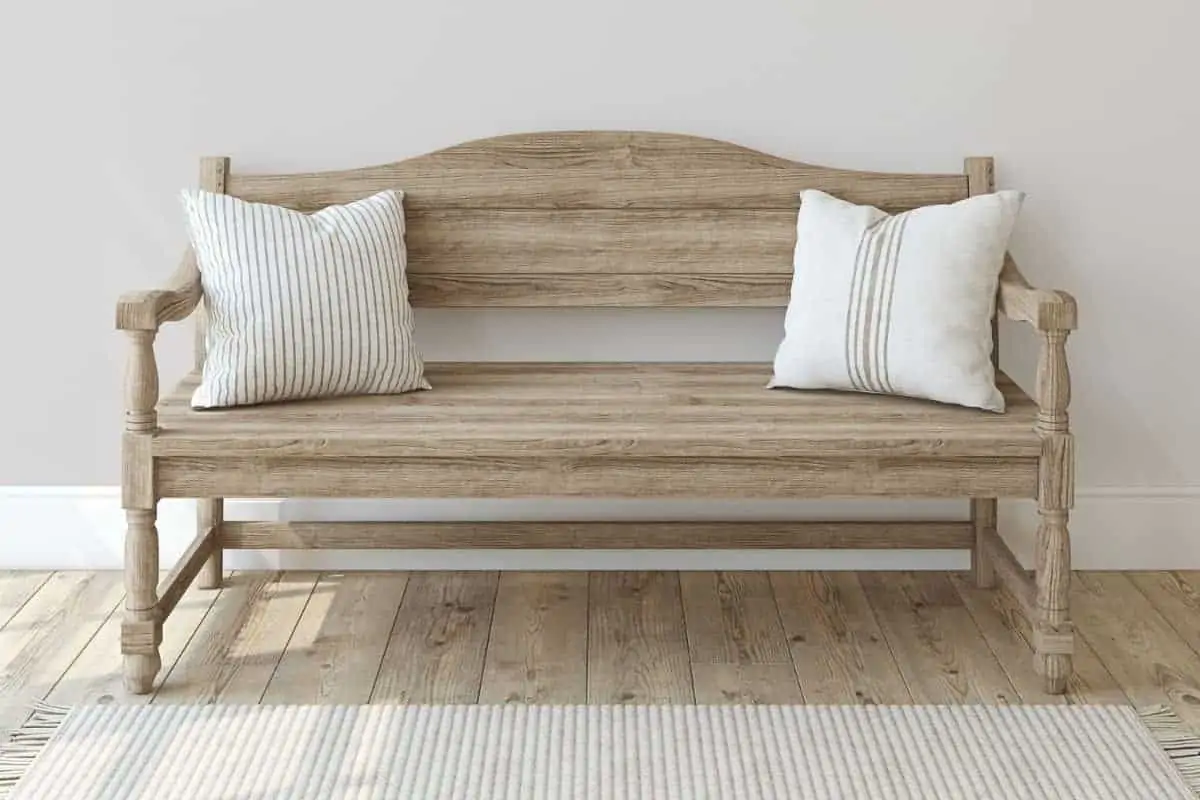 I absolutely LOVE decorating with throw pillows. The places I decorate with them are:
Bed
Couch & Loveseat
Bench
Console Table
In A Decorative Basket
Bottom Of Blanket Ladder
One of the first things I always notice when walking into any home decor store is the selection of pillows. Of course, I will find one I love and no-fail the price will be $50! Sorry, I can't justify that much on a single throw pillow. Why are throw pillows so expensive?!
There are two problems with my pillow obsession; one is that throw pillows cost a fortune! And the other issue is where to put them all when I want to switch up the decor. My solution? Invest in some cheap but cute farmhouse throw pillow covers!
This allows you to switch them out with the seasons (or when you get bored like me lol) and they easily store away for future uses.
Farmhouse style is all about neutrals, so a lot of these options are white, beige, black, etc. However, some of these come in other colors so make sure you check out all the options if you want a slight variation.
With so many options available online, I wanted to show you some of my favorite ones that you can get for super CHEAP! Seriously, these are the best farmhouse pillows if you are decorating on a budget, I hope they inspire you with your farmhouse decorating!
This post may contain affiliate links, which means I'll receive a commission if you purchase through my links, at no extra cost to you. Please read full disclosure for more information.
Since most of these pillows are just covers, be sure to purchase a quality pillow insert like this one to fill them with!
I almost always start off with solid throw pillows. This usually ends up being the anchor color. Just because you are using a solid color, doesn't mean it has to be boring! There are a ton of solid inexpensive farmhouse pillow covers with textured designs that will help take it up a notch.
White Farmhouse Pillows
You can never go wrong with white farmhouse pillows! They go with everything and white is very versatile. Here are some great white pillow covers to add to your collection.
Burlap Farmhouse Pillows
If you want more of a rustic farmhouse style, burlap throw pillow covers are a cute way to go! I would suggest using one of these with some solid pillows to create a fun focal point.
The black and white buffalo check or square pattern is a timeless look. I tend to pull these out around Christmas, but you can incorporate year-round if you want to.
Farmhouse Pillows With Stripes
A fun way to play with your farmhouse pillow patterns is to add stripes! These work really well with an industrial farmhouse style room. Here are some super cute farmhouse throw pillow covers with stripes.
Print Sayings
Here are some really cute farmhouse throw pillows with farm or farmhouse written on them that come in sets of four.
Farmhouse Pillows With Sayings
If you are looking for a single farmhouse saying throw pillow cover, you have to check these ones out!
Farmhouse Pillows With Quotes
Who doesn't love a good quote on a pillow now and again? There is something so simple yet beautiful about them. Here are some of my favorite ones!
Farmhouse Pillows With Buttons
Take plain solid throw pillows up a notch by finding ones with buttons on them. Such a small detail can really elevate the look. Check out these farmhouse throw pillow covers with buttons.
Leather
Every once in a while I like to change up the fabric to add a bit of leather. Here are some of the pillow covers I really like!
Farmhouse Lumbar Pillow Cover
Lumbar pillows are a fun way to add different shapes to your pillow collection. I want all of these!
Farmhouse Decorative Pillows
Black And White Farmhouse Pillows
One style that has been quite popular lately is the buffalo print. These black and white pillows look great with almost any farmhouse style decor. Here are some of my favorite black and white covers!
Industrial Farmhouse Pillows
If you lean towards more of an industrial-style farmhouse theme, these pillows would blend nicely with your decor.
Conclusion
If you can't tell by now, I'm a little obsessed with throw pillow covers! They are such a great way to add texture, color, and luxury. These farmhouse pillows are the perfect way to feed my obsession without spending a fortune. I am able to switch them up with Christmas pillow covers, or just when I get bored and want a fresh new look.
Personally, I love the pillows that are neutral in color like white or off-white that have just a bit of pattern or texture on them. These are the easiest to style and fit in with any changing decor.
So there you have it….my favorite farmhouse pillow covers for cheap. You no longer have to look for the perfect farmhouse pillow again! Just invest in a few pillow inserts like these, and go crazy with the pillow covers.
Check out our article on where to find other Farmhouse Decor For Cheap