Pros & Cons Of Owning A Pit Couch
Owning a pit couch can be great, but there are some drawbacks to consider too. You need to know the pros and cons of owning one before you make this big purchase.
After years of owning a pit couch, I've found some advantages and disadvantages of having one in your home. I will share these with you so that you can make an informed decision about whether or not to buy one for your family.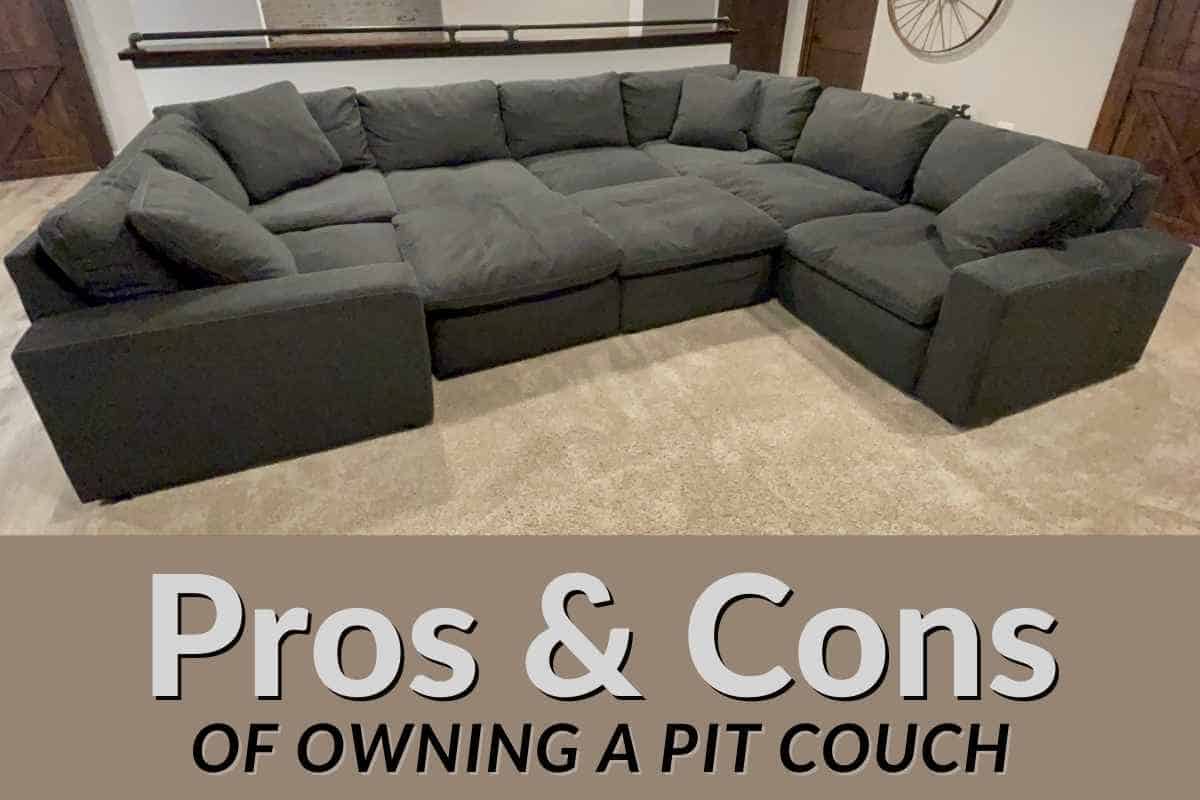 What Is A Pit Couch?
A pit couch is a couch that forms a large pit (usually square or rectangle) for people to lay down in. Usually, 6 or more sections make up the couch, making it easy to move them apart and join them together.
Also known as "pit sectional", "pit sofa" or "couch pit", it is essentially a couch that forms a bed-like shape for you to relax in.
Pros Of Owning A Pit Couch
When we finished our basement, I knew I wanted a large comfy couch that would accommodate a bunch of people. I needed a modular sofa, which allowed me to have the shape and size I wanted. I had no idea when I purchased a few ottomans to put in the middle I was creating a "pit couch".
Overall, we love having a pit couch. Here are some of the pros of owning one.
Versatile
When you decide to purchase a pit couch, it's important to keep in mind its versatility. Since they are a modular sofa, they can be separated into individual pieces or they can stay joined together. You can make all kinds of arrangements with these couches, which is one of the biggest pros of owning one.
This was the perfect option in our finished basement as we were able to get exactly the pieces we needed to fill the space.
Comfortable
Pit couches are really comfortable to sleep on or relax on. The shape almost resembles a bed, so it's easy to get comfortable when you are watching a movie or wanting to take a nap. You can also load them up with throw pillows which add to the comfort!
If comfort is your main concern, cloud couches are a great choice. They are feather-filled and you sink right into them.
Great For Watching Movies
One of my favorite parts of having a pit couch is movie nights! We love using our pit couch to cuddle up and watch movies together as a family. The pit is big enough that we can all fit in it with room to spare, making the experience even better. (Sharing blankets is a lot easier too!)
It's also an awesome place for the kids to have friends over & relax. Our house is usually the hangout for the teenagers mostly because of the pit couch. They can all relax and play video games, and watch movies or shows.
Great For Sleepovers
One of the biggest pros of this couch, if you have kids, is that it makes for the perfect sleepover couch. It's deep and cozy, so if your kid sleeps on it with their friends, they don't fall off or get crunched in as other couches do for sleepovers.
Great For Guests To Sleep
Having guests sleep on the couch is not always ideal. When you own a pit couch, your guests are able to spread out and be more comfortable than they would on a regular sofa.
Dogs Love Pit couches
If you are a person that allows dogs on the couch you will love having a pit couch. Especially if you have more than one dog. There is plenty of room for everyone to lay down and be comfortable while relaxing.
Cons Of Owning A Pit Couch
Like anything, there are some cons as well as pros to owning a pit couch. Here are those cons you should keep in mind before purchasing one.
They Take Up A Lot Of Room
These couches aren't tiny, so they definitely aren't going to be a good fit for those who live in an apartment or have a smaller home.
You will need at least 8 sections/ottomans to make it comfortable. With this in mind, you have to be okay with how much room it will take up.
Since we went with ours for the purpose of movie nights & sleepovers most of the time I don't mind how large it is. Every once in a while I do wish I had more floor space so keep in mind how you will use the space daily.
Difficult To Fluff
There are different types of pit sofas, but feather-filled ones are a common option. This is the type we have, the Savesto from Ashley Furniture. My biggest con with this type of pit couch is that it often looks disheveled and messy.
When it comes time to "fluff" it to look nice and pretty it takes forever! Each individual seat, backing, and pillow needs to be fluffed and then put back on the couch. That's 23 pieces to fluff each time!! It's not a fun process let me tell you.
Hard To Clean / Vacuum
Another con of a pit couch is how much hassle it is to vacuum on and underneath.
If you have kids, then you know how much stuff falls between the cracks of your couch. With a pit sofa, you have to separate the pieces to get under and between each section. Because these are so big, it takes a lot of time to clean them and can be a big pain in the butt.
Then, once you are done you have to push all the pieces back together. Keep this in mind if you want to own a pit couch.
Big Commitment
If you commit to owning a pit couch, it can be one that lasts for years.
Because they are big and made of many pieces, if you get tired of the design, color, or style it might be too much work to change it up. So think long and hard before committing to this type of piece.
The Verdict
For our family, I would do it all over again. The pros of owning a pit couch far outweigh the cons if you ask me. If you have a big enough space and plan to use it as a type of movie couch, then I say go for it! You can check out my full Savesto sectional review if you are drawn to this one.
Conclusion
If you are looking for a couch that can be enjoyed by the whole family, then owning a pit sofa may be worth your time and money. They offer many benefits like being deep enough to lay down comfortably or acting as an excellent sleepover spot.
Despite the cons, pit couches are becoming more and more popular. You have to really think about how much room you have, what you will use the couch for, and how often it will be cleaned before deciding if this is the right option for you.