20 Cloud Couch Dupes For Under $3000! 
Oh, the cloud couch! The Restoration Hardware Cloud Sofa is one of the most popular and sought-after products, and you will see it all over Instagram and TikTok. If you love this couch like I do but can't justify spending thousands of dollars on just one piece, there are plenty of affordable cloud couch dupes out there!
One of the reasons this couch is so popular is because of its cloud-like comfort. The Cloud Sofa is filled with goose down, giving it a soft and cozy feel that you will want to sink into after a long day. It's also a modular couch, so you can rearrange the pieces to fit your space.
If you're looking for a cloud couch of your own but don't have the budget to spend on RH's expensive version, look no further!
From modern sectional couches to cozy sofa sets, we found 20 cloud couch dupes that will give you the same look and feel as the original. The best part? They are all under $3000! That's what you could spend on just one piece of the original.
So go ahead and shop away- your living room will look amazing no matter which one you choose! Shop our favorite cloud couch dupes below.
This post may contain affiliate links, which means I'll receive a commission if you purchase through my links, at no extra cost to you. Please read full disclosure for more information.
Plush Cream Velvet Standard Cloud Modular Sofa

This sofa from 1 Stop Bedrooms looks so much like the original!
With soft, comfortable velvet and a spacious seat, you'll feel relaxed and rejuvenated on this cloud couch.
And it's under $3000, which makes it much cheaper than buying the RH model piece-by-piece.
Down Cushion Sofa & Chaise

This down-filled seat & cushion sofa from Birch Lane is a cozy option for anyone looking for a cloud couch dupe.
It comes in 47 different colors, so you can choose the perfect shade to match your decor. It has amazing reviews with people raving about how comfortable it is.

This couch from Wayfair is a good cloud couch dupe as far as appearance goes, but it is not quite as cloud-like in feel.
It is upholstered in foam-filled polyester microfiber instead of feathers so it's a bit different in feel. However, this beauty is under $2000 so is a great option if you are mainly going for the look.
Related: Stores Like Wayfair
Elsa Wide Reversible Modular Sofa & Chaise

Here is another feather-filled cloud couch dupe. The downfall with this version is that it only comes in 2 colors, but if you like them then it's a great pick!
This modular piece from Joss & Main has great reviews with people loving how soft and luxurious it feels.
Kova Sofa + Ottoman

How pretty is this cloud couch dupe?! This set from Albany Park comes with a sofa and an ottoman, which is perfect if you are looking for a place to put your feet up.
It's filled with a soft feather-fiber blend, so it has a different feel but is still cozy and comfortable. It's one of the best modular sofas on the market.

If you're looking for a less expensive cloud couch dupe that still looks high-end, check out this one from Anthropologie!
This couch is made from upcycled cotton-polyester upholstery with feather-filled cushions. It's a great option if you want to save some money but still get that cloud couch look.

Speaking of Anthropologie, this might be one of my favorites! This beautiful sectional sofa & ottoman from Anthropologie comes with a sofa and ottoman.
It's a great way to get that cloud couch sectional look but save some money by getting multiple pieces rather than one large sofa.

If you are wanting to stay under $1700, this cloud couch dupe from Walmart might be a good option for you.
It looks similar to the original but is less expensive, so perfect if you are sticking to a budget. Just keep in mind, that this one is not feather-filled but still looks good in appearance.

This 5-piece sectional sofa from Ashley Furniture is another beautiful cloud couch dupe. This is the couch that we went with!
It looks very similar to the original Restoration Hardware couch for a fraction of the price. It's also feather-filled and feels very cloud-like when you sit on it.
Check out my full Savesto review to see how it has held up over the years.
Lotus Deep Low Grande Sofa

This gorgeous cloud couch dupe is a Crate & Barrel exclusive! The Lotus sofa is a beautiful piece that looks very similar to the original RH cloud couch.
It has a low, deep seat, comes in different sizes, and has a fluffy down blend in it. It's definitely one of the more expensive options on this list, but still falls under $3000!

Under $1200, one of the least expensive options is the Brynn sofa from World Market. This one comes in ivory or navy blue and is a bit smaller in size.
The material is still feather-filled and feels very cloud-like in comparison to other options. It's a great choice if you are looking for an affordable option to fill a smaller room.
The Dune

If you are looking for a good quality cloud sofa dupe under $3000, this is a great pick! This sofa from Maiden Home is one of the more expensive on this list, but definitely worth it. It has tons of rave reviews and people love how comfortable it is. The cushions have a combination of down, feathers, and fiber for a cloud-like, sink-in feel.
The best part is the slipcover that is not only beautiful but also machine-washable! So if you have kids or pets, this is a great choice.
La Jolla Feather and Down Slipcover Sofa

This is one of the largest restoration hardware cloud couch dupes on this list and would be perfect for a larger space!
This couch from Overstock is filled with polyester as opposed to feathers so it is a bit firmer than the original. However, it does come in four different colors.
Shelter Sofa

This Shelter sofa from West Elm has a similar style but a firmer feel than the restoration hardware one. So if you like the look, but want to skip the feathers this might be a good option.
The best part? It comes in four different sizes with a huge variety of colors to choose from all under $2500!
Dream Modular 4 Piece Sectional
If you are looking for a cloud sofa dupe with great reviews, this is the one for you! This modular sectional from Bob's Furniture has amazing reviews and people love how comfortable it is. Since it's modular, you can also rearrange it to fit your space. It's a great choice for those that want a cloud couch but need the flexibility to move things around.
Utopia 96″ Sofa
This is the perfect cloud couch dupe for those that want to really customize the color. It comes in 62 different fabrics so you're sure to find one that suits your home. This sofa Living Spaces has a down-like fill so it's very comfortable! Style with some throws and pillows and you will have a place to relax and enjoy for years to come!
Commix Down Filled Overstuffed 6 Piece Sectional Sofa
This sofa comes with a down feather and cotton cushions making it extremely comfortable! Since it is modular, you can add on or rearrange the pieces as needed. They have many combinations of up to 6 pieces that fall under $3000.
Add 2 more ottomans to create a pit couch that is perfect for movie nights!
Valyou Feathers Sectional
Handmade by acclaimed Italian designer Mario Capasa, this dupe is one of the softest out there. This one comes in 4 sizes and 2 colors all under $3000. This one is a bit lower to the ground than the original but still has that fluffy cloud feel.
Cali Pearl Tweed Modular Sofa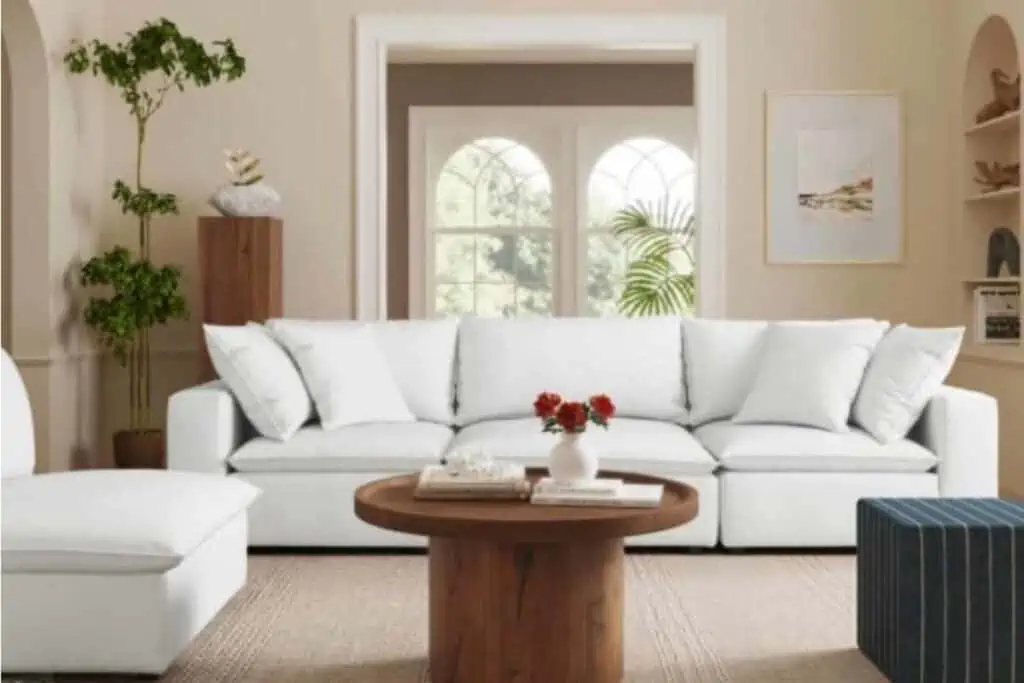 The fill material on this sofa is 65″ Duck Feather and 35% Fiber. This dupe will fit perfectly with most decors. The best part is it comes in many sizes and 2 colors all under $3000!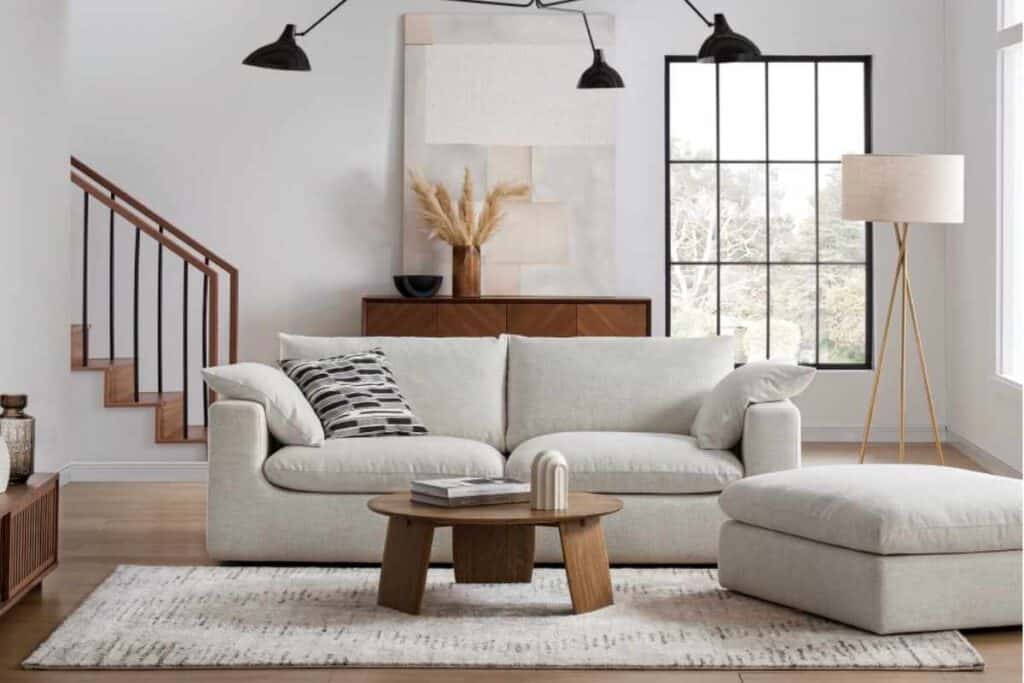 How pretty is this bleach linen cloud couch dupe? The thick, feathery cushions feel so luxurious and have you feeling like you're floating on a cloud. This feather-filled sofa from Castlery is under $2000 but only comes in one color.
Conclusion
As you can see, there are many stores like Restoration Hardware that carry great cloud couch dupes out there! So if you're looking for a comfortable, stylish sofa without spending a fortune, one of these options might be perfect for you.
What's your favorite cloud couch dupe? Let us know in the comments below! If you loved these, don't miss our best cloud bed dupes!
If you enjoyed these options, be sure to browse more of our dupe articles for even more great finds!
7 Hermes Blanket Dupes That Look Identical
20 Super Affordable Anthropologie Mirror Dupes
10 Barefoot Dreams Blanket Dupes