My Savesto Sectional Review – 4 Years Later
We get so many questions about our Savesto couch that I thought I would take the time to review how it has held up over the past few years.
When we were looking for furniture for our newly finished basement, I knew that I wanted something modular that could be turned into a pit couch for movie nights.
When I came across the Savesto sectional in the store, I immediately fell in love with it. The clean lines and modular design were exactly what I was looking for, and the price point was unbeatable. There is a reason they call it a cloud couch – it is so soft and comfortable that you just want to sink into it.
The feather filling in the cushions definitely adds to the cloud-like feel, and I have couldn't get over how comfy it was!
So, how has the Savesto held up over the years, and do we still love it??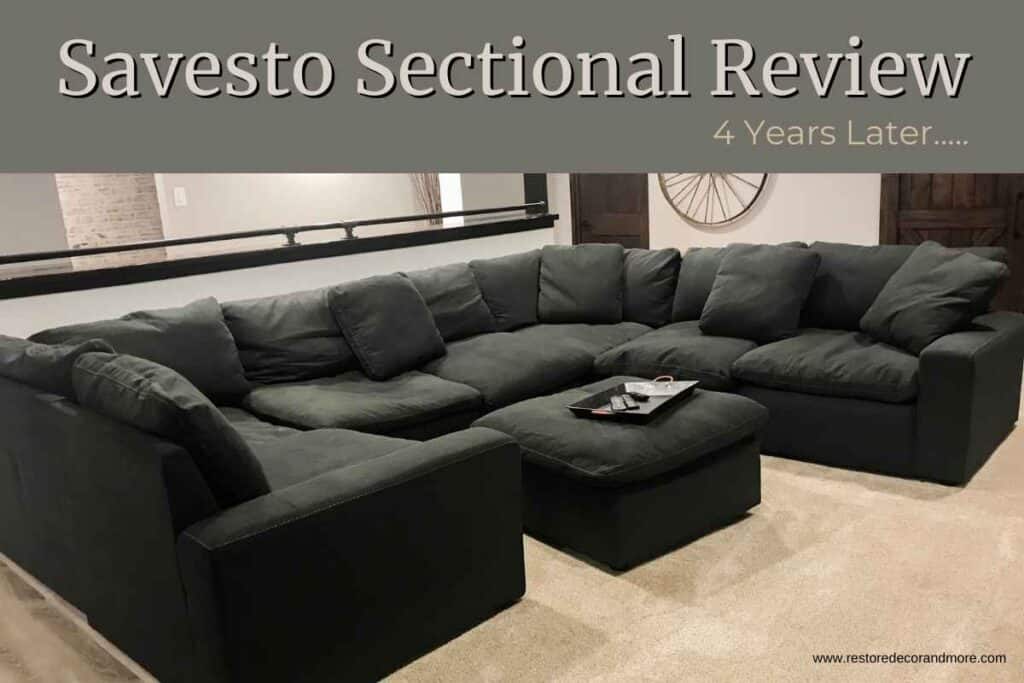 This post may contain affiliate links, which means I'll receive a commission if you purchase through my links, at no extra cost to you. Please read full disclosure for more information.
Savesto Furniture Features
It comes in two colors – charcoal and ivory white. We went with the charcoal because we wanted a darker color that would hide any stains.
Another feature that I really appreciate about Savesto is the fact that the seat cushions and reversible back are filled with feathers instead of foam. This gives it the cloud-like feel we were going for.
It came with matching throw pillows as well, which was a nice touch. The only downside is that they are the same color as the couch, so if you want to change up the look, you will need to buy pillow covers or additional pillows.

Comfort
Overall, we feel that the Savesto sofa is one of the most comfortable couches on the market. We have had people come over just to sit on it and see what all the hype is about. The pillows are soft and provide great support while still allowing you to sink into them – perfect for napping or movie nights!
The cushions will flatten over time, so you will need to fluff them on a regular basis. However, that is true of all feather-filled couches.
So if you don't mind fluffing your couch on a regular basis, I would definitely recommend the Savesto for its comfort and design. If you prefer something that supports your back better or that is easier to maintain, then there are plenty of other options out there!
How Our Savesto Sectional Looks After 4 Years
Fluffing
One thing I will say is that if you want the Savesto to look as pretty as it does in the pictures, you will need to fluff it about once a week. There is always a slight lived-in appearance and it can look a little messy at times.
I will admit this can be a bit of a hassle, especially when we have company coming over and I want the couch to look its best. But overall, I think it's worth it for the comfort and style that the Savesto provides.
Keeping It Clean
I'm not sure about the Ivory color, but the charcoal couch has been easy to clean overall. It's a polyester fabric that doesn't stain easily, and it has been pretty durable so far.
You will need to vacuum it regularly and spot clean stains as they come up. I haven't had any issues getting stains out yet, as it is a pretty forgiving fabric. After 4 years it still looks pretty good!
Savesto Drawbacks
As I mentioned before, one of the biggest drawbacks of the Savesto is that it doesn't provide much support when sleeping on it. This was not a huge issue for us because we only use it for naps or movie nights.
But if you are looking for a couch to sleep on every night, I would definitely look elsewhere.
Another common complaint about the Savesto is that the feathers tend to poke through the cushions over time. While this is true, it has not been a huge concern for us because we don't use our couches on a daily basis.
Once they poke out, it is easy to just pull them out. However, this is something to keep in mind if you feel like this would be a dealbreaker for you.
Would We Recommend The Savesto Couch?
So there you have it – our honest review of the Ashley Furniture Savesto couch 4 years later. We still love it for its comfort and style, but there are definitely some things to keep in mind before making your purchase.
If you are looking for a couch that is easy to maintain and provides great support, then I would pass on the Savesto. But if you are looking for something to lounge on or want to make a pit couch for movie nights, it might be worth checking out!
Make sure to check out 20 more cloud-couch dupes that are super affordable!