DIY Santa Cookie Tray – Easy Tutorial
Here I will show you how I made this cute farmhouse style DIY Santa cookie tray.
Since my kids are older now, I wanted a cute tray that would fit in with my decor but also had a nostalgic feel to it. I wanted something simple and when I found this cute wooden tray at the thrift store, I knew what I wanted to do.
Here is the step-by-step tutorial on how to make your own DIY Santa cookie tray.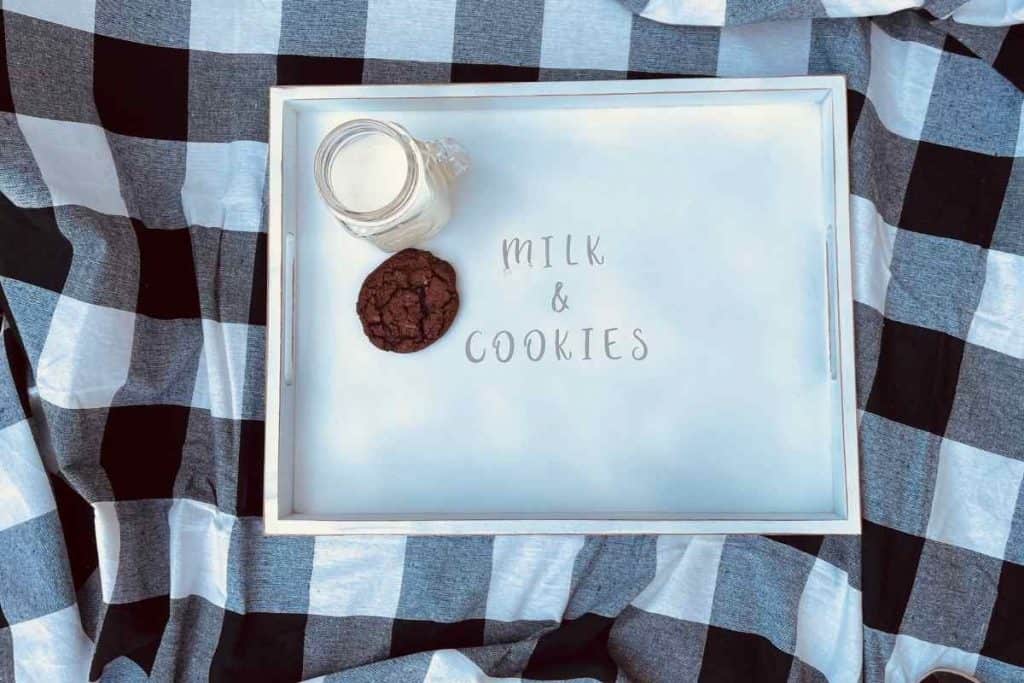 This post may contain affiliate links, which means I'll receive a commission if you purchase through my links, at no extra cost to you. Please read full disclosure for more information.
Step 1 – Find Your Tray
I have always had good luck finding trays at the thrift store for fairly cheap. You can also keep an eye out at garage sales! If you can't find one or don't want the hassle of painting, this one from Amazon looks very similar.
The one I found was only 2 dollars and it was in great condition.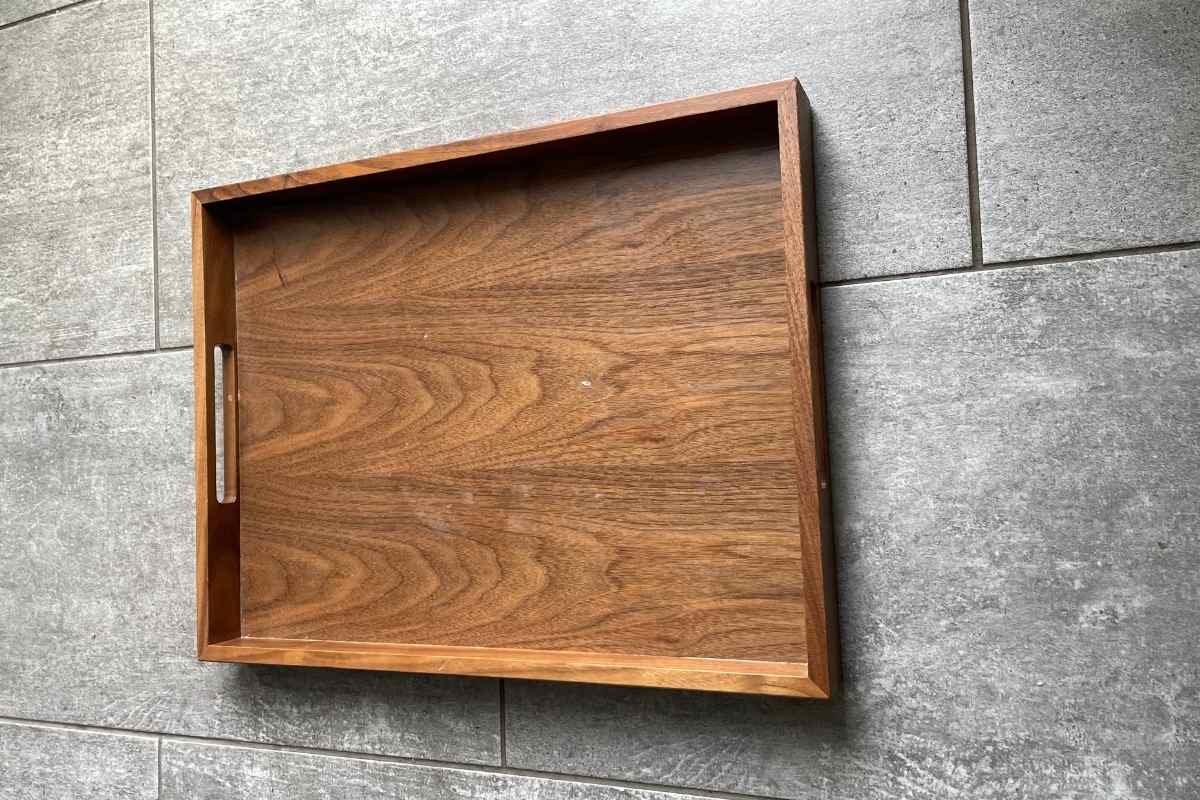 Step 2 – Clean your Tray
If necessary, use sandpaper to sand down the tray. If it's in good condition then just make sure you clean your tray thoroughly with soap and water and dry.
Step 3 – Spray Paint Cookie Tray
I decided to go with a white tray. Once it was cleaned, I spray painted it with white chalk spray paint. I used two coats of white, allowing it to dry in between.
Step 4 – Distress The Edges
Once the spray paint is dry you can start to distress it. I wanted a rustic feel so I used a piece of sandpaper and distressed the edges around the outside of the tray. There is no wrong way to do this so just go with what you think looks good!
Step 5- Pick Your Stencils / Saying
For this tray, I used show-offs stencils from Hobby Lobby. You can use whatever stencils you have handy, or make some with your Cricut machine.
I decided to go with "Milk & Cookies", but you can get creative here. Cookies For Santa or any other Christmas saying will work!
Step 6 – Add Stencils To DIY Santa Cookie Tray
Since I was using individual letters, I made sure to measure where the center of the tray was so wasn't off. I didn't want it to be "perfect" so I just eyeballed the rest of the letters.
For this project, I went used this steel gray paint. Let your stencil dry & then enjoy!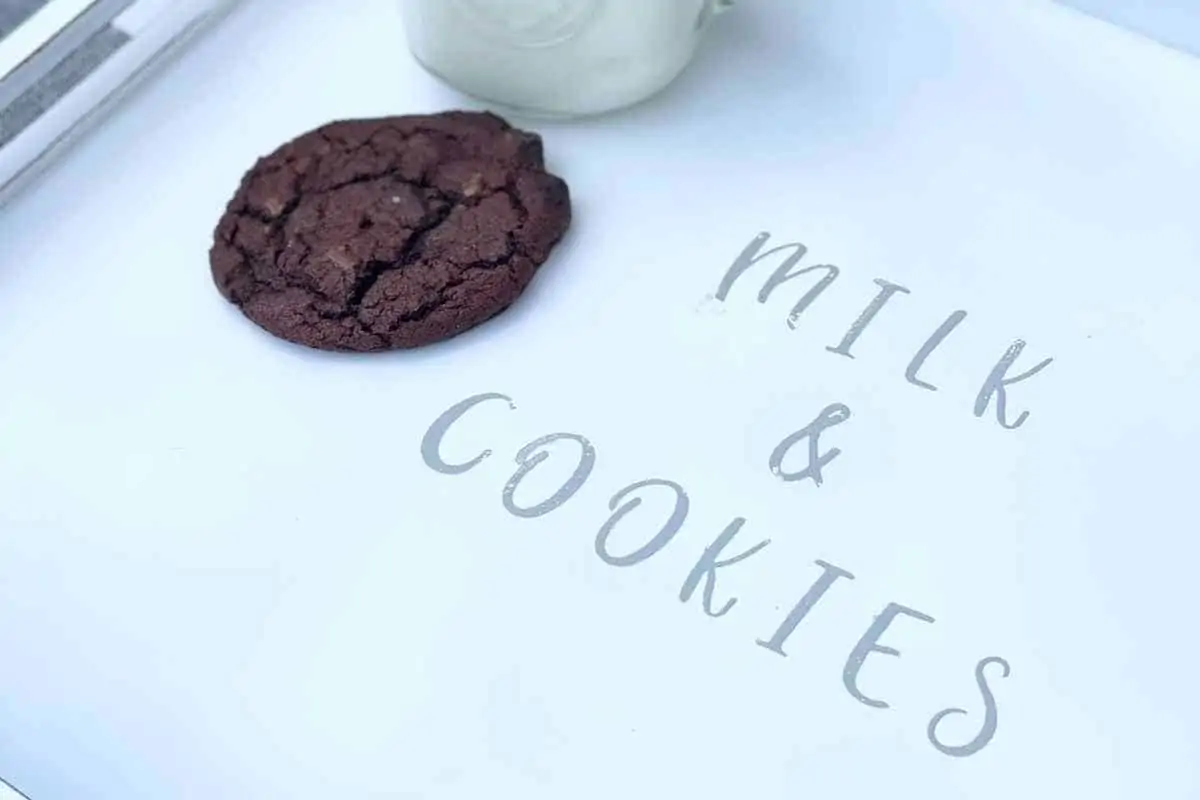 Conclusion
You will find that this DIY Santa cookie tray is an easy & cheap way to add some personality to your Christmas decor.
You can adjust the stencils or sayings in any way you want so it becomes personalized, which is one of the best parts about creating something yourself! After reading through this tutorial, all you have to do is pick up some materials and follow these simple steps. We hope we've helped inspire you to create an adorable Christmas tray of your own.
DIY Wooden Lantern (No Power Tools)
20+ Thrift Store Home Decor Ideas
Make sure to follow us on Facebook, Instagram, and Pinterest for more inspiration. Thanks for stopping by!