How To Hide An Electrical Panel That Looks Good!
Let's face it, electrical panels can be an eyesore. They are usually not pretty to look at which is fine if it is in your unfinished basement. However, if you want to finish your basement, or if your breaker box is located in a living space you want to remodel, this can be a real problem. Today I am going to share some ideas on how you can hide your electrical panel so that it doesn't stick out like a sore thumb.
Is It Legal To Cover An Electrical Panel?
You are allowed to cover your electrical panel but it must be easy to open, can not interfere with the opening of the steel door of the panel and you have to make sure you have full access to all of the breakers.
Keep in mind that some local electrical codes may prohibit the covering of your electrical panel. Make sure to first check with your local building authorities to make sure you can cover without violating any codes.
Ideas To Cover Electrical Panel Box
Below are some great ideas on how to cover electrical panel. It really is just a matter of preference and where your panel is located.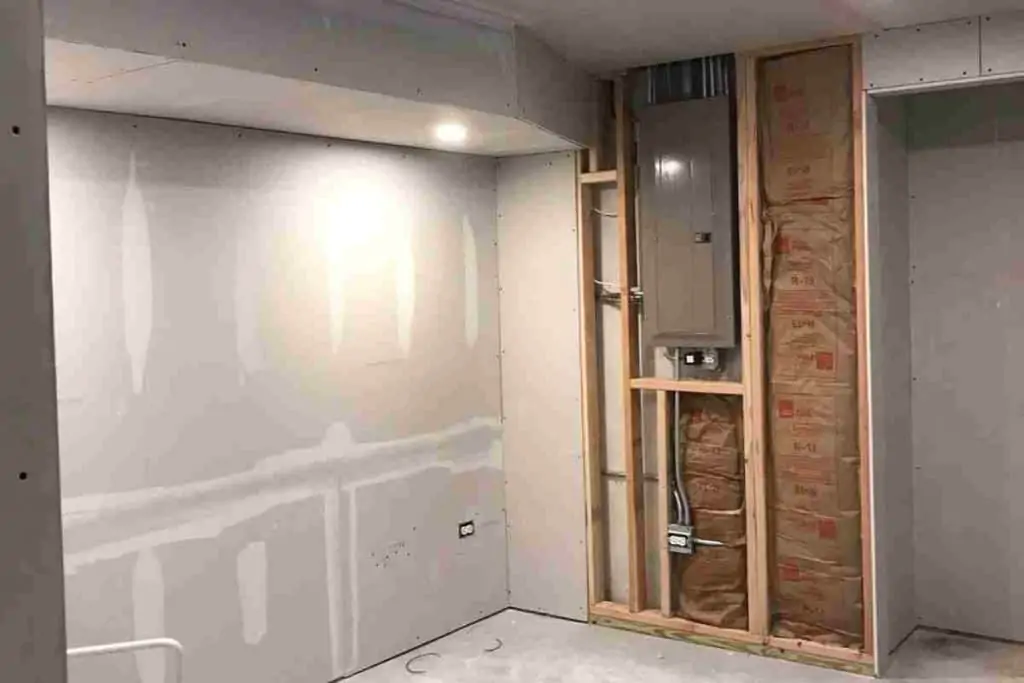 How To Hide Electrical Panel In Finished Basement- Use A Mirror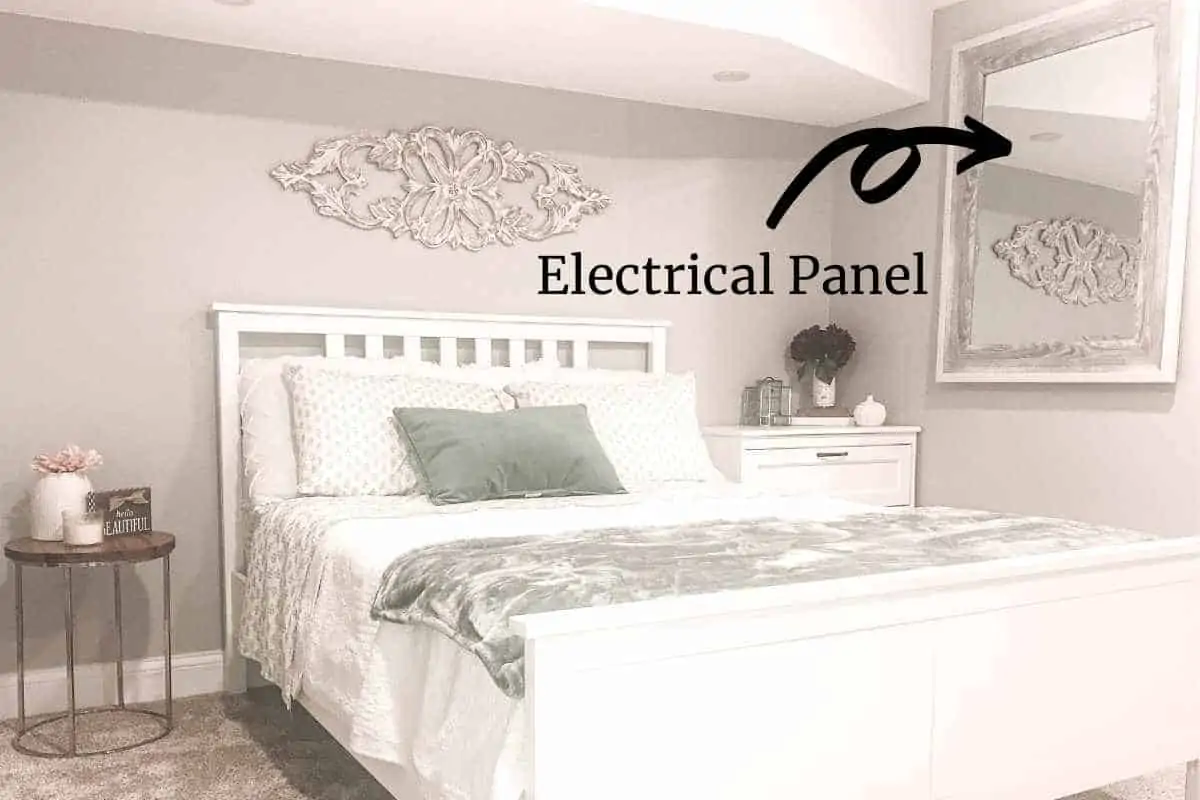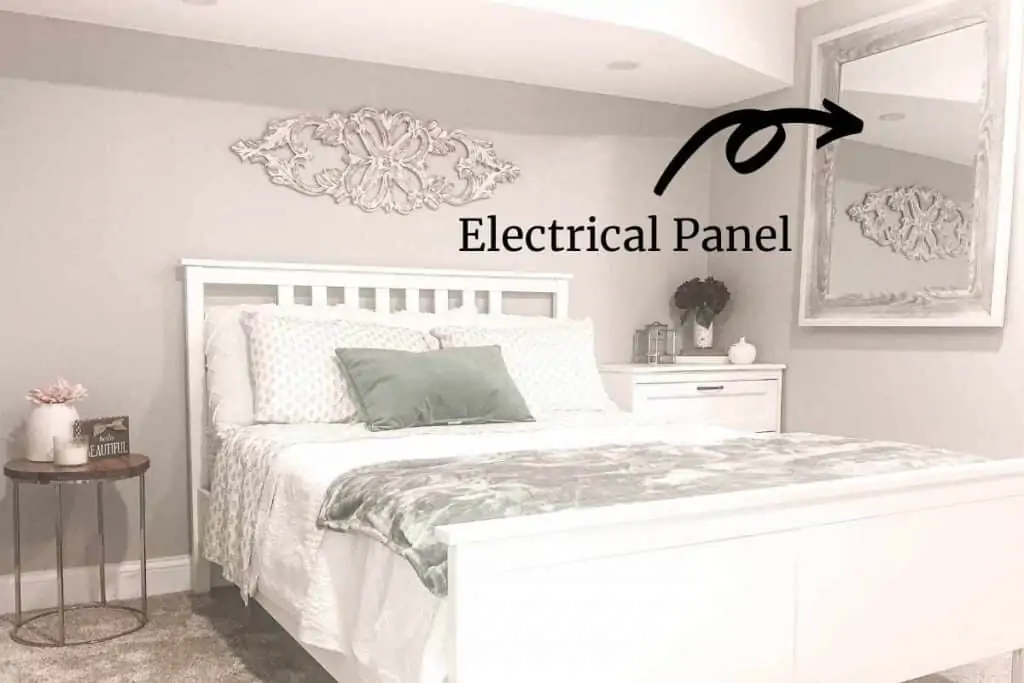 I ran into this problem myself when we were finishing our basement. Our electrical panel was right in our guest bedroom.
Since I was determined to hide it with it looking balanced, I ended up using a mirror to cover the electrical panel. Although I like the way it looks, it is a bit heavy to take off when needed so keep that in mind.
In hindsight, I would have leaned a floor mirror against the wall to hide it.
This post may contain affiliate links, which means I'll receive a commission if you purchase through my links, at no extra cost to you. Please read full disclosure for more information.
Put A Picture Frame On Hinges

If you want a picture with easy access, check out these hidden hinges that would work perfectly.
You can use any frame you already have, and instead of having to take the picture down for access, you simply open it up.
Electrical Panel Decorative Cover
If you haven't already done so, you should check out Etsy if you are looking for a decorative cover. They have so many different options including chalkboards, magnets, and vinyl.
Use A Sliding Barn Door

Another cute way to hide the electrical panel would be to purchase a mini barn door.
Amazon has a huge selection of mini barn doors that you can choose from, just make sure you have enough room for them to slide open when you need to.
DIY Magnet Art
If you are creative, you can get this large flexible magnet and create your own artwork to display. No need to hang anything, just let the magnet do its work.
Fuse Box Cover Amazon
Amazon also has fuse box covers that you can purchase if you are looking for something to just stick over the steel itself. This one is made of adhesive-backed vinyl and you can cut it to size. They have many different patterns to choose from so it should be pretty easy to find one that fits your design style.
Chalkboard Electrical Panel Cover
Another simple idea is to use a magnetic chalkboard electrical panel cover like this one from Amazon. You can easily take this down when you need to access the panel.
Make A Faux Cabinet To Hide Breaker Box
Fresh Mommy blog created a faux cabinet to create the look of shaker cabinets to hide their electrical boxes. They built the frame to fit the dimensions that they needed and then made the cabinet doors themselves.
Sometimes you have to be willing to work with the space you have and this is proof that it can be figured out! I love how clean these look and how well they blend into the space.
DIY Drop Cloth Art With Magnets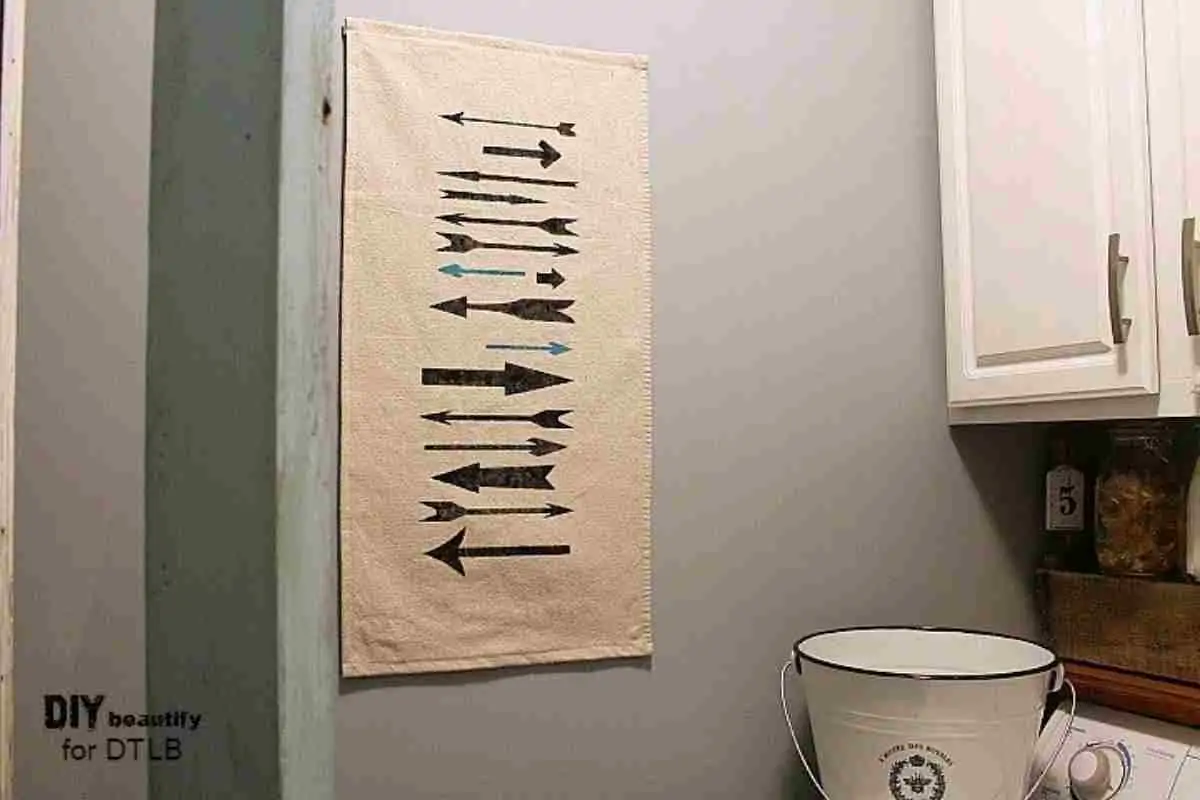 This idea from DIY Beautify is so simple. She created some DIY art on a piece of drop cloth, then hung it up with magnets.
Such a simple budget-friendly way to cover an electrical panel in the laundry room.
Breaker Box Cover Scroll
I love this idea! It is so cute, easy and simple, and looks amazing.
The Kraft paper that she used to cover the box is very easy to move out of the way if they ever need to access the panel.
Use An Antique Window To Cover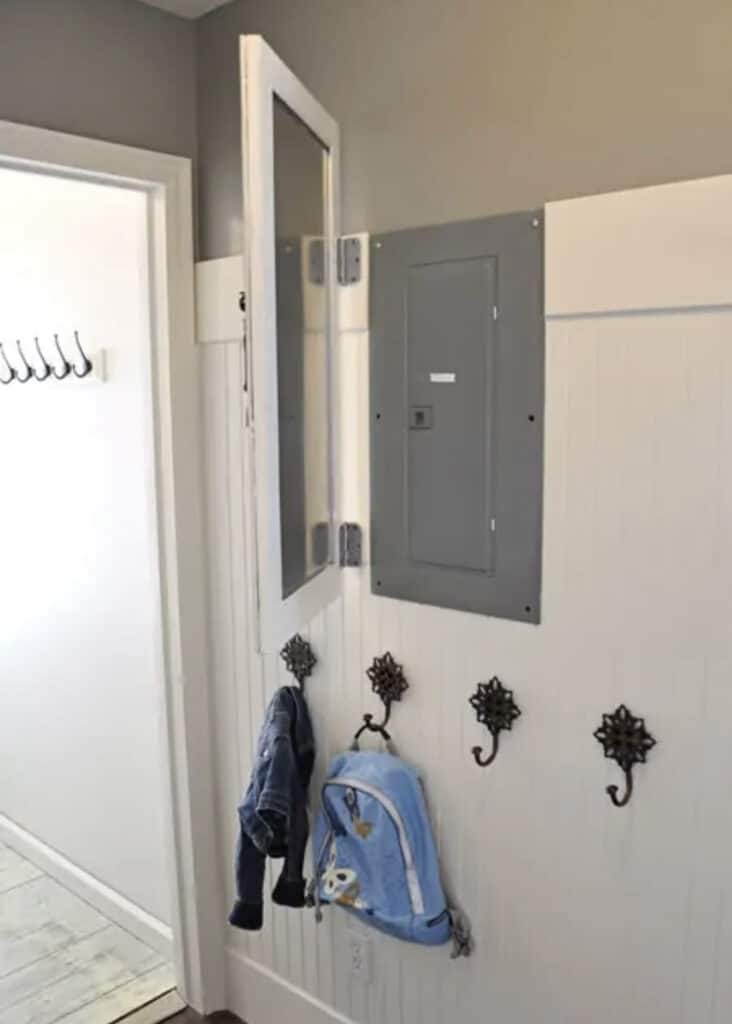 Natalie from Or So She Says used an old antique window she had to create a cover for her electrical panel. She used spray paint to make it look like a mirror.
She hung it on hinges which makes it very easy to open and get to the breaker box. With a little elbow grease, you can easily turn an old window into something beautiful like she did here.
Use White Dry Erase Boards & Chalkboard Panels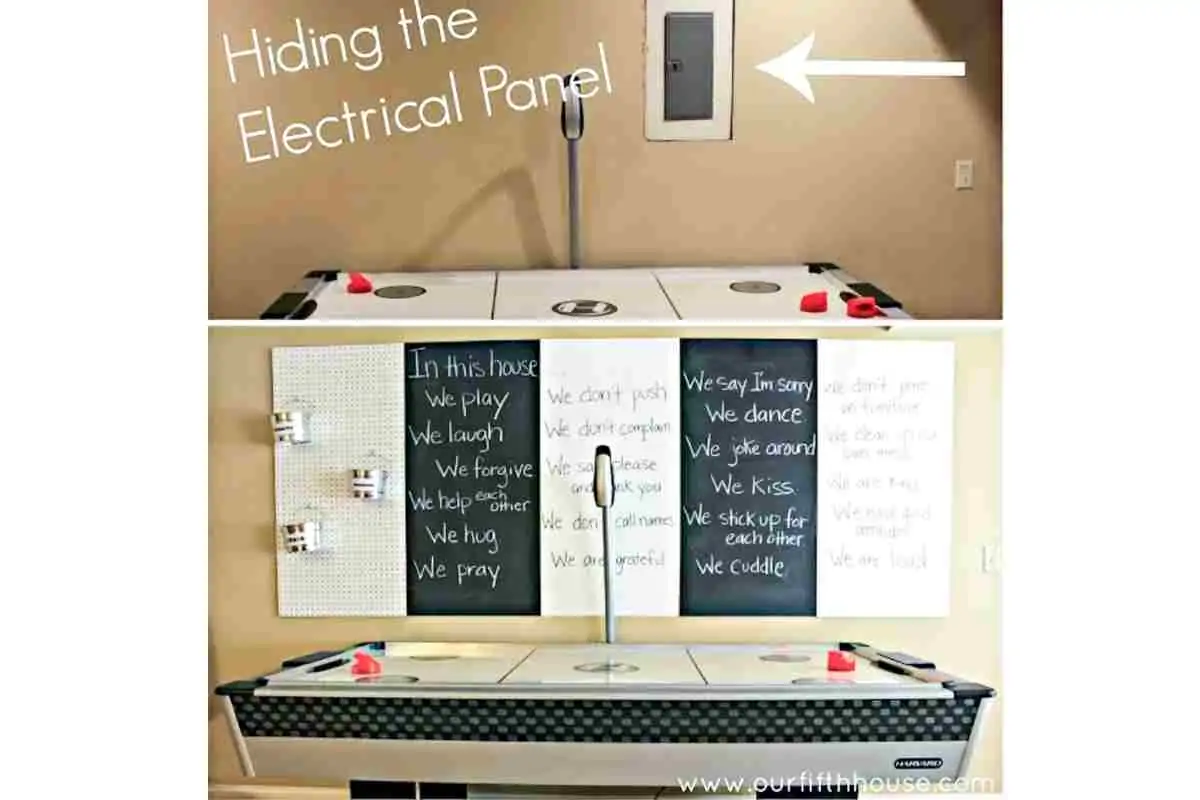 I have to say this is a pretty good idea! Since the electrical panel is on such a big wall, it wouldn't look right with just a small picture covering it.
Our Fifth House used white dry erase boards and chalkboard panels to create a cute design on the wall which not only hides the eyesore of the breaker box but also balances out the space.
Hide Panel With Beadboard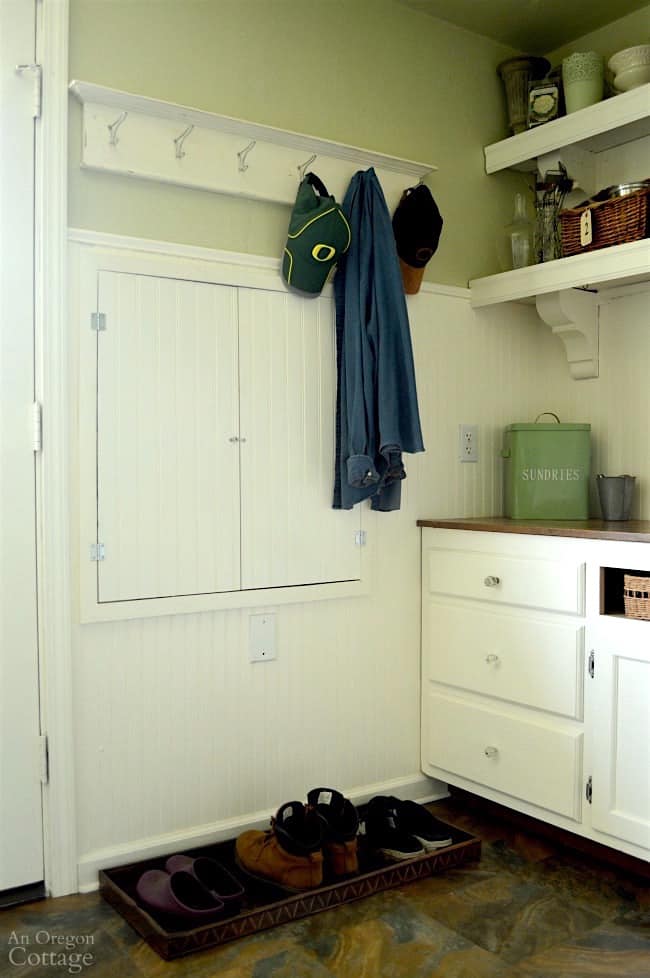 Jami at An Oregon Cottage did a beautiful job of creating a beadboard electrical panel cover in her mudroom.
As you can see here the space was pretty large and she was able to make it blend in by using the beadboard to match her existing wainscoting.
This is a pretty inexpensive project that has made a huge impact in this room. Goodbye eyesore!
Use A Canvas
Have you ever wondered- can you put a picture over an electrical panel?
Yes! Sometimes that could be the easiest solution. I would suggest using a canvas picture as they tend to be lighter-weight and easier to hang.
Use Fabric
Okay, I have to say this idea is absolutely genius!! By Brittany Goldwyn actually used fabric to cover the electrical panel. You can't even tell it's there it blends in so well with the wall. She created a frame using furring strips and then covered the frame in fabric. So simple!
Of course, if you don't have a black wall to blend into, you can use the same concept to find a cute piece of fabric that matches your decor and it will look more like a piece of wall art.
Tip: You can make the frame bigger than the breaker box to balance out the spacing on the wall.
Hide With Doors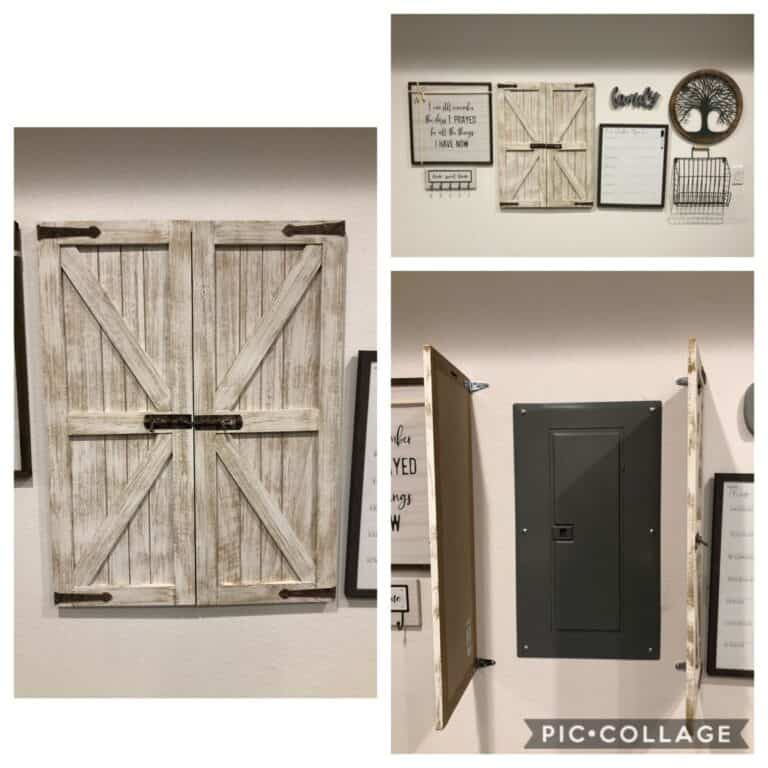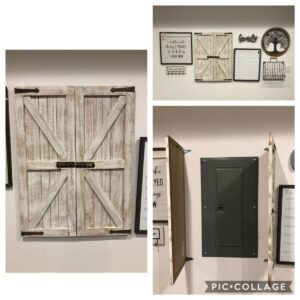 This is a really cute idea, just add two doors that easily open. When it is closed it just looks like wall decor.
I have found so many cute vintage doors in the past and never even thought of this idea. If this look is a little too busy for you, the doors would look great by themselves.
All you need is some hidden hinges to be able to open and close.
Make A Yarn Hanging

For just a few bucks in yarn and a dowel, you can easily create a cute yarn hanging to hang over your electrical panel. By making it yourself, you can decide on the length and width that works for your needs.
If you don't want to make one yourself, Amazon has some cute options that are fairly inexpensive.
How To Hide Electrical Panel Outside
If you are looking to hide an electrical panel outside you should check out this project from designer trapped! They built their own utility box cover for outside. I love how they include the house numbers to really step up the design of it.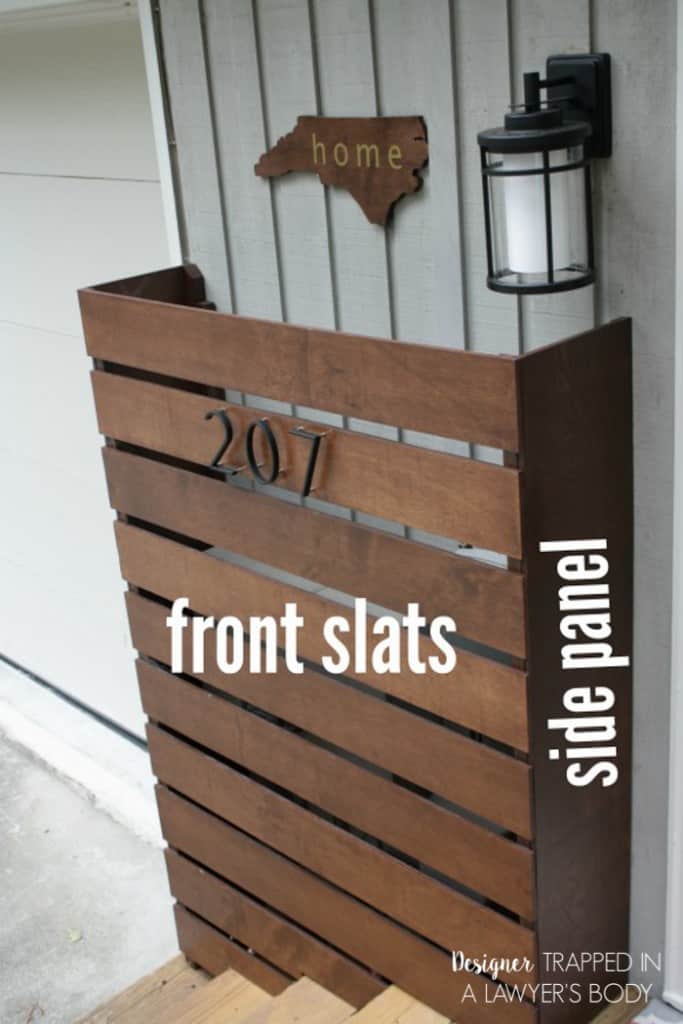 Conclusion
You don't have to live with the eyesore of an electrical panel in your home. Hopefully, this post inspired you to think about creative ways to hide it.
Whether the panel is in your basement, bedroom, laundry room, or even hallway you can find ways to hide it. Depending on what you need it can be as simple as buying a cover, some mini barn doors, or just a canvas picture. Don't limit yourself, there are so many different wall decor ideas that can double as ways to hide this eyesore.
How did you hide your electrical panel? I'd love to see what other ideas are out there!